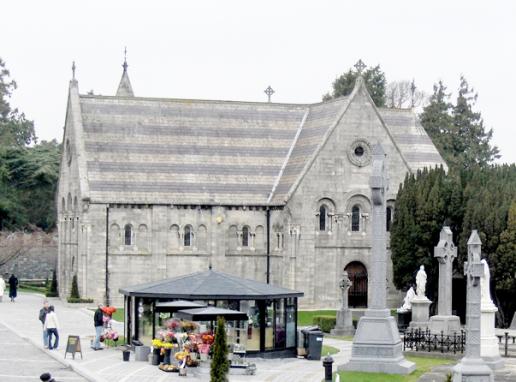 The Church of the Resurrection at the famous Glasnevin Cemetery in Dublin is among the recipients of this year's heritage grants in Ireland.
Ireland's Minister for Culture, Heritage & the Gaeltacht, Josepha Madigan, announced today (10 June) the 449 heritage projects across every county in the Republic that will benefit from this year's Historic Structures Fund (HSF) and Built Heritage Investment Scheme (BHIS).
The €4.3million allocated will support the owners and custodians of historic and protected structures as they carry out hundreds of small-scale, labour-intensive projects to repair and safeguard the country's built heritage.
The announcement follows the Government's publication of its Roadmap for Re-opening Society & Business to ease the Covid-19 restrictions.
The Minister said the grants "have the potential to provide some much-needed economic stimulus right across the country in all local authority areas and will provide employment for the many small businesses, skilled conservation specialists and tradespeople involved in heritage-related construction activity".
She said: "I hope this will sustain at least some specialist heritage businesses while the market recovers."
She praised communities facing challenges like never before for coming together and responding with "resilience, fortitude and no end of kindness".
The projects funded include the repair of old cemetery walls and railings, a variety of work on churches and cathedrals, the repair of a lime kiln at Ballyquin in Co Clare, work on the Church of the Resurrection at Glasnevin Mortuary Chapel in Dublin, and at St Mel's Cathedral, Longford, where all 27 of the irish Blue limestone columns were replaced after a fire in 2009 (you can read about that here).
All the schemes will play an essential role in helping communities to regenerate as well as protecting the built heritage as part of the current generation's legacy for the future, said Josepha Madigan.
The successful applicants will be advised that all works must be carried out in compliance with physical distancing instructions and other public health measures determined by the Government and the Health & Safety Executive in Ireland.
Under this year's Historic Structures Fund (HSF), 56 projects will be funded with grants ranging from €15,000 to €130,000. There are also 10 projects that will receive a total of €351,000 in their second year of funding under the HSF scheme.
The Built Heritage Investment Scheme (BHIS) will support 393 projects in 31 local authority areas. Grants range from €1,000 to €15,000 and will generate many thousands of hours of employment for skilled craftspeople.
This year the BHIS is also piloting a micro-grant stream that allows local authorities to make smaller awards to owners of historic properties to carry out routine maintenance in order to offset the impact of climate change on their buildings.
Minister Madigan promised money from the two built heritage capital grant schemes will be available without delay and concluded by saying: "I would like to thank the local authorities for their assistance in administering these schemes. I would also like to acknowledge the response of private owners and their willingness to invest their time and money in caring for our built heritage. I am delighted to be able to continue investing in our built heritage."
For the the full list of projects awarded funding, click here.