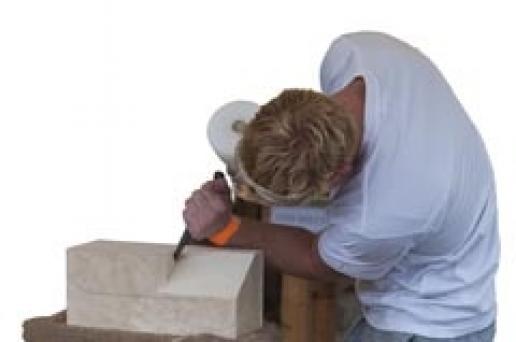 The company, the individual and the industry as a whole benefit from a qualified workforce. And there has never been a better time to sign up with the Specialist Apprenticeship Programme. Not only is it fully grant aided, there is now also an extra 10% for employers plus a £1,000 incentive.
(Go to the end of this article for a list of training organisations and contacts for more advice)

There are two ways of beginning a career in stonemasonry: join a company or enter further or higher education. Not so long ago there was not much contact between the industry and the education sector. Then, in 2004, ConstructionSkills established the Natural Stone Industry Training Group (NSITG) in conjunction with the Stone Federation and David Priestman was appointed to manage it.
One of the first things he did was contact the main colleges offering stonemasonry courses and establish routes of communication with them. Now Bath, the Building Crafts College in London, Moulton in Northamptonshire, Weymouth and York, as well as Edinburgh's Telford College and Glasgow Metrolpolitan attend the NSITG meetings along with industry representatives to the benefit of both groups.
Possibly that seems like a modest enough achievement, but communication is always the first barrier to overcome in any task involving more than one person, especially if those people are competing with each other – just watch an episode of 'The Apprentice'.
Two years after the NSITG was established, Stone Federation created its own training arm, StoneTrain, again headed by David Priestman, who, with his son Mark, became official assessors for NVQs such as facade cleaning and stone fixing that were created through the NSITG.
There are still too few companies in the stone industry willing to invest in the future skills base of the country and the careers of the people they employ, but at least those who want to do so now find it easier to get a clear idea of how to go about it.
One of the best ways of structuring a career path is through a Specialist Apprenticeship Programme (SAP) – not least because it is fully grant supported, which is becoming more of a novelty in these times of austerity. In fact, not only is it fully grant supported, but at the moment offers an extra 10% funding plus £1,000 as an incentive for companies to continue training so there is not another skills shortage when the economy improves.
The Intermediate (Level 2) and Advanced (Level 3) SAPs have been meeting the needs of employers since the mid-1990s.
Normally, people are enrolled on an apprenticeship scheme such as those of Construction-Skills offered by StoneTrain after they have served their probationary period with a company and the company is confident they have an aptitude for the trade and will stick at it.
On a two-year apprenticeship there are 19 units that have to be completed and the apprentices have to attend 20 theory and practical training days away from their firms, although they are arranged so there are not normally more than two days away in any one month. On a Level 3 SAP there are 30 off-site days. All assesments are carried out on-site.
StoneTrain offer three specialist apprenticeships: Stone Fixer; Facade Preservation (Cleaning & Restoration); and Level 3 Heritage Stone Masonry.
The Heritage Stone Masonry Apprentice-ship was established in conjunction with the National Heritage Training Group, to which David Priestman has also just been appointed.
The National Heritage Training Group (NHTG) was established in 2003, with English Heritage providing funding. The Group always managed to attract considerably more money than the Stone Industry Training Group, which was a bone of contention for the masons.
Last year the NHTG was awarded £932,000, the largest single amount among the 54 successful projects in the new £17million Heritage Lottery Fund Skills for the Future programme (see the 'Skills for the Future' box on the previous page).
The money was to provide high quality, work-based training and skills development opportunities in England to equip people for a career in the built heritage sector, or to help those already working in the sector to expand and improve their knowledge and skills sets.
But attracting a lot of money has enabled the NHTG to pursue various ambitions in various locations, which has led to complaints of a lack of focus and duplication. Now that the funding is drying up NHTG will, no doubt, benefit from David Priestman's attention.
Not that it is only the Heritage Training Group that has attracted money. In November, the Clothworkers Foundation provided £10,000 to enable two trainees to join the first Specialist Apprenticeship Programme in Heritage Stonemasonry, which began in January. It involves six weeks at the UNESCO World Heritage Site of Fountains Abbey in North Yorkshire with training provided by Henry Rumbold.
The bursary is being administered by ConstructionSkills, but the selection process for who should receive it was undertaken by the Natural Stone Industry Training Group (NSITG).
The two people awarded the bursaries are among the five students on the first Heritage Stonemasonry SAP. There are three on the Fixer Mason apprenticeship programme and five Facade Preservation apprentices.
David and Mark Priestman, as Priestman & Associates Consultancy, operate the NVQ and Level 2 SAP offerings of StoneTrain, while Nigel Stubbings and Ian Major of Stubbings Business Solutions operate professional CPDs, oversee the general administration of StoneTrain and run the administration of the Heritage Mason SAP.
As well as the apprenticeships, StoneTrain continues to offer the range of NVQs that have been developed for stonemasonry under the guidance of the NSITG.
In fact, StoneTrain has a record 56 candidates on its NVQ courses this year, which is encouraging in these times of austerity. David Priestman accepts that trading is difficult for most contractors but says: "The message is that you need to carry on training to make sure you're in the right place when the economy picks up."
Having trained and qualified staff can also help a company gain what work there is when there isn't enough to go round.
The government had planned to rename NVQs under the new Qualifications & Credit Framework but changed its mind in the face of the general groan of despair from industry. Some of the NVQ numbers have changed and the 'National' seems to be getting quietly dropped, but at least it is a qualification that the industry can still recognise.
One NVQ that masonry companies kept saying they wanted was that of the Level 1 Mason's Mate. But there are no grants available for Level 1 NVQs and nobody has been prepared to pay the £500-600 it would probably cost to get an employee through a Mason's Mate NVQ, so it has now been scrapped because there is a cost involved in keeping it in existence.
There is also no funding for NVQs above Level 3 (supervisor level), which means those who want to take the Diploma Level 6 management qualification now being offered by StoneTrain have to find some other way of financing it. Two candidates have achieved the Diploma so far, taking about six months each to complete the assessments successfully and earn their black CSCS cards.
The masonry draughtsperson NVQ that the stone industry has been talking about since the launch of the NSITG still has not been produced but might now become an Industry Accredited Qualification (IAQ) instead. An NSITG sub-group is still working on it.
Two more NVQs are planned at Level 2, one for laying stone paving and another for primary and secondary sawing, which will introduce a qualification for processors in the quarries for the first time.
Skills for the future
In May Last year the Heritage Lottery Fund allocated £17million to 54 projects that would create 800 new, paid training opportunities in heritage settings across the UK. The scheme is called Skills for the Future.
The idea is to offer work-based training in a wide range of skills needed to look after buildings, landscapes, habitats, species, and museum & archive collections, as well as equipping people to lead education and outreach programmes, manage volunteers and use new technology.
During the summer and autumn last year those whose applications were successful produced detailed plans of their projects. Most of the projects are now underway.
The biggest single award of £932,000 went to the National Heritage Training Group to provide 60 training opportunities across the nine English regions on various heritage skills. Those in charge of some of the other projects that include stone working report on their progress below.
Lesley Silvera, Project Development Officer, North Pennines Area of Outstanding Natural Beauty Partnership
Prior to receiving this award of £109,500 we had worked with several dry stone walling businesses to run an apprenticeship scheme in 2007.
This time we took on two trainees at the beginning of March. They each worked on placement for four months. By the middle of April they had both passed their Level 1 Dry Stone Walling Test with 83% each (this was the top mark on the test day from a group of seven). They are due to take their Level 2 tests in September. Between them they have rebuilt 250m of dry stone wall in the North Pennines.
We will be taking on at least another four walling trainees, two a year for the next two years. The next recruitment round will be in January next year. We expect candidates to have done some walling before they apply, so that they know what type of work is involved. The assessment for the places takes the form of a day-long walling exercise. We are helped by the DSWA trainers in this.
Mary Powell, Programme Co-ordinator, Historic Lincoln Projects
Our funding – £500,000 over five years – is a partnership between Lincolnshire County Council (LCC) and Lincolnshire Cathedral Works Department. Our plan is to run bursaries in stonemasonry, joinery and lead work to take students up to NVQ Level 3. Our first three students started earlier this year. When they've finished, we'll take on another three students and a further three after that.
LCC is also building a Heritage Skills Centre within the grounds of Lincoln Castle, where such skills as stonemasonry and stained glass can be taught. It is due for completion in August next year.
We held an event, 1,000 Years of Traditional Crafts, at the Castle and Cathedral in May this year to give a public face to our work. We had apprentice masons from all the English cathedrals making a lancet window during the day, as well as masons from France, Lincolnshire and Trondheim Cathedral demonstrating their skills.
Paul Valentine, Young Adult Skills
Co-ordinator, Cheshire West & Chester Council
The project in Chester is called the Chester Renaissance Academy of Heritage Skills and is being supported with more than £100,000. The project will create the opportunity for four people to learn a heritage skill and in doing so position themselves for a better future. The four trainees will each do 12 months work placements and receive wages while training.
The first trainee, John Roberts from Chester, has just started work as a trainee in stonemasonry with ISG and Mather & Ellis, stonemasons from Trafford Park, Manchester, working on the Cunard Building in Liverpool, one of the so-called 'three graces' and part of the Unesco World Heritage Site. It is a wonderful place for John to start his training. From there, he will move to another work placement provider to continue his training. The other three trainees will be recruited during the next year.
John's training includes day release to West Cheshire College in Chester, where he is being taught by stonemason tutor Altomont Townsend.
The College is hoping that the heritage skills courses will attract stonemasonry students from a wider geographical area in order to make them sustainable in the longer term.
The College is hosting a heritage skills and crafts demonstrations event on 9 September at its Chester campus in order to promote heritage skills, including stone carving and stone walling. The event is part of the Heritage Open Days in Chester event. Entrance is free.
Amanda Stevenson,
CITB-ConstructionSkills NI
In the Northern Ireland project we are currently seeking potential placement providers prior to recruiting people to receive the bursaries we are offering. The recruitment process will happen sometime in September / October and the trainees will start on-site from October / November.
The project aims to achieve the following outputs:
l 6-12 Craftspeople, with general builders upskilling and developing their knowledge of traditional building skills through site-based placements and working towards or achieving a Level 3 NVQ Diploma in Heritage Skills in their chosen craft occupation
l 3-6 Specialist craftspeople undertaking structured work-placements and working towards a recognized qualification
l 12-15 Trainers from the province's six Further Education colleges completing a bespoke 'Training the Trainers' programme to develop their knowledge of traditional building skills
l Four Heritage Ambassadors acting as advocates and mentors to promote the heritage sector and traditional building skills.
The Fellowship of SPAB
Three stonemasons and a plasterer have been chosen as this year's William Morris Craft Fellows by the Society for the Protection of Ancient Buildings (SPAB) .
Since 1987 SPAB has organised the William Morris Craft Fellowship to foster a new generation of outstanding craftsmen and women with the knowledge and expertise to pass on the skills that are essential when working with historic fabric.
The Fellows – stonemasons Emlyn Harris, Thomas Soare, and Kenny McCaffrey, with plasterer Paul Agar – will spend six-months on a programme of visits taking them to projects and workshops in all parts of the country. They will learn about traditional building techniques from skilled craftsmen and women.
The aim is for the new crop of Fellows to gain broad, hands-on experience and knowledge to enable them to bring a strong awareness of craft diversity to their future professional roles. The Fellowship will also equip them with the skills necessary to lead and manage historic building contracts, while deepening their understanding of the importance of gentle repair.
Interest in craft building skills is steadily increasing as people turn to more sustainable and traditional methods of construction. Yet, ironically, these same skills are under threat as fewer young people pursue careers in these areas.
This year's Fellows are another lively and engaging crop. Stonemason Emlyn Harris, 25, has known since his school days that he wanted a job that enabled him to work with his hands. He is now a stonemason at Canterbury Cathedral where he has worked on The Corona Chapel, Howley Library and the South East Transept.
The team of which he is part is currently looking forward to an exciting phase of work on the cathedral's South East window. When he is not working with hallowed stones, Emlyn is a member of the Margate lifeboat crew.
Thomas Soare, 29, had an early interest in music and art, turning to 3D work including welding, sculpting and wood carving before joining York-based Matthias Garn to work on various stone projects including Westminster Abbey's Cosmati Pavement. In his spare time, Thomas continues his early musical interests – he break dances, sings and plays guitar and drums.
At 40, Kenny McCaffrey is the oldest of this year's Fellows. He discovered a natural aptitude for working with stone when working more generally in the construction industry. Eventually he was offered a stonemasonry apprenticeship by his employers, Historic Scotland, and has worked on buildings including St Andrew's Cathedral, Stirling Castle, Castle Campbell and Iona Abbey. His work is also his hobby. Kenny travelled to Virginia, USA, as a prize in a stone working competition and spent time learning about lime mortars with Jimmy Price at Jefferson House. He also took part in an outreach programme in Harlem, teaching young people how to use masonry chisels… safely.
SPAB awards three or four Fellowships each year to help craftspeople further their skills. Candidates must have completed their apprenticeships and demonstrate a high degree of competence. Fellows are usually in their 20s or 30s, but can be any age.
Fellows also have the opportunity to develop their own particular craft skill to new levels of excellence.
The course of practical training is divided into three blocks of two months, enabling the Fellows to return to their employment in between each block.
During the first two blocks the Fellows travel as a group the length and breadth of the country making daily site visits, studying repair projects and meeting professionals, contractors and craftsmen. On-site they experience work at first-hand and discuss traditional building construction and techniques.
The final block of training is devoted to the individual needs and interests of each fellow in consultation with their employers.
The programme runs from mid-March to Christmas. There are no course fees as training and administration costs are borne by SPAB as part of the award.
Many former fellows have risen to positions of responsibility where they are able to impart their knowledge, expertise and enthusiasm to future generations of SPAB Fellows and other craft workers.
Anyone can apply for a SPAB Fellowship. To find out how and learn more about the Fellowship, visit the website below.
www.spab.org.uk/education-training/fellowship
The QEST continues
Richard Mossman is a 35-year-old stonemason from Bristol, who has been awarded a £14,000 Scholarship from the Queen Elizabeth Scholarship Trust to complete his Post-Graduate Diploma in Historic Stone Carving at the City & Guilds of London Art School.
Last year, in a desperate attempt to raise awareness of his on-going search for funding, Richard installed this stone sculpture of himself overnight outside the Bristol Council offices. He was not asking for a handout but wanted to advertise his skills in an attempt to pay his own way through Art School. QEST came to his aid.
You don't have to go to such lengths to obtain a QEST Scholarship. A more straightforward method is to fill in an application form, available from the QEST website (www.qest.org.uk). The Scholarships are awarded twice a year by the Trust, which was set up in 1990 by the Royal Warrant Holders Association to help trades and crafts people further their education.
For more information

To find out more about training in stonemasonry and conservation, a worthwhile first point of contact is David Priestman, representing the Natural Stone Industry Training Group, StoneTrain (the Stone Federation's training arm)  and the National Heritage Training Group.
Tel: 0115 975 1880
E-mail: [email protected]
Training is also available from:
Colleges:
City of Bath College, Bath
Tel: 01225 312191
www.citybathcoll.ac.uk
Building Crafts College, London
Tel: 0208 522 1705
www.thecarpenetrscompany.co.uk
City & Guilds of London Art School, London
Tel: 0207 735 2306
www.cityandguildsartschool.ac.uk
Craven College, Skipton
Tel: 01756 791411
www.craven-college.ac.uk
Edinburgh's Telford College
Tel: 0131 559 4000
www.ed-coll.ac.uk
Glasgow Metropolitan College
Tel: 0141 566 6222
www.glasgowmet.ac.uk
Moulton College, Northampton
Tel: 01604 491131
www.moulton.ac.uk
West Cheshire College, Chester and Ellesmere Port
Tel: 01244 670600
www.west-cheshire.ac.uk
West Dean College, Nr Chichester
Tel: 01243 811301
www.westdean.org.uk
Weymouth College
Tel: 01305 764744
www.weymouth.ac.uk
York College
Tel: 01904 770400
www.yorkcollege.ac.uk
York University
Tel: 01904 430000
www.york.ac.uk
Other providers:
Crawshaws (floors and worktops)
Tel: 0208 686 7997
www.crawshaws.co.uk
National Association of Memorial Masons (memorial fixing)
Tel: 01788 542264
www.namm.org.uk
National Stone Centre, Middleton by Worksworth
Tel: 01629 824833
www.nationalstonecentre.org.uk
The Orton Trust (weekend courses)
Tel: 01536 711600
www.ortontrust.org.uk
Scottish Lime Centre (using lime mortars)
Tel: 01383 872722
www.scotlime.org
Society for the Protection of Ancient Buildings (conservation)
Tel: 0207 377 1644
www.spab.org.uk