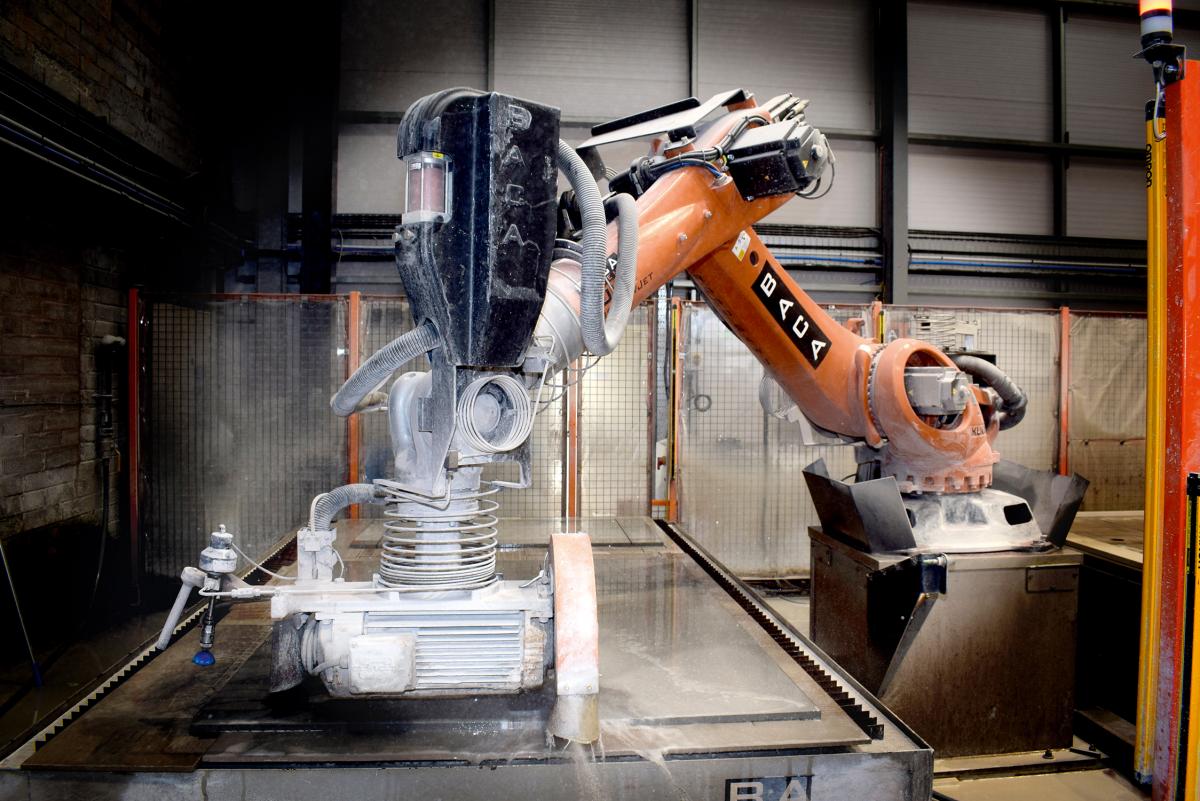 High levels of demand, £175billion of government-backed loans and job retention schemes, a tax 'super deduction' for capital investment and a growing confidence in the use of IT encouraged firms to invest without waiting to see what was at Marmo+Mac as the live show returned to the fairground in Verona in 2021 after the Covid hiatus.
More than 50 schemes from Westminster and the UK's devolved governments were put in place to help firms and employees in the UK during the coronavirus pandemic. And many stone companies have made the most of the 'free' money that suddenly became available to them to prepare for the future by investing in new machinery and improving their premises.
The level of government borrowing that has enabled it to support industry and jobs has only ever been exceeded during the two world wars. And, unlike the credit crunch of 2008 when the banks were bailed out, this time much of the money has gone into the wider economy because, in the end, industry pays for everything – through dividends, taxes or salaries.
To the end of May 2021, £67billion had been spent on the Coronavirus Job Retention Scheme alone (the CJRS, or furlough). Since it was introduced, it has been paid to 11.6million people – that's a third of the UK's workforce. 
Another £80billion has gone directly to companies through the Coronavirus Business Interruption Loan Scheme (CBILS), Coronavirus Large Business Interruption Loan Scheme (CLBILS), and the Bounce Back Loan Scheme (BBLS). These have given companies loans that are at first interest free, and even when interest kicks in it is usually at only 2%.
These schemes closed to new applicants at the end of March, and up to the end of May the amount of money that had actually gone to businesses under CBILS amounted to £26.39billion, benefitting 109,877 companies. The scheme for larger companies, CLBILS, had seen £5.56billion lent to 753 companies. And the later BBLS saw £47.36billion lent to 1,560,309 companies (a lot of those were in the leisure industry, which was hit particularly badly by the lockdowns).
As those loan schemes closed to new applicants, a new scheme opened – the Recovery Loan Scheme (RLS).
It, again, can be used for any legitimate business purpose, including managing cashflow, investment and growth. It opened for applications on 6 April and is scheduled to run until 31 December, subject to review. It is available through a range of lenders and partners accredited by the British Business Bank. How much has been loaned through the scheme will be published on the British Business Bank's website in due course.
The British Business Bank was set up in 2013 to bring expertise and government money to smaller business finance markets as one of the responses to the 2008 credit crunch. It does not lend or invest directly but works through other financial institutions such as banks (more of which have been licensed by the Bank of England since the credit crunch to stop too much financial power being concentrated in a few hands), leasing companies, venture capital funds and web-based platforms.
£25.2billion to the self-employed
In addition, £25.2billion has been paid out to almost 3million self-employed people. Construction has the highest number of claims, including 284,000 for the fifth SEISS grant. Construction is the largest sector among the self-employed population with 1.2million individuals assessed for eligibility.
There has also been all that regional and local authority support and sector specific grants like those from Historic England and the National Lottery Heritage Fund, some of which helped stone companies working in these sectors not just by keeping the projects live but also by expanding them thanks to the extra cash suddenly available for them.
The final incentive to encourage firms to invest now rather than wait came in the Spring Budget with the so-called 'super deduction' on capital allowances.
This measure has temporarily (it is scheduled to last to the end of March 2023) increased relief for expenditure on plant and machinery. It means that from 1 April 2021 investment in plant and machinery has qualified for an allowance of 130%. Ordinarily it would qualify for the 18% main rate writing down allowance.
So if you buy a machine for £100,000, this increases to 130% (£130,000) and the deduction against tax is £24,700. Without the super deduction the standard allowance would have been £19,000. The company can, therefore, make an additional claim of £5,700 against its tax liability.
There is a slight sting in the tail in that when the super deduction ends in 2023, Corporation Tax is due to increase from 19% to 25% as the government tries to find ways to pay off its highest ever level of peacetime debt – currently just over £2.2trillion, or about 100% of GDP. With any luck, higher levels of investment by companies will improve productivity sufficiently to make paying off the debt a bit less painful.
Of course, other countries are in the same boat. Public sector debt has spiralled internationally during the pandemic as countries have fought to minimise the effects of potentially catastrophic record-breaking falls in almost every aspect of economic activity.
Too much?
But this time, rather than doing too little too late, which is the accusation usually levelled at governments, they might have done too much too soon, stimulating excessive demand that is leading to product shortages and price increases.
The price of steel, for example, has shot through the roof. As stone processing machinery is almost universally made predominantly of steel, producer costs are increasing, and with demand for machinery high and money cheap it is relatively easy to pass on those increases to customers. The result is that price rises of as much as 10-15% have been seen on some machinery this year. Fortunately the value of the pound has held up or it could have been worse.
Adding further to the cost is the price of haulage, which has also shot up. In the UK the Road Haulage Association says 15,000 lorry drivers born outside the UK have returned to their home countries either because of Brexit or the coronavirus. On top of that, 30,000 HGV driver tests were cancelled last year because of the Covid restrictions. Add natural wastage through age, career changes and mortality, and the UK has been left with a shortage of around 60,000 HGV drivers. Some put the figure at nearer 100,000.
On top of that, it is hard to recruit people, which is another reason companies are happy to automate more. According to the Office for National Statistics there were, for the first time ever, more than a million job vacancies in July, including 37,000 in construction. On the other hand, there are more than a million people still on furlough under the CJRS, which is due to finish at the end of September 2021. In 2020, vacancies understandably fell - from an average of 785,000 in the first quarter to 341,000 in the second quarter.
With so many incentives to invest in machinery, stone companies have not been waiting to see what the big European stone show of Marmo+Mac has to offer from its return to the showground in Verona, Italy, in 2021, after being online only in 2020.
The difficulties and uncertainties of travel, especially on aeroplanes, have curtailed enthusiasm for it in the UK, and in spite of the lifting of some restrictions and the introduction of the trafficlight system for destinations, at the time of going to press in August the Foreign, Commonwealth & Development Office (FCDO) was advising against all but essential travel to the whole of Italy based on the current assessment of Covid-19 risks.
Concerns about flying
Concerns about travel left a lot of the stone industry in this country deciding not to visit Marmo+Mac in 2021. Even some of the UK machinery agents, who normally support their principals every year in Verona, were not intending to visit Marmo+Mac this year, or had not yet made up their minds as Italy was shutting down for its August holiday – although that holiday was shorter this year for some of the manufacturers struggling to meet a high level of demand for their machines.

The Marmo+Mac exhibition organisers insist the show will take place live in Verona this year (2021). It was cancelled at the last minute last year and an online event hastily prepared. Having learnt from that experience, the 2021 event includes both the live exhibition at the Verona fair ground from 29 September to 2 October and is online as Marmo+Mac Plus for an extended period.
Some of the machinery companies say they are not anticipating a lot of visitors from outside the EU, but that the EU market alone makes exhibiting worthwhile.
Portland stone company Albion Stone, which has become the sole representative of British stone production at Marmo+Mac in recent years, has decided not to exhibit this year. It says the show organisers were happy for it to transfer its booking to 2022.
Veronafiere says all cleaning during Marmo+Mac has been upgraded. There will be environmental sanitation each night using ozone in all offices, common areas and exhibition halls. Specific cleaning measures are also being implemented in particularly busy areas such as entrances, escalators and lifts, and for door handles and handrails.
The temperatures of visitors will be taken as they enter the fairground and anyone with a body temperature above 37.5°C will not be allowed to enter.
Medical healthcare facilities will be stepped up above those normally available at the fair. These include a team of specialist doctors and nurses, with security, police, fire brigade and paramedic staff on hand in the main exhibition centre access areas.
A video surveillance system and personnel engaged in special surveillance activities, clearly identified by their uniforms, will operate throughout the fair. And the organisers say the Covid situation is being carefully monitored.
The following review of the latest developments by the UK's machinery suppliers provides a preview of some of what will be on the stands in Verona this year.
LPE Group has been one of the rare regular British exhibitors in Verona and MD Carl Sharkey says of this year's Marmo+Mac: "If it's on we're going."
LPE Group sells various, largely American products in Europe, including the UK. It also sells Italian Comandulli edge polishers in the UK.
The range of equipment sold by LPE Group includes some fairly advanced technology, including the Laser Products' digital templater from which the group originally took its name and which has become a must-have for many fabricators along with CNC saws and workcentres.

Two of the latest products from LPE are a portable Spectrophotometer from X-Rite, for precise measuring of the colour of slabs, and the Zoller Smile, for those who want off-line tool measuring so their CNCs are not tied up while the tools are being calibrated. For those who like to have the tools actually in the machine head when they are measured, LPE still offers the ClearCut.
A particular success for LPE has been the Baca Robo Sawjet and Robolution robots designed for the kitchen worktop market in particular.
The Baca robots have been a hit in the UK since LPE Group started selling them and Baca exhibited at Marmo+Mac in 2019. This year, LPE Group intends to have Baca robots on its stand as it relocates into Hall 3 in Verona.
The Baca robots use both discs and waterjets. The original Sawjet cuts at 90º to the surface and the Robolution can also cut mitres and angles up 58º. The robots can operate on two tables, so one can be loaded and unloaded while the robot works on the other for continuous production.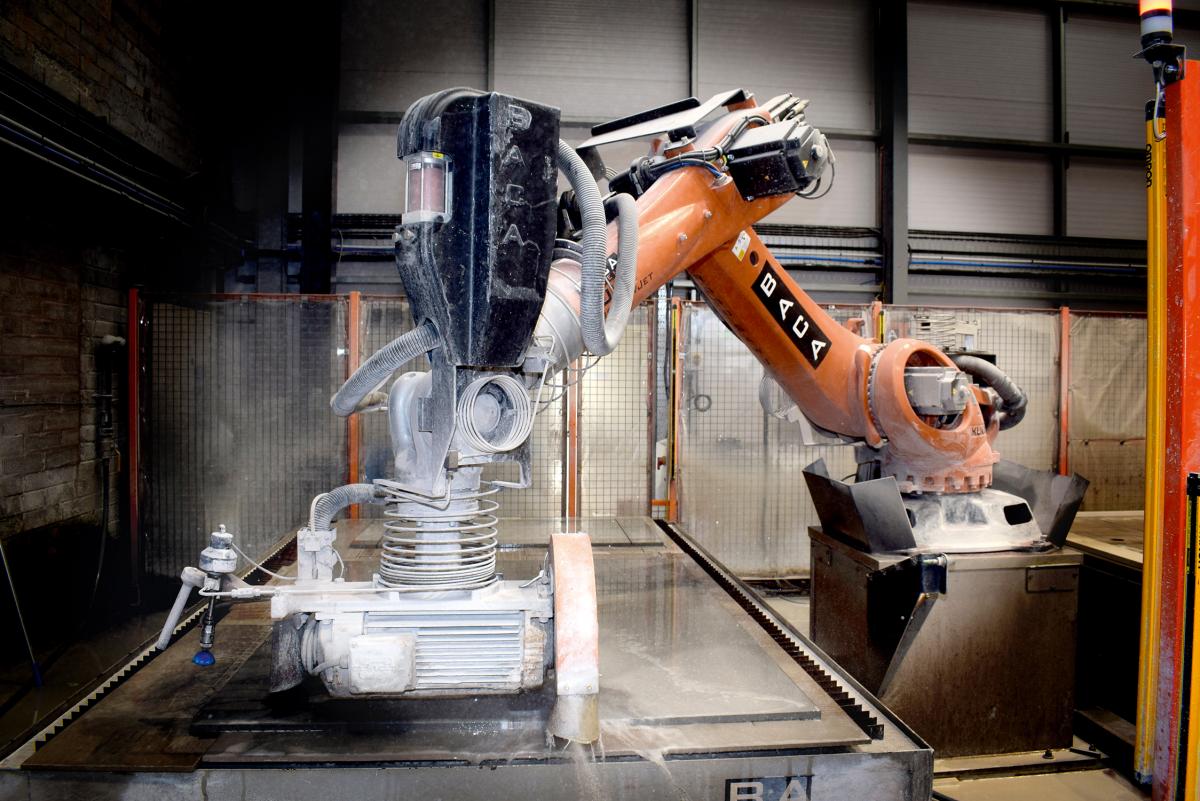 Robots are not cheap. These start at around $400,000 (£285,000) including two tables and two weeks' training, but those who have bought them sing their praises, especially those who have also experienced Italian robots. They say the Baca software is easy to use, so the robots can be operated by one person. They also work at a pace that leaves some Italian technology standing when it comes to worktops.
A big advantage of a robot arm that uses both a disc and a waterjet cutter is that it maximises the yield from the slab.
LPE Group's Comandulli edge polishers have also enjoyed the success of most other machinery this year. Carl Sharkey says: "We have already passed last year's level of sales of edge polishers, and last year was good."
Whatever government incentives might achieve, Carl says companies would not be investing if they didn't need the machinery, and he believes the main motivator for needing it is the shortage of skills coming through the sector. "That's only going to increase, as far as I can see," he says.
He says it's all about metres and minutes – getting as much finished product as possible from a slab in the shortest time possible. The latest Comandulli certainly works quickly, with Smart Feed on the belt speeding the workpiece to the heads, then slowing it down. It also saves water and energy by operating only the heads that are needed.
Other features include an automatic system for precise bevels, automatic positioning of the calibrating and cutting units with a thickness reader, alternative configuration using a vertical spindle, ability to process ceramics from 5mm thick, and automatic processing of glued work pieces thanks to a special sensor to read aprons and reinforcements. "People seem to want all the bells and whistles," says Carl. "All these things  operators don't have to worry about."
Bruno Machado of On Point Machinery plans on being at Marmo+Mac this year to support Thibaut, Manzelli and ECS.
On Point Machinery specialises in the supply and after sales service of machinery for the stone industry.
"The industry is extremely busy," says Bruno. "From all of our customers' and potential customers' feedback it feels that everyone is extremely busy. At On Point we have seen a huge rise in sales and after sales service. In regards to new machinery sales we have orders up to June 2022 across all of our brands."
"The growth in our sales in 2021 and already for 2022 has been very positive. For sure a part of our philosophy is to provide an excellent after sales service and with that in mind we have employed two new engi-neers to be able to remain providing our customers the same or better level of service. Quality and after sales service is key to machinery sales.
" I believe our brands of new machines (Thibaut, Manzelli and ECS) are happy with On Point. We all share the same vision in business which is to supply our customers high quality products and an excellent cus-tomer service. Our growth for the past four years proves that our philosophy and the aim is in the right direction and we love working together with all of our brands.
"It is amazing to see that the industry is really busy. Although some customers are struggling with the high level of demand it is definitely a good problem to have."
Bruno says the response to the latest generation of Thibaut machinery (Version 5)  has been very positive.
The new pilot interface across the whole range of the machines makes it particularly user friendly for On Point's customers.
Bruno says: "The machines are built to the highest quality, including a galvanised structure and weighing up to 8.2 tonnes. The options such as the ACS (Angle Cut Solution) on our cutting range and the new Thibaut-developed Angle Drive on the machining centres are great assets to our machines.
"The aim of the new V5 generation is to offer customers quality and user friendly machinery."
He says the Manzelli lifting equipment On Point sells, from the well known Manzelli vacuum lifters to Jib Cranes, are favourites among fabricators, although the company's waterwalls and drywalls have also been extremely popular in the UK.
With silicosis being a major concern to stone fabricators, On Point customers have been investing in the safety of their operators. "The Easy smartwalls and Dry smartwalls are built with quality and provide excellent efficiency on dust extraction," says Bruno.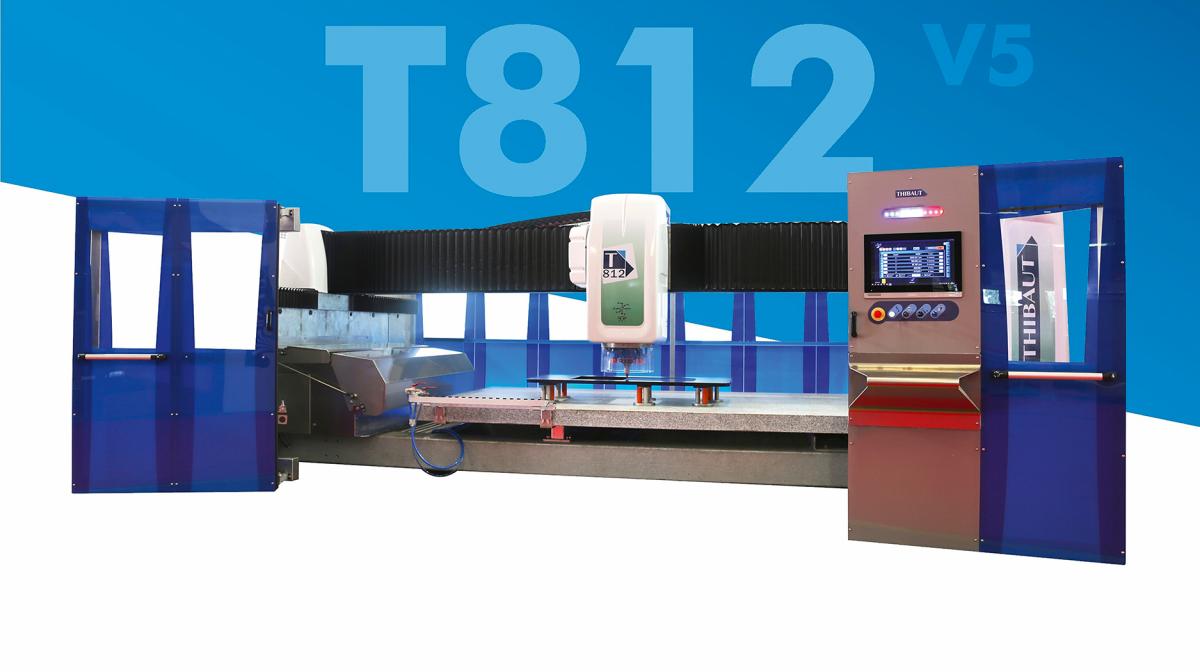 Most of the companies represented in the UK by D Zambelis are planning on exhibiting in Verona and the Zambelis family intends to be there to support them (travel permitting) – and perhaps decide the next machines that they will be showing in the new showroom/ training centre that has opened at their headquarters in South Woodham, Essex (see the July/August issue of NSS).
In Hall 5, among the machines on the Achilli stand will be the Achilli Gold, a high precision four axes bridge saw suitable for cutting Dekton and other sintered materials.
It has a tilting table, automatic head rotation through a full 360º,  motorised head tilt, and a variable speed 11kW motor.
Achilli also plans to show its TFM mini bridge saw, which can be customised as required with options such as a 7.5kW or 11kW motor with an inverter, a galvanised frame, manual or motorised pop-up rollers, side extensions, water tank and recycling system and laser alignment.
For lifting and positioning slabs on to the worktable of a saw there is the SC hydraulic and motorised slab trolley, available in two sizes, for lifting 500kg or 800kg. Control is by pendant or telescopic handle.
Also in Hall 5, CMG will exhibit its range of edge polishers, such as the Taurus and Flotter, designed for high productivity. You will also be able to see the new concept V-Groove machine, which makes a double mitre cut (45º) in a single pass, so the two parts form a perfect right angle when glued.
Over in Hall 2, Omag's sophisticated CNCs on show will include the Digitale monoblock five axes bridge saw.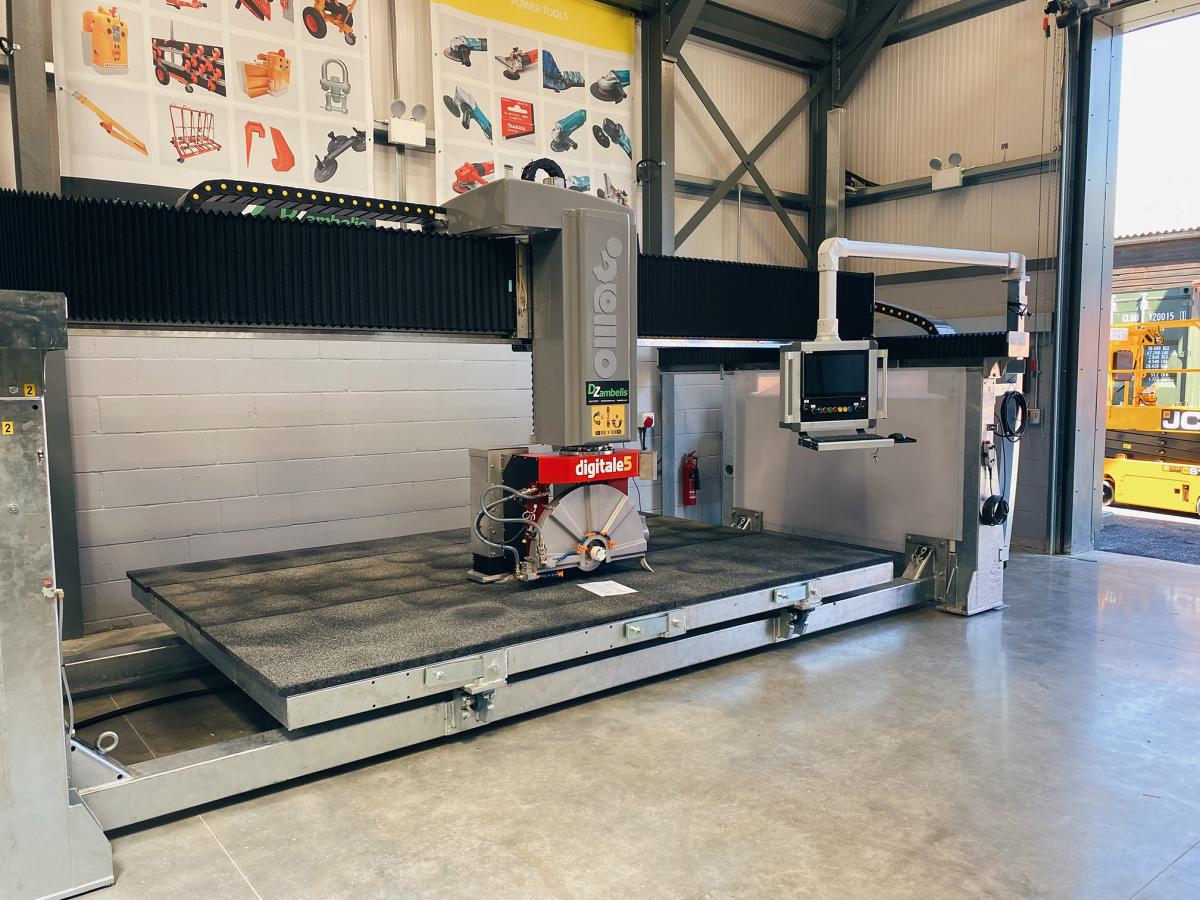 With its galvanised steel, the Digitale has an 18kW motor, a SAMR vacuum system to move pieces, a camera with Omag FastCUT software, a plan probe for measuring the thickness of the slab and a radius probe for checking the diameter of the blade.
Omag's DigiMill will join the Digitale on the stand. DigiMill is a CNC workcentre with a monoblock frame capable of making grooves and inclined recess drainers. It has an 11kW motor and 20-tool magazine plus one angular head.
Also in Hall 2 is edge polisher company OMGM Bellani and Costruzioni Mecchanice Donatoni, both of which D Zambelis represents in the UK.
Terzago is highlighting its latest version of the popular four axes CUTe, the CUTe Evolution. This shifts the saw up to a five axes monoblock. With brushless motors, the 15kW Evolution includes optional CAD software and DXF import that can create a video simulation of a job before work starts.
Among the machines Costruzioni Mecchanice Donatoni will be showing is its SKFR-05 driller and miller for cladding, with its exceptional flexibility in drilling holes and cutting kerfs and anchoring slots to just about any configuration required.
There will also be the SPL and DM1X cross cutters on show. The SPL can cut both marble and granite up to 200mm thick and will be shown with a laser pointer for selecting the cutting areas on the entry roller conveyor and a tilting exit conveyor for removing waste from the line.
The DM1X is an upgrade of the straight forward DM1 so it can carry  a 300, 350 or 400mm blade that can be manually adjusted for cutting granite or marble.
OMGM Bellani is showing the Linea flat edge polisher. It has eight oscillating flat heads. A PLC control of polishing heads and input and out conveyors maximises output while saving energy and water.
Hall 2 also sees the stands of Giacomini Officine Meccaniche, which makes the large scale cranes D Zambelis sells, and Dal Forno, which makes its vacuum lifters, while its water and dust management systems will be on the stand of Italmecc in Hall 5.
Whatever the rest of the year brings, 2021 has already set a new record for Roccia Machinery, best known as the UK agent for GMM bridge saws, edge polishers and waterjets.
With more than 50 machines of all kinds installed, the company has increased to four the number of engineers it employs and taken a Covid loan to buy three new vans for them to keep up with demand.
Roccia Director Darren Bill says: "If you had told me 12 months ago this was going to be a record year I would have said you're barking."
And, he says, unusually there is as much demand from architectural masonry companies as there is from the worktop side of the industry.
GMM is on the Marmo+Mac exhibitor list and Darren is intending to be there in support. He says the latest from GMM is the Toden. This is a hefty five axes bridge saw for the architectural masonry sector. It can carry a blade of up to 2.2m driven by a 44-57kW motor. The main machine structures are made of electro-welded steel, hot dip galvanized and stabilized to ensure dimensional stability and durability. To keep it quieter, the stainless steel blade cover has a sound-absorbent coating.
All the axes have brushless motors and an encoder that retains the positions of the axes even when the power is turned off, so the Toden does not require a reset cycle at each start-up.
The X and Y axes are driven by zero-play precision helical rack and pinion meshing on hardened guides with recirculating ball guides. The Z axis also has recirculating ball guides and a ball screw.
The stainless steel pendant control panel with a USB port and 15in LED colour touchscreen display has an articulated support arm to allow the operator to approach the table during work preparation. The Microsoft Windows-based interface is entirely developed by GMM with ease of use a priority.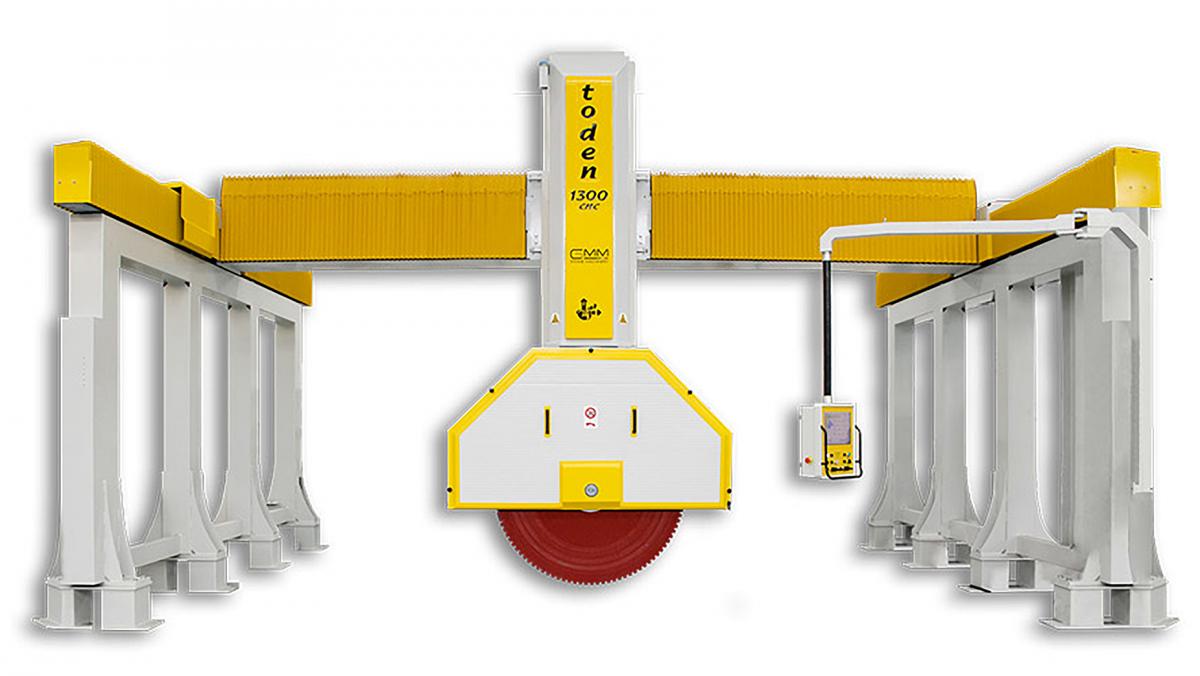 Industry 4.0 ready, the Toden can be connected to a local area network (LAN) so files can be transferred directly to the machine, its operation can be monitored remotely, and analysis and assistance is available online.
Roccia also sells Socomat cross cuts, loaders/unloaders, and calibrating machines, which will be on show at Marmo+Mac, and Bottero CNCs that won't.
Bottero has a reputation for making easy to use CNCs that are not too expensive, a policy it has maintained with its latest Bottero Practica Plus. Available with three or four axes, it is available with working areas of 2545mm x 1290mm, 3300mm x 1620mm, and 4300mm x 2320. There is also a platform version available with a 3300mm front opening and a working table of up to 18m.
The Practica Plus has a self-ventilating air cooled spindle, an extra thick aluminium work table, a laterally located tool magazine and uses Taglio CAD-CAM software.
Stone & Glass Group has experienced ups and downs, like all businesses through the pandemic coupled with the impact of Brexit. However, it has continued to execute its business plan by investing in the company systems, infrastructure, and staff, becoming more agile post pandemic. It says sales have returned to prepandemic levels and the future is looking bright.
Stone & Glass has relocated from North Shropshire to Brynmenyn Industrial Estate, Bridgend, South Wales. CEO Phil Birchall says: "My mother's side of the family has always lived in Wales, local to our relocation, and this, combined with the commercial property prices and locality to the lovely seaside views there, were just too many positives to be ignored."
Cms Brembana, Sasso and Bovone, represented in the UK by Stone & Glass Group, will be at Marmo+Mac, in Halls 2 and 3. Stone & Glass Group hopes to be there to support them, depending on Covid restrictions at the end of the month. Phil says if he goes he intends to drive because he does not want to take the extra risk of a flight.
Cms Brembana has released two new waterjets and a new five axis head. The five axes JD5ax features a reduced jet taper with automatic taper compensation (IKC) for cutting at higher speed without compromising precision or the cleanliness of the cut.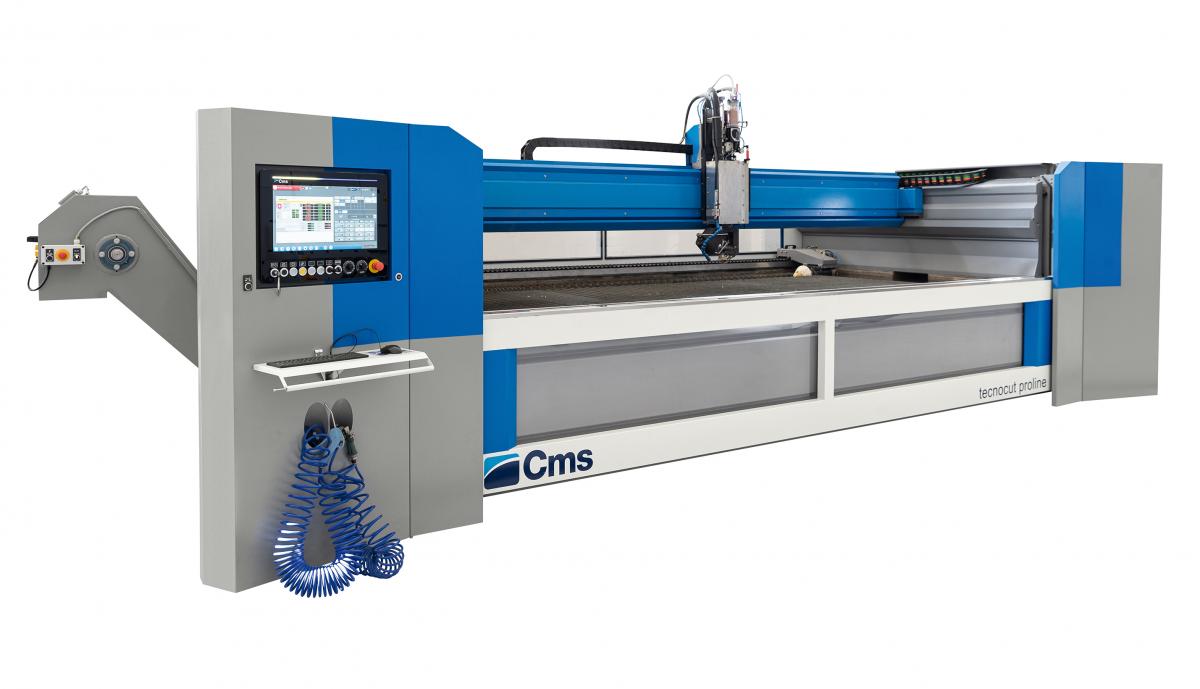 JD5ax has an infinite rotation of the high-pressure joint (C axis) for nesting without breakpoints and can tilt (B axis) up to 60° using features designed and produced by Cms Brembana. Spot-on mitres come as standard.
There is a patented abrasive injection system, a new touch probe that incorporates anti-collision detection, direct-drive servomotors and telemetry monitoring of wear components so they can be replaced without any unscheduled downtime.
Mechanical components that could become fatigued are kept to a minimum as part of the designed-in simplification of maintenance.
The two new waterjets are the Tecnocut Proline and Brembana Smartline.
The Tecnocut Proline has a stainless steel frame ready for integration with 'Dredge', a fully automated, maintenance-free abrasive removal system, automatic water level control for submerged cutting and a rotary option for pipes processing.
This easily configurable concept has the abrasive tank on-board, and the electric servo-driven high-pressure pump can be integrated with the machine frame, which is a big space saver.
A sturdy frame and rugged gantry give rigidity, which, with ground helical rack and pinions and a high precision gearbox, deliver consistent cutting accuracy.
The linear guides are protected by a novel 'powder free' system of overlapping way covers keeping out moisture, dirt and dust.
The Brembana Smartline, meanwhile,  includes all the safety and performance features typical of Cms waterjets but in a compact, customisable design of three or five axes configurations to suit restricted budgets.
The open frame structure with electric cantilevered gantry and a separate catch tank allows easy access to the cutting area on three sides, making loading and removal of material quick and easy.
All axes are moved by hardened and ground rack and pinion. Thermowelded bellows protect the X axis from water and dust while on the Y axis sheet metal panels provide the protection.
All the steel has a ceramic paint coating to stop it rusting and the tank is set up for the installation of a chain waste removal system.
Running at up to 50m/min with acceleration of 3m/s2 means high productivity despite the low price.
Sasso is best known for its edge polishers and Stone & Glass Group has recently installed a Flying Bull with another to come later this month and a Flat 8.4 to be installed in October.
The second Flying Bull was ordered after a successful demonstration at a customer's site where Stone & Glass Group had installed earlier in the year.
The Flat 8.4 customer was looking for a flat edge polisher only, but because the 8.4 can be supplied with a multi-purpose spindle for special workings and up to six bevels, Stone & Glass Group was able to offer a solution that would remove an extra process from the saw, reducing time and handling, and creating extra capacity on the saw.
Stone & Glass Group also represents Bovone edge polishers. Although better known from the glass industry, Bovone has introduced a new model, the Stonedge 15/45, one of which is already installed in the UK.
Stonedge 15/45 is a straightline edge polisher for flat, arris and calibration, plus it has a variable angle function producing flat edges or mitres up to 45° in one pass, notably on sintered materials such as Dekton.
Along with the machines, Stone & Glass Group says it has seen significant demand and growth for its Sigma waterwalls, as fabricators continue to tackle the issue of silica dust in their factories.
Roberto Vienello, the Sales Director of the stone division of Italian machinery company Intermac, says the company's exports fell about 40% last year in the face of the Covid pandemic. But this year, sales to the UK have bounced back and already reached £35million. And the UK has more of Intermac's Master CNC workcentres than any other country apart from the USA. Even Italy has fewer.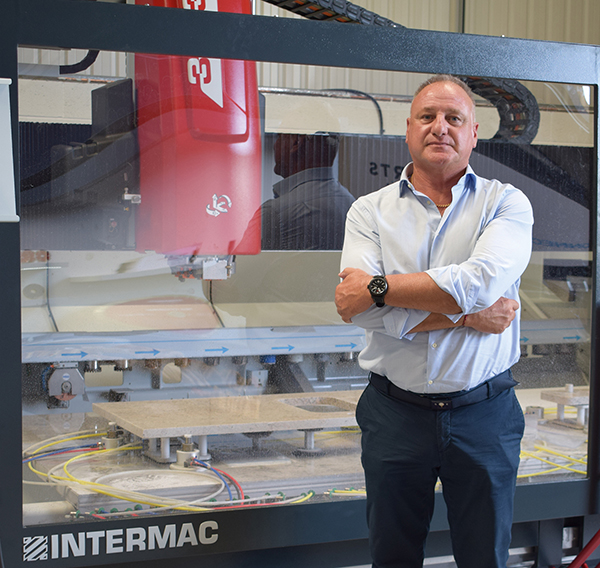 That is an indication of the importance of the UK to Intermac, which also sells Donatoni CNC bridge saws, Montresor edge polishers and Diamut tooling, as well as partnering various other companies in order to be able to be the single source of equipment for stone companies.
As Roberto says: "If you don't have a CNC, a waterjet, a bridge saw and an edge polisher you're not in the business."
But there being so many Intermac Master CNC workcentres in the UK has also led to a problem. The latest updates to the popular Master 30.3 have made it 70-80% faster, which fabricators want (of course) but in order to do that a comprehensive tool magazine has been added behind the table. That has made the CNC a metre wider. Some people in the UK, especially in the worktop sector, have designed their factories around their Masters, and now they can't update to the latest version because it will not fit in the space available. It is an issue Intermac is looking into.
Intermac has for several years had the largest stand at Marmo+Mac and plans to be back this year with its Intermac CNCs and waterjets alongside Donatoni bridge saws and Montresor edge polishers.
Most of the machinery has already undergone whatever changes were necessary to accommodate the move to processing porcelain and sintered hard surfaces, which have taken off in an even bigger way on mainland Europe than they have in Britain. Those changes will generally have been seen before.
There are two new Montresor edge polishers being launched and the latest updates on the Sophia computer telemetry system will be shown. Sophia monitors customers' machines, warning when parts need replacing or the machines need servicing and keeping track of when and how they are working. Until July this year, Sophia was a service that involved customers connecting  to Intermac's computers. Since July that has no longer been necessary and customers can have their own dashboards on their own systems.
Waterjets have impacted considerably on stone fabrication due to the new materials being used and the falling prices of the machines – 10 years ago a waterjet cost about twice as much as the latest  models and they are now also a lot easier to operate.
The development of five axes also made them more relevant to the stone industry so they could cut mitres. Roberto says there has been a massive jump in sales of Intermac's Primus waterjets in the past three years in particular.
One Intermac range that will not be at Marmo+Mac this year is the Genius, which uses glass cutting technology to score a surface so it can be snapped. It's quick and easy and Intermac thought new sintered surfaces and porcelain in the kitchen market could be cut in the same way, so introduced the Genius at Marmo+Mac in 2019. But Roberto says it has not proved popular with fabricators, which is why it will not be there this year.
You have probably not heard of AAG AXYZ Automation before but Chris Arund hopes to change that with the company's WARDJet waterjets in particular.
Chris, who was UK Commercial Director of Intermac until July, has left to become Managing Director UK, Europe, Middle East, Africa & Asia at AAG AXYZ Automation Group.
AXYZ is a globally operating manufacturer of CNC router systems and waterjets based in Ontario, Canada. It has been around for more than 25 years, during which time it has built and installed thousands of CNC machines for many industries that use them, but not so much for the stone industry.
 In 2018 AXYZ bought  American waterjet maker WARDJet. AXYZ President, Alf Zeuner, said then: "AXYZ believes in providing localised sales and service support through our own offices. This ensures fast and reliable customer service. We want to bring this same value to WARDJet's customers."
He said both firms had grown by offering customised products tailored to the specific needs of users. Waterjet technology "is very complementary to what we are doing," said Alf Zeuner.
"We will have a much larger footprint in the [waterjet] industry overnight. You have to embrace change to be on the right side of history, and this change is a natural one. WARDJet's vision and our vision could not be more closely aligned."
Chris Arund intends that you will hear more about WARDJet.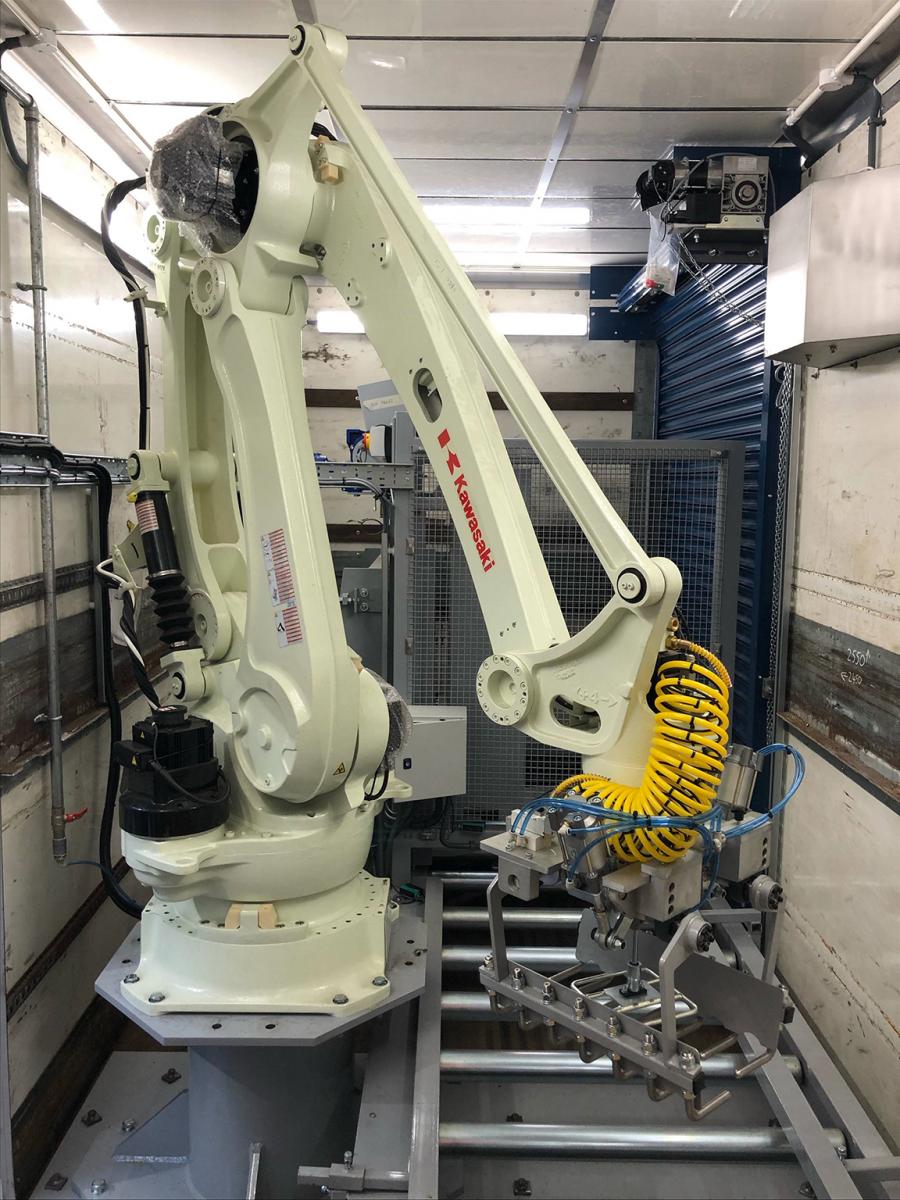 New company GS-MR is introducing Kawasaki robotics to the stone industry. Below, Robert Owen, MD of GS-MR (on the left) is presented with a Preferred Integrator certificate by Ian Hensman of Kawasaki Robotics (UK) Ltd.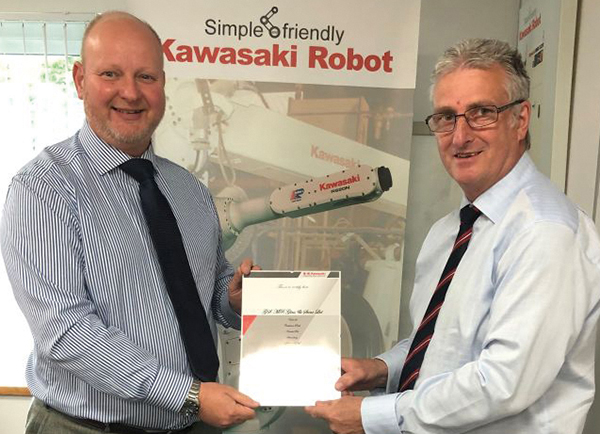 It was incorporated in 2019 by Robert Owen, whose background is in the glass industry but who could see potential in expanding into the stone industry.
Having now become what is called a 'Preferred Integrator' for Kawasaki Robotics will, he hopes, help him to do that. He and Kawasaki want to introduce the robots to the stone industry, although initially at least as a handling system rather than for cutting and shaping.
Based in Shrewsbury, GS-MR designs and manufactures bespoke robotic and automation systems for factories using Kawasaki robots exclusively. Robert says: "We pride ourselves on doing it the simple way. We don't want to make it complex.
"The wide range of models available [from Kawasaki] and their durability is matched by the technical competence of the sales and integration teams. That back-up and knowledge has always proved pivotal and has given us a significant advantage when we're in project discussions with our customers."
He says manual skills like those in stonemasonry are wonderful to see and use but robots these days are versatile, fast and accurate. They can lift larger, heavier materials than people can manage and they don't get tired. He says the stone industry is likely to want a robot like the BX 200, which can lift up to 200kg, although there are larger robots available from Kawasaki. Robert Owen says a typical installation in the glass industry costs about £200,000.
GS-MR says any spares needed for the robots are in the UK, so there is no waiting for deliveries, which can currently take weeks to arrive even from mainland Europe. "We're home grown – a British company. We want to emphasise that," says Robert.
A name already familiar to the stone industry in the UK is that of Accurite, which sells a range of own-brand machinery, much of which has originated in China, as well as the Italian CNCs of Denver. Now, though, Director Mark Brownlee has decided to start making machines himself in the UK.
Accurite has for many years had a thriving business selling used machinery that is reconditioned at its substantial workshops in Ulverston, Cumbria. "When we recondition a machine it's like building it anyway," says Mark.
Accurite has always replaced the operating systems and wiring of the machines it buys from China. Mark says he would like to buy just the metal frames but the Chinese will only supply finished machines and his engineers – he employs eight of them – then have to strip out the Chinese controls and wiring and replace them with Accurite's own systems.
It was worth it while it was cheaper to get the frames from China that way than to have them made in the UK, but prices from China are going up and the cost of shipping has become two or three times more expensive since the start of the coronavirus pandemic, if you can even get a container. The result is that the price difference has shrunk and the comfort factor of home production has increased.
At the same time, there has been some level of anti-Chinese feeling, says Mark, perhaps as a result of Covid-19, which originated in China. Mark says he has also encountered an anti-Europe feeling in some of the industry, perhaps fired by Brexit and differences between Europe and the UK over the restrictions imposed to tackle the pandemic. Perhaps also British companies just like to buy British where they can.
So Accurite has starting building its own machines using locally sourced steel. The frames will be powder coated or galvanised, which Accurite can get done in Manchester.
The company has started by making a simple worktop router similar to the Kolb Genius (the Accurite version is even called the Genius) and is moving on to bridge saws, the first of which is expected to be in production next month (October).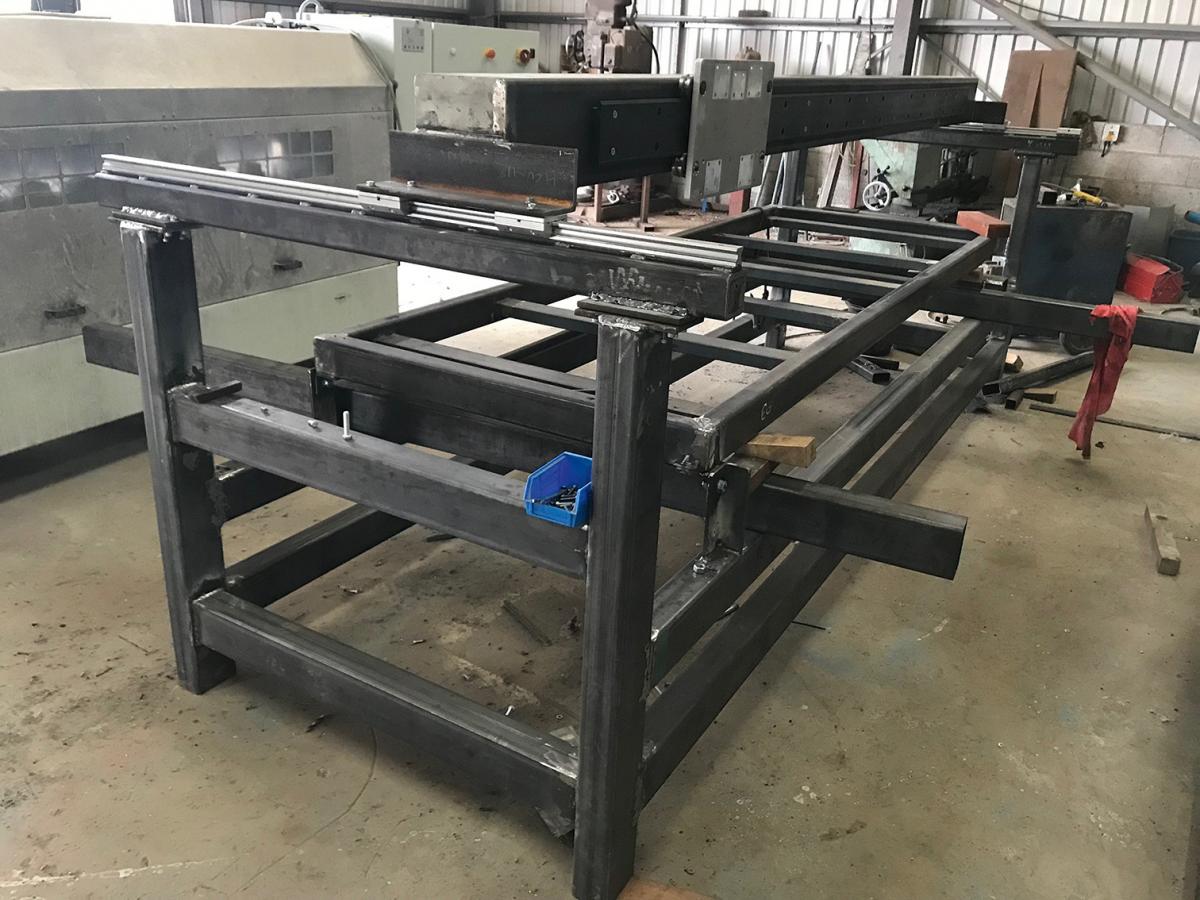 Mark says customers are trading up to more sophisticated levels of technology in their machines and their use of information technology (IT), something the pandemic has accelerated. "I think this pandemic has put 10 years of change into 18 months," he says. Customers are using video conferencing when they have a problem in order to show Accurite engineers what it is and are ordering spare parts on WhatsApp.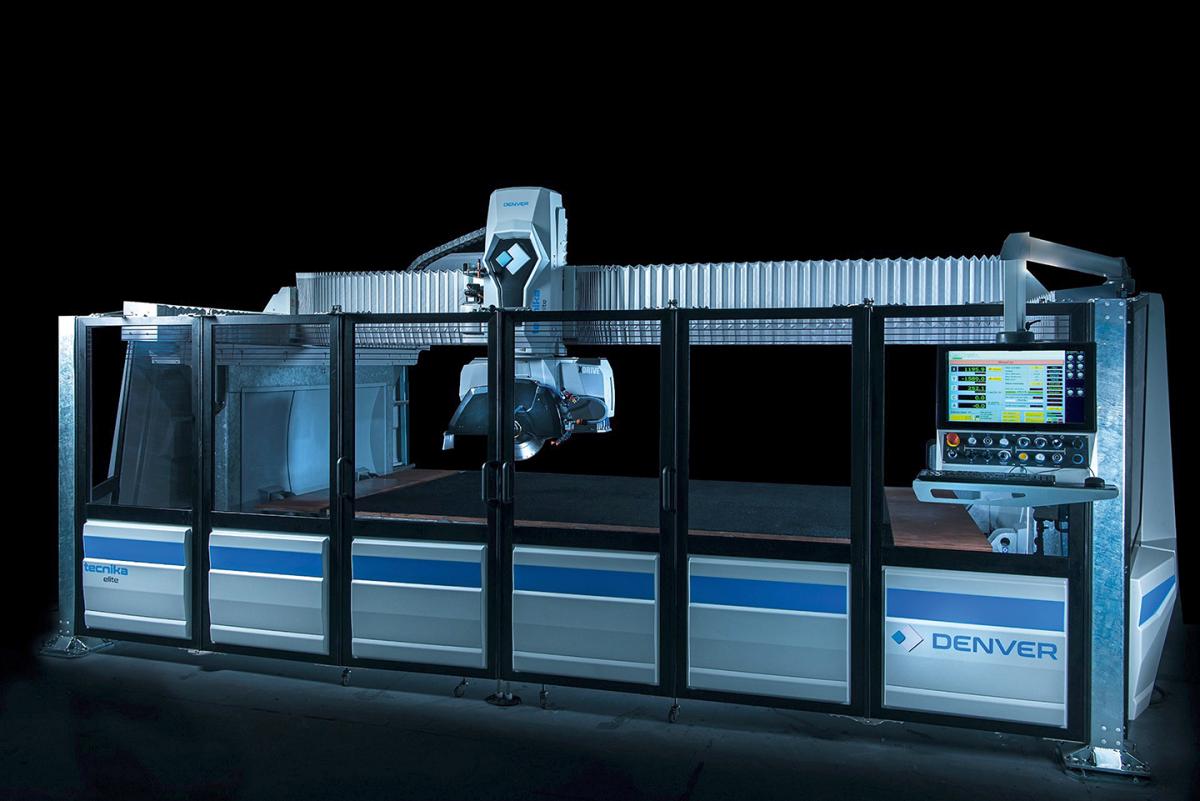 But machines break down. A company might not want a spare £100,000 or £200,000 CNC as a back-up in case of a failure, but it is prepared to spend considerably less to have a jenny lind type of machine as a back-up so the factory does not come to a complete halt if the CNCs stop working. "I have noticed companies are doing that quite a lot," says Mark.
But Accurite does still sell the Italian CNC saws, workcentres and waterjets of Denver and does not plan to stop doing so. Denver will be exhibiting at Marmo+Mac, in Hall 3, showing a new livery on its machines to liven up the brand. But Mark says: "I haven't decided whether I'm going this year or not. I probably won't book in advance. I'll do it at the last minute if I do go."
New Stone Age, widely know for the BM and BV-Tech saws it sells, now introduces Cortan's  flaming and bush hammering machines to the wider market.
New Stone Age has supplied two Cortan BFR-150 (1500mm wide) bush hammering and flaming machines to a customer in Scotland over the past seven years. It has just supplied a third to the same company to meet the increasing domestic demand and has an order for an FR-90 (900mm wide) Cortan flamer from another company. So New Stone Age has decided to offer the brand to the market in general.
The FR-90 includes an optional rotating brush for removing the flamed fragments and can flame 150-160m2 of paving a day.
MD James Turton says New Stone Age is also experiencing a high demand for its range of jib cranes and vacuum lifts from its Italian supplier, Righetti.
Righetti offers a wide variety of vacuum lifting options with single or multiple pads and  manual or pneumatic titling, so there is something to suit every stone company. Each model can be provided to work from either a dedicated vacuum pump (on board or remote) or by compressed air using a venturi device.
Meanwhile, the New Stone Age BM Super and BM Super 800 monoblades continue to find favour with companies that do not want the various mono wire saws on offer.
James says: "We have supplied another BM Super 800 to one of our customers in Cumbria. They were up-dating their older model, having seen the new features that can be provided on the latest incarnation of the BM monoblades, including the latest Industry 4.0 technology.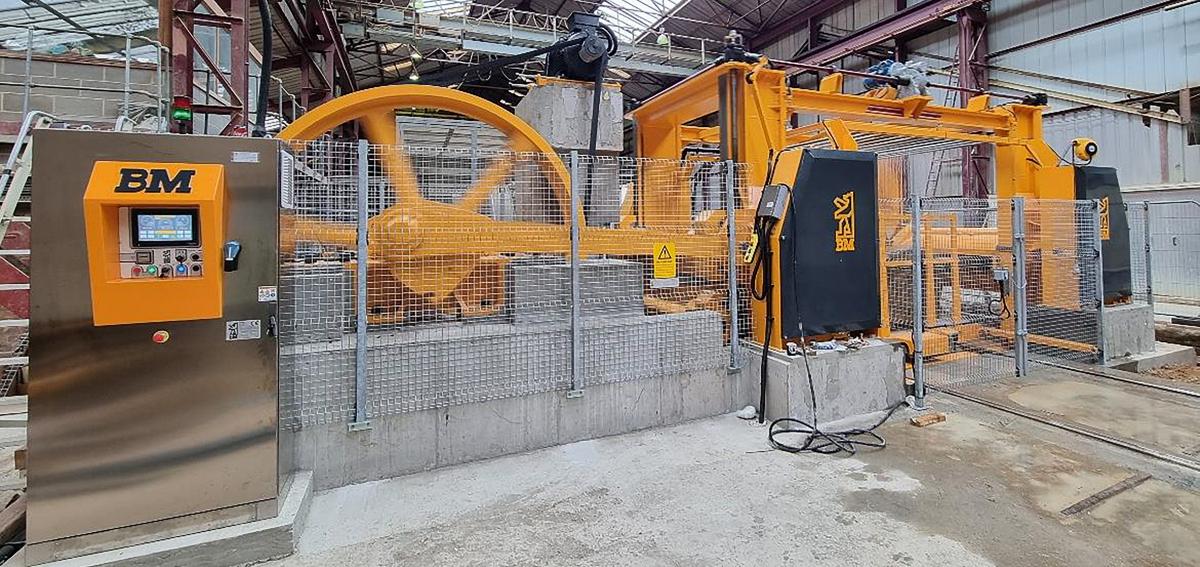 "Earlier this year we supplied a BM 50 Frame Saw which has a 2000mm wide frame to one of our long-established customers in the north of England. The customer considered one of our BM multiwire saws but, having discussed the pros and cons of all makes of mulitwires and already using two BM 40 frame saws, they decided to add an additional frame saw to meet their increasing demand. It has a proven track record of accurate sawing with excellent cut finish, ensuring the end product meets their customers' expectations."  BM intends to be at Marmo+Mac in Verona this year in Hall 2.
With BV-Tech, New Stone Age continues to offer a good selection of stone processing machinery to its customers in the UK and Ireland.
James: "We have supplied a 2nd BV-Tech line, comprising the popular IBV/600m automatic heading machine and CALBV/600 1 + 2 calibrator and honing machine in parallel to an existing line to offer increased production and flexibility. The two processing lines are fed sawn four-sided strips directly from two BV-Tech TBV/1600m automatic block cutters."
A second TBV/1600-4mg automatic block cutter is also being supplied to a customer producing York Stone paving and walling. The two machines will work alongside each other.
As ever, new machinery is often accompanied by new water recycling plant and New Stone Age says it has been a good year for the sale of the bespoke OMEC systems it sells. 
"Despite the global pandemic and the challenges of Brexit, the past 12 months have proven to be an incredibly strong period of sales growth for New Stone Age," says James. "And we continue going forward with a good number of machine orders to fulfil before the end of the year."
Emmedue, the maker of CNC saws and workcentres represented in the UK by Stone Equipment International, is booked into Hall 3 at Marmo+Mac, where it will be showing the new Astra Pro bridge saw and a range of its other machinery.
Features of the Astra Pro include a 15in touch screen, a macro for kitchen worktops, automatic tilting head up to 45º that can rotate through 370º, a 13.5kW motor and laser and software to create a template.
You can see a preview of it on YouTube at www.youtube.com/watch?v=VAK7CLsEDqo. As Andy Bell, the proprietor of Stone Equipment International, says: "The day of the salesman is dead – and it's brilliant. Everything is online." He says he probably will not go to Italy this year.
Also in Hall 3 will be the major manufacturer of edge polishers represented by Stone Equipment International, Marmo Meccanica.
Andy got married last year, to Faye, but says that's not the only reason it was his best year ever. He says he has also been busier than ever at work and has made the most profit ever.
After lockdown last year he decided to downsize his business. "I wrongly thought I needed a lot of people around me to support a good business. When lockdown came I discovered I didn't."

New from Breton but being kept under wraps until its launch on the Breton stand in Hall 4 at Marmo+Mac is the Genya 2.021, which it describes as its most advanced monoblock five axes workcentre yet for cut-ting, drilling and optimising the use of natural stone, engineered stone, sintered stone and ceramics.
A major feature of the Genya 2.021 is its Breton Touch software with different levels of functionality according to the operator's experience and time. It even automatically suggests the best cutting schedule to optimise the use of the slab.
Software facilitates quick and easy continuous vein effect transfer to the machine once a customer's confirmation has been received and XpressTop is an advanced modular solution for managing the whole kitchen worktop production cycle.
The Genya 2.021 is particularly fast thanks to the automatic positioning and suction cup gripping system on the spindle. The range of cuts that can be produced is extensive thanks to a tool called the 'Rocket'.
A bar code detector identifies slabs for the rapid loading of the program needed for that slab and the workpieces that are cut are identified with a barcode or QR code using an an automatic on-board labelling system. 
Michele Stangherlin, the Breton Business Developer, says: "Genya 2.021 is able to cut ceramic slabs up to five times faster, thanks to the new configuration patented by Breton."
Waters Group is the UK representative of Cobalm, with its CNC saws and workcentres,  although Director Daniel Waters says the Waters Group is currently majoring on its tools and consumables sales rather than pursuing machinery sales. Cobalm will be exhibiting at Marmo+Mac, in Hall 3, but Waters Group Director Daniel Waters says he will not be going to Verona this year. 
Wells Wellcut saws, tumblers and croppers work tirelessly in quarries and architectural stone company yards all over the country. And there are a lot more of them now than there were before the pandemic because demand has been so high, says Director John Wells, who runs the company with his son Luke.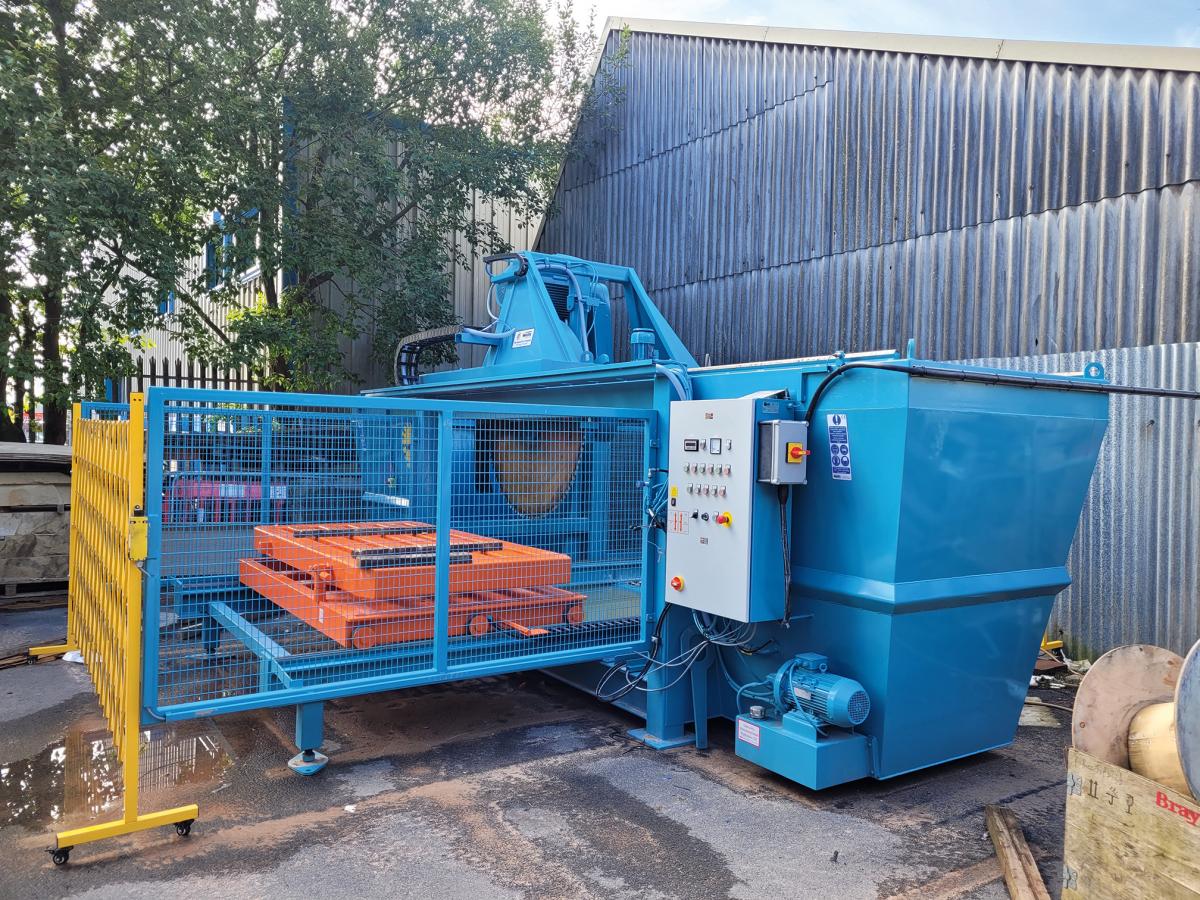 Companies are tending to buy extra machines rather than replace existing machines because they, too, are facing a high level of demand for stone and masonry. That has cut the supply of used Wells machinery, which Wells Wellcut would normally expect to take in part exchange for many of its new machines. The Wells engineers refurbish used machines at the company's factory in Lincolnshire where the new ma-chines are also built.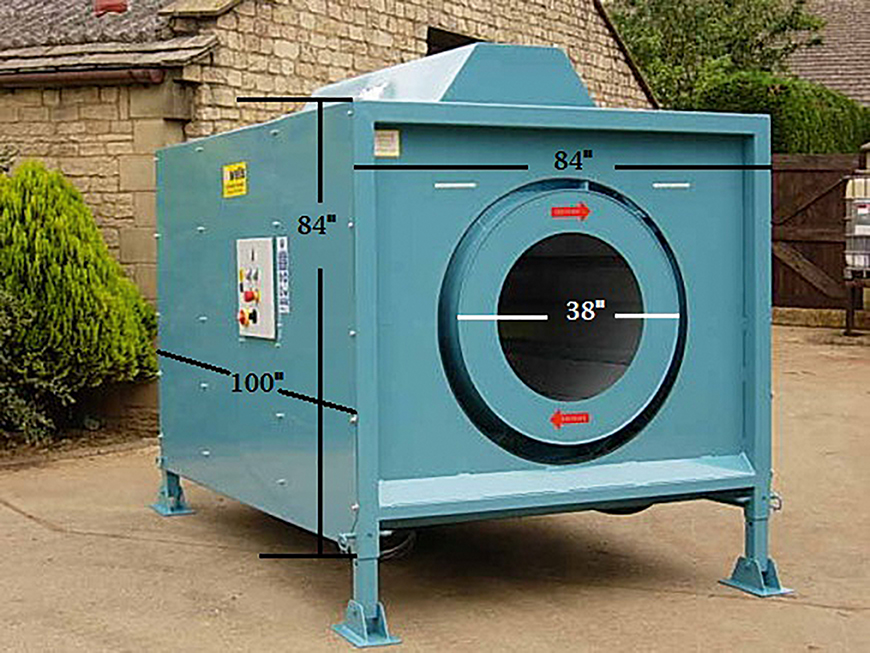 John says the whole range of Wells machinery has been in demand. "I have never known anything like it in the 38 years we've been in business," he says. "We have sold more tumblers in the past two years than we sold in the previous 10 years.
"The capital allowances have been an incentive and Brexit has probably helped us. I don't know whether it was the right thing to do or not but it's no good crying over spilt milk. I should probably say a big 'thank you' to Boris."
Wells had been quoting 26-week delivery times for its new machines, but with a lot of overtime that is being clawed back and was down to about 20 weeks in August (as John says, taking a  dig at the Italians, there's no month off in August at Wells).
"We have a full, full order book," says John. "We would like to think that has something to do with the reputation we have built up over the past 38 years. We must be doing something right."
It has not helped that Luke Wells has not been well and spent some time in hospital with pneumonia that developed complications, although it was not as a result of Covid-19. There are only nine people at Wells Wellcut and Luke is one of engineers. He has been gradually building up the hours he works again as he recovers. Wells would like to recruit more engineers, especially youngsters it can train, but John says it is difficult to find people looking for a career in engineering.
The phenomenal rise in the price of steel is having to be reflected in the price of the machines, although Wells is honouring prices it has already quoted. John says steel that was costing £450 a tonne this time last year is now £1,460. High tensile steel, which Wells buys from Italy, that was £1,200  is now £3,000.
The latest product from Wells is a range of Heavy Duty Conveyors built to customer specifications. They feature a speed control dial that allows any one of a range of 20 speeds to be selected.
Procarve from Scancad Services in Surrey was developed and is made by Ricky Bennett, a monumental mason and industrial engraver, with programming by Amtech in Newcastle using Vectric Aspire software (which is also British).
Ricky had originally had an Incimar manual V-cut lettering machine that he converted to be computer con-trolled. He then moved on to a Newing-Hall Pantograph. He then started thinking about how he could de-velop his own bespoke lettering and engraving machine to get just what he needed, which he did and was  frequently told he should put it into production for the wider market.
He eventually did produce a commercial version and the result was introduced in 2019 at the Natural Stone Show in London and NAMM Tradex in Warwickshire.
It is a three axes machine with 5mm pitch ball screw running gear. It cuts dry, although in use the head is encased and the dust is removed by a vacuum.
It is a compact machine, just right for engraving headstones, whether they are granite, marble, limestone or sandstone. And it is intended primarily for cutting letters and relief designs into stone. However, it can be used on all kinds of hard surfaces, including wood, metal and plastic. It incorporates a laser so it can follow contours to engrave curved or irregular surfaces evenly. And it is versatile, so it is easy to adapt for milling, drilling and routing. 
There are two standard versions, but because it is made to order it can be adapted to customer require-ments, such as making the working table larger. As standard it has a 1450mm load space a metre deep, allowing a full double width memorial up to 1220mm to be engraved on it. The Z axis has 250mm clear-ance.
It originally had a Panasonic servo drive, but the waiting time for them has become so long that Ricky has substituted a Jazm drive, which he says works just as well.
The Procarve operating system with Amtech graphical numerical control (GNC) includes touch screen con-trol, auto machine alignment, operator prompts & safety dwells, machining real time display, spindle speed override, transfer speed override, auto scan setup, real time laser controlled surface following, and 3D laser copy scanning and export.
The upshot of all that is that it is easy to learn and fast and efficient to use, so it can start providing a re-turn on the price tag of about £40,000 almost instantly.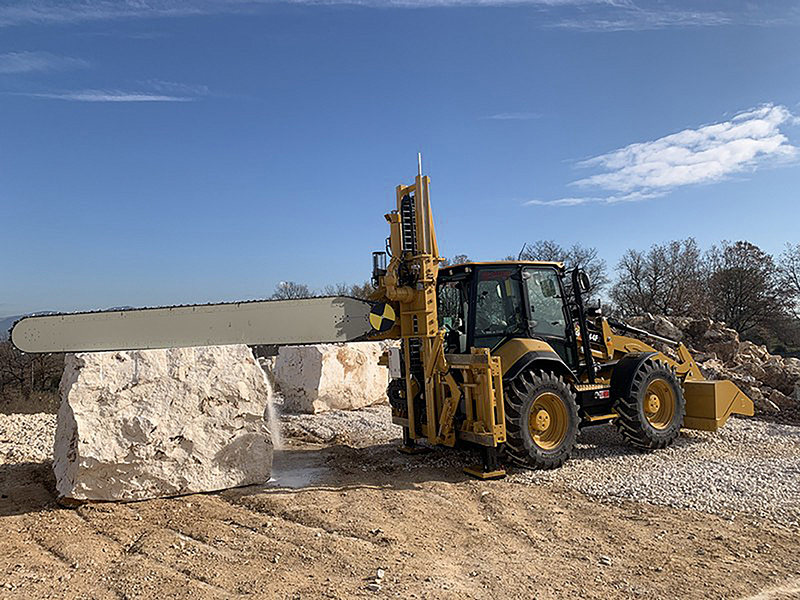 Dazzini introduces what it describes as 'cutting from a new perspective' with its QST3000D chain saw on a backhoe for quarrying and squaring blocks. It can be operated from the cab of the backhoe, so weather conditions are not important, although it is controlled by a wireless remote control unit that can also be used outside the cab. It is driven by the powerful diesel motor of the backhoe (no electricity required) and cuts dry. Lubrification is by automatic pump using biodegradable grease.
The hydraulic circuit for moving the saw was developed in conjunction with Caterpillar technicians for high reliability, simplicity and low maintenance. All movements for positioning the blade are on double chromate columns for stability and rigidity – a system Dazzini says is unique to the QST3000D. Different chains can be fitted for the best cutting solutions for every kind of stone. It can cut up to 4m thickness with a 26-38mm kerf.