Environmental controls: Water and dust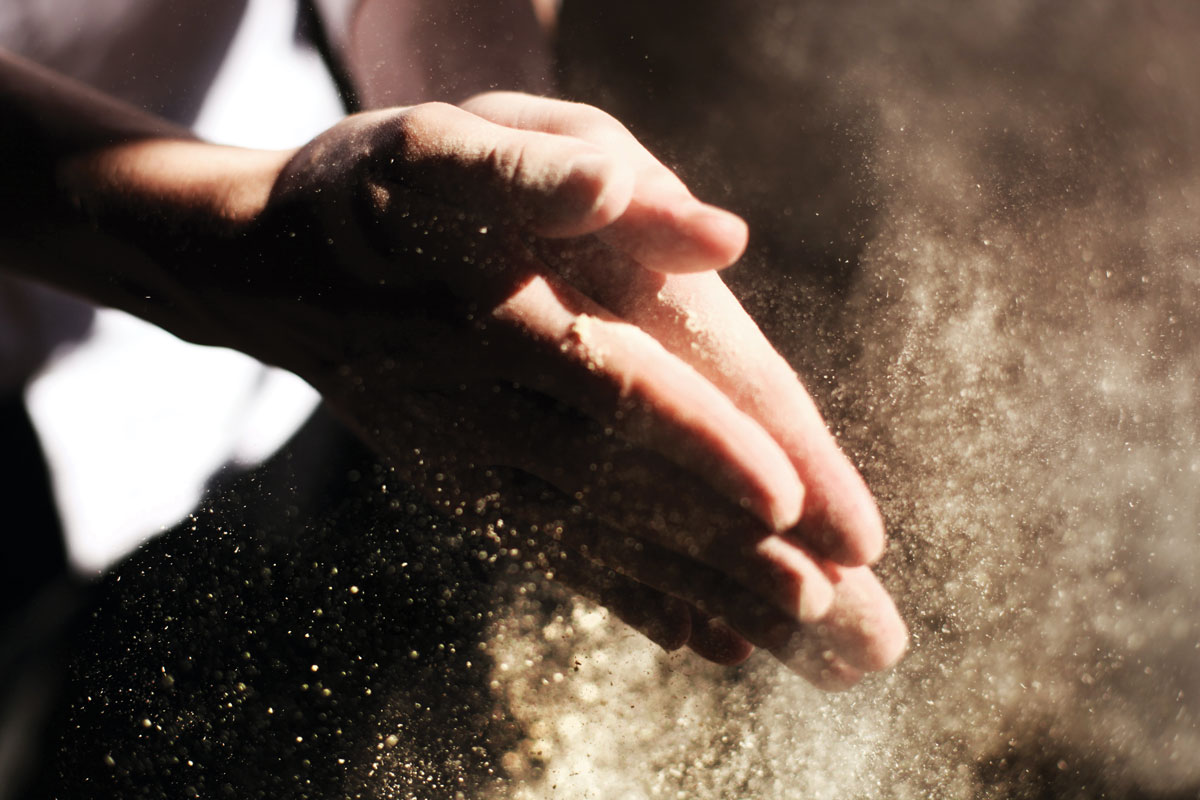 Dust management and water recycling systems might seem costly, but you can't afford to be without them – to protect both people and profit.
Two of the biggest issues affecting the industry are, without doubt, dust and water recycling and both are intricately linked. No business, regardless of size is immune to these problems. More so, no business can afford to ignore them.
According to HSE figures, it's estimated that 600,000 workers are exposed to silica in the UK each year and that silica is "the biggest risk to construction workers after asbestos". It references the NHS as estimating there are 2,000-4,000 new cases of interstitial lung disease (ILD) diagnosed each year, of which a proportion will be due to silicosis.
In Australia, the manufacture of engineered stone is on course to be banned due to high levels of silica and workers being exposed to potentially hazardous particles. This has been highlighted following a rise in cases of silicosis which is incurable and can make those affected feel as if they are being strangled. And looking across the Atlantic, there are talks about banning the fabrication of quartz surfaces in Los Angeles County.
Although such initiatives have not made their way to the UK yet, industry experts believe it pays to be ahead of the curve in order to protect both people and profit. Being compliant with the law can prove to be overwhelming for some smaller businesses but HSE say they are keen to provide reassurance. When Natural Stone Specialist spoke to Natalie Tinsley, an Inspector of Health & Safety, she said: "If you are following the guidance in the Stone Working Book and the COSHH Essentials for Stone Masons found on our website then you are compliant."
The Stone Federation of Great Britain Chief Executive Jane Buxey says: "Stone Federation works closely with the Health & Safety Executive to ensure that our members and the natural stone industry has the latest advice to help them ensure that their workforce is properly protected. We encourage all companies to ensure that the equipment and safety advice is in line with the latest HSE guidance."
Browse HSE's website and you will also find comprehensive information about how air sampling can be performed. This usually requires a worker wearing a small air sampling pump, which draws air though a sampling device to collect on either a filter or in a sorbent tube (used for collecting certain gases and vapours). The sample, taken over a known amount of time, can then be analysed by a laboratory to give a concentration in the air. This gives a 'personal sample' of that person's exposure to a particular hazard.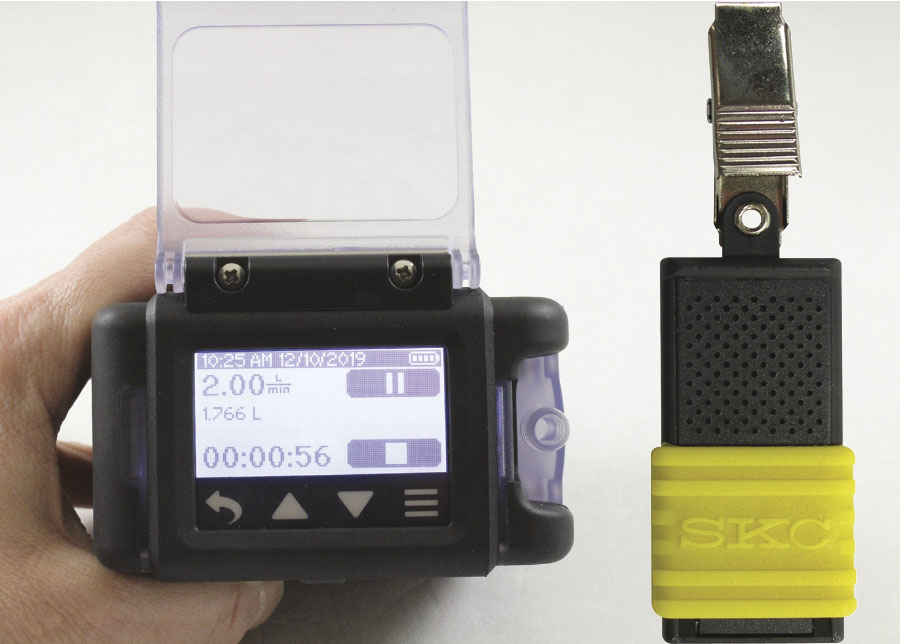 Air sampling can be performed by third party companies such as SKC Ltd, which has been working in the sector for more than 35 years and offers equipment and training courses for those who wish to learn more.
At a recent Worktop Fabricators Federation (WFF) event held at Granite House in Preston, its members were invited to participate in various seminars led by industry experts and the focus of the event was very much on health & safety.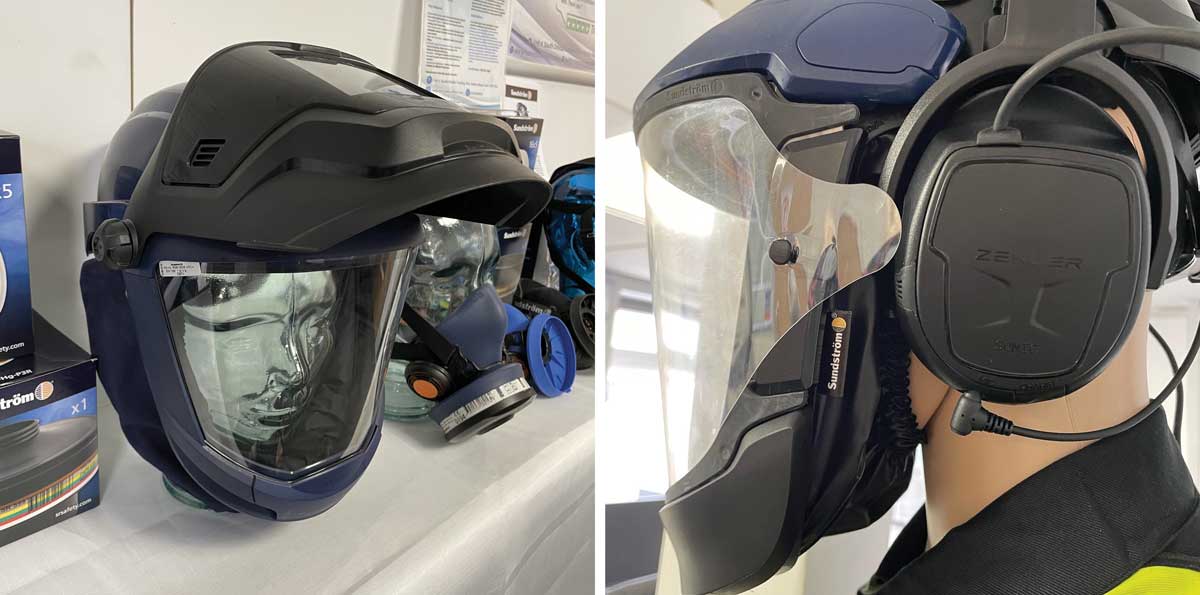 Harrisons of Hull supplies products including full face masks, FFPs, and reusable facemasks, and offers face fit testing and training. The company is a British Safety Industry Federation-accredited Fit2Fit tester, which is the UK's only competency scheme of its kind approved by HSE.
Director Richard Harrison says: "It is a legal requirement that workers using tight-fitting respiratory protective equipment (face pieces/masks) must be fit tested by a competent person. This requirement is detailed in the COSHH regulations. The Fit2Fit scheme is recognised by the HSE as demonstrating that a person has reached the required level of competency. It is the only scheme in the UK that does this."
It is worth noting however that there are exceptions to using certain RPE and facial hair must be taken into consideration, with tight fitting facepieces being suitable only for those who are clean shaven.
"For people who have facial hair a powered air purifying respirator (PAPR) with loose fitting head top is required. This is because the equipment does not rely on a seal against the face and does not need face fit testing," adds Richard.
Simon Bradbury, Director of Stone Industries Group (SiG), who is on the board of the American Natural Stone Institute and its Global Advisory Committee, was also the WFF event, demonstrating the latest innovations in dust and water management. SiG sells water and dust management systems and offers a comprehensive selection of Trolex products, such as real-time dust monitoring equipment including Air XS Silica Monitors and, its latest offering, the XD1+ Personal Dust Monitor. This wearable technology is light, unobtrusive and can be linked to the Trolex Breathe app. Most importantly, it offers customisable short term exposure limits (STEL) and time weighted average (TWA) measurements for dust sizes of PM1, PM2.5, PM4.25 and PM10 and will alert the wearer with an alarm should there be in a hazardous situation.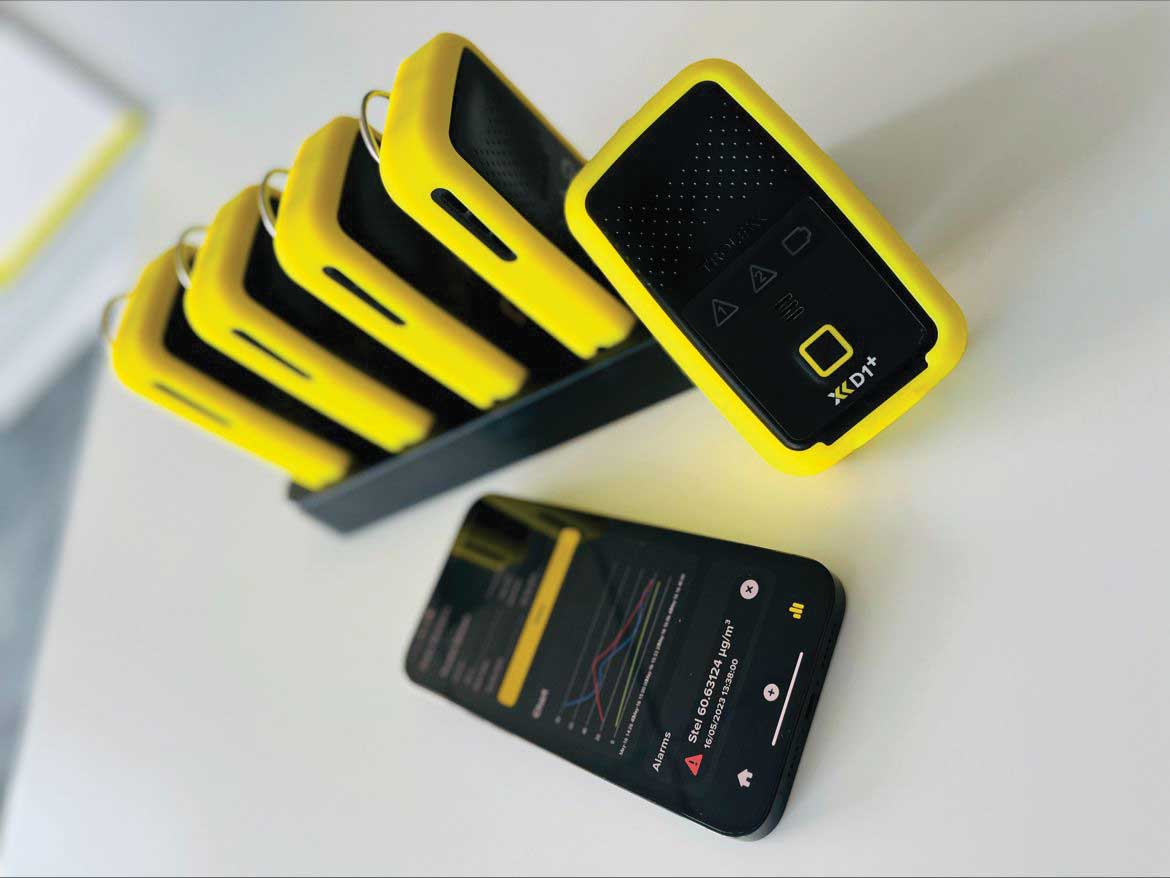 Simon is keen to stress the importance of taking care of workers but understands there is some resistance. "Everyone in the fabrication of stone has a problem with dust. Whether it is acknowledged by them or not is a different story. Typically, the moment you start to talk about it, the eyes glaze over, the attention is lost, and you know at that point that it is generally for one reason – they don't want to go down the rabbit hole.
"If your staff know you have acknowledged it, then they may push to do something about it or refuse to work in the environment. The irony is that it is primarily the people that work for you that should be protected.
"There are many ways to tackle this and washing down constantly using good quality recycled water that isn't reintroducing suspended solids back into the working environment is just one."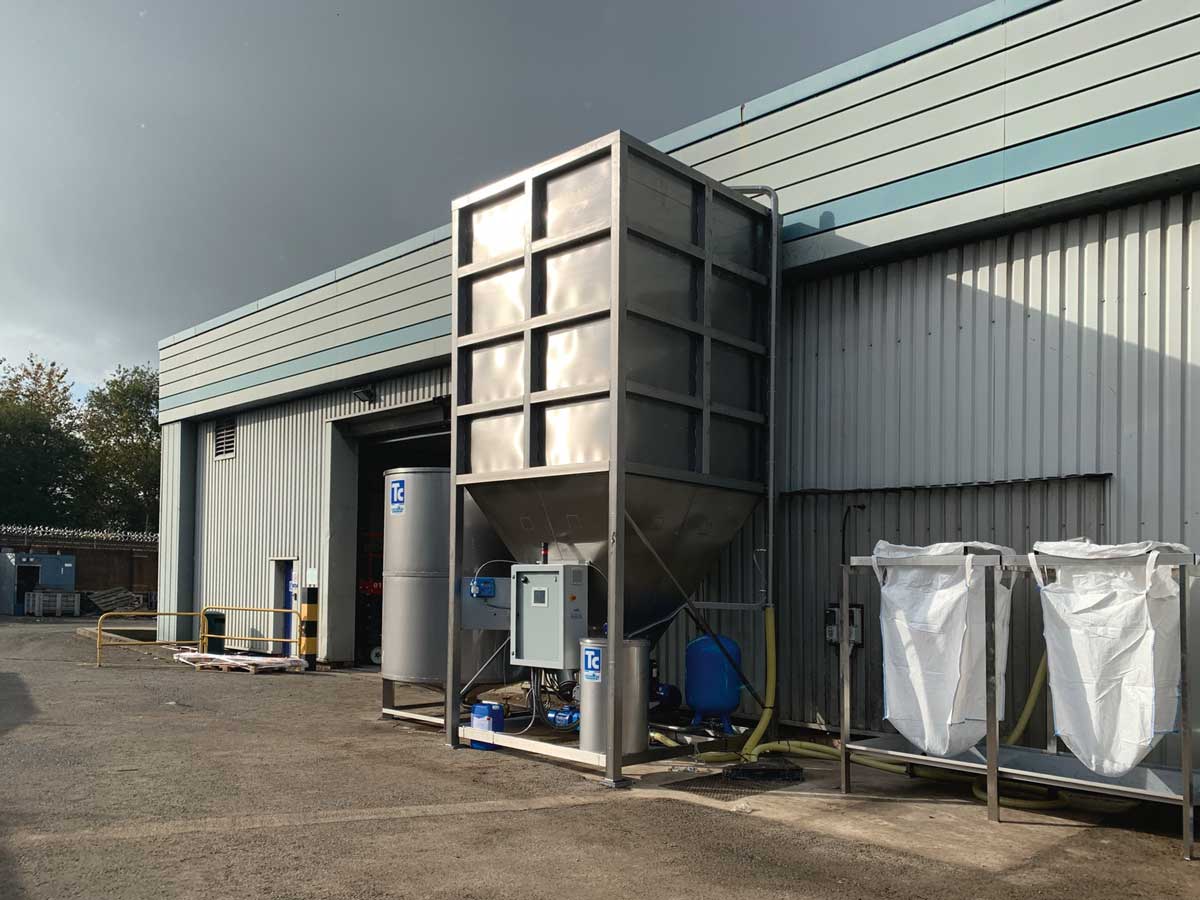 SiG is the sole partner of Turrini Claudio, supplying water recycling and dust extraction plant globally. To complement this offering, SiG builds its own line of fully automatic water recycling systems called Clearly which, it says, require very little maintenance.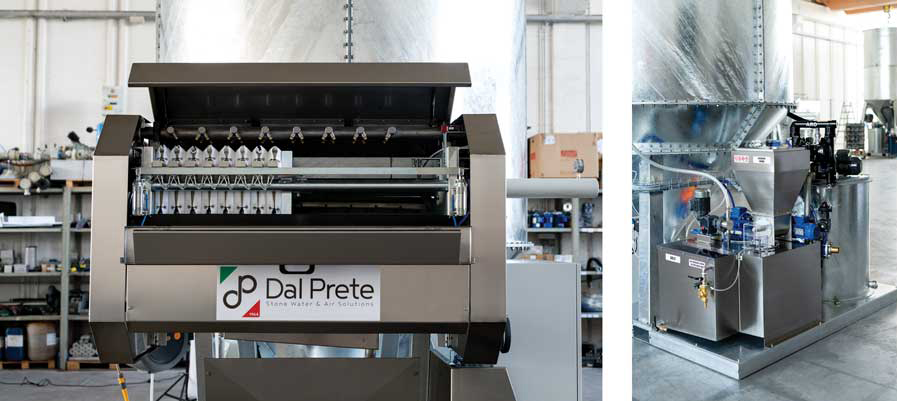 Hull-based company Stonegate is the accredited UK distributor of Dal Prete Wastewater Treatment Plants. It quantifies the benefits: extended life of processing tools by up to 20%, 30% saving on water consumption, 50% reduction in the cost of disposing residual sludge by using a press to turn waste into 'bricks', which also allows companies to conserve 90% of the water used.
The size of the recycling plant you purchase will be dependent on the size of your premises and how much water you use. To ascertain your needs, Stonegate technicians will visit your premises to assess your water consumption, see what machinery you work with, test the water and provide after-sales consultancy.
Stonegate also sells the Dal Prete iWall suction wall. This works simply by sucking in the dust particles in the air using powerful fans – something that is particularly useful for managing dust in dry processing environments.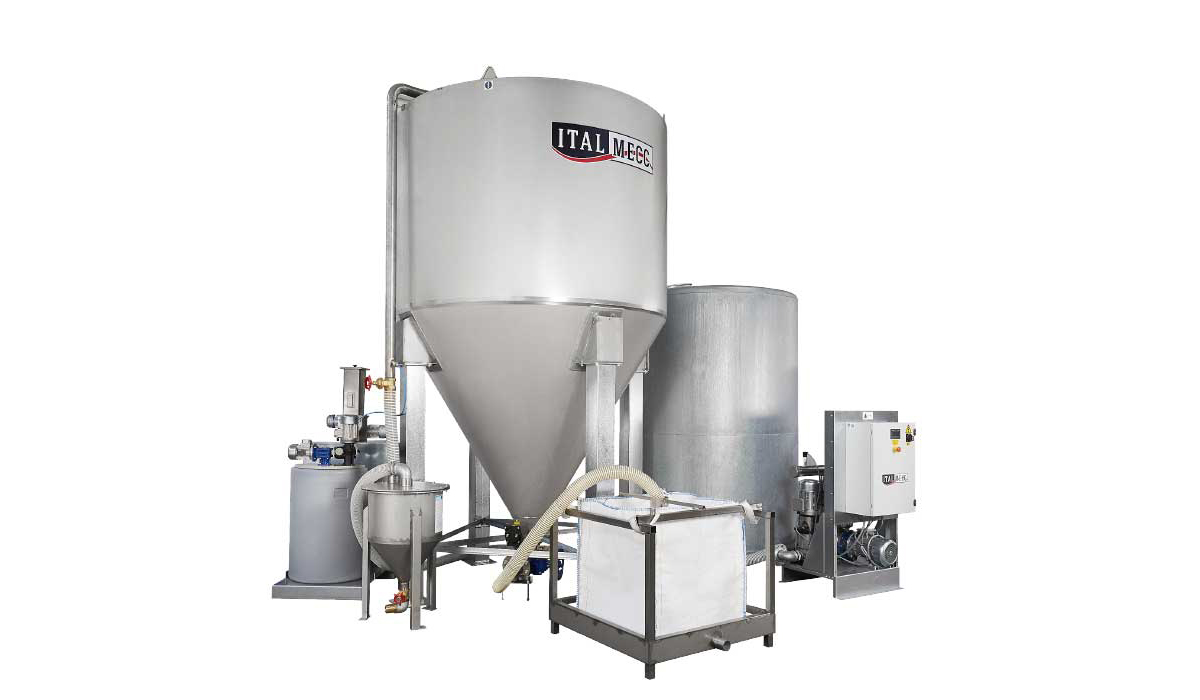 Like Dal Prete and Turrini Claudio, Italmecc from D Zambelis in Essex is an Italian company providing water recycling solutions. Two of the most popular configurations are one which clarifies 200-400 litres a minute and the other, 600-4000 litres. Both are available with smart boosting pumps with inverter technology to promote stable pressure in all conditions.
The Airbox from Italmecc is available in 2m, 3m and 4m dependent on which best suits your business. This machine uses an aspirator and pulls dust into it via finely atomised water – the result is that the particles and water combine to make a sludge that is deposited in the tank and must be cleaned out regularly. There is also a bench option that is more suited for building works such as fireplaces.
At The Natural Stone Show in June, On Point showcased the compact Aquafil system from Portugal which is ideal for companies with limited headroom and features Seamans/ABB components. The silo is stainless steel and there are models that process anything from 250 litres per minute to 3,000 litres per minute.
With any dust and water management system it could take several years to see a ROI and installing these systems should be seen as a long-term investment – this is the case for all equipment in this sector, which could explain why there can be some perceived resistance, especially at a time when the global economy seems so unstable.
Tom Hirst founded Dimensional Stone Sales in Bradford to specialise in natural stone fireplaces and hearths and has first-hand experience of running a business where dust is simply part of the job.
He explained: "Having worked with and around Yorkstone all my life, the dust has been an ever-present issue to deal with. While you can see and certainly taste the dust, this does not seem to be on people's radar. I'm not sure if it's a male macho thing or it just doesn't resonate with masons and stoneworkers.
"We use a full overhead air-fed respirator from Sundström – not only do they protect from dust, because they are full face visors, they protect the eyes also."
When cases of silicosis are diagnosed, Tom says: "Most insurance companies will pay out rather than fight it, meaning a major hike in insurance premiums. In my case I had a chap who brought such a case, fortunately I went to court and won – however, cases like mine are already widespread and we will only see ever increasing numbers."
But it's not just during production hours that there is a risk of dust. A 2023 HSE report entitled Industrial Cleaning: Exposure to Dust Hazardous to Health, cites: "There is potential for very significant inhalation exposure to dust during cleaning activities, and this is often overlooked by duty holders. Within the industries included in this study, there is potential to significantly reduce dust exposures, and hence reduce the incidence of respiratory disease, by implementation of good practice for cleaning dust in production areas."
Although cleaning activities are usually brief, where good practice is not applied they can contribute more to a workers' eight-hour TWA dust exposure than several hours working on production tasks.
Gathering data from 21 stone reports, the research revealed that 67% used dry sweeping while 14% used vacuums in a factory environment which often do not meet the HSE standards.
Twenty-one stone industry reports were identified, 67% of which reported some use of dry sweeping. Other cleaning techniques were less prevalent with 14 % reporting some use of vacuum cleaners. Regarding vacuum cleaners, HSE guidelines state that these units be classified as H (high hazard) and that using a HEPA filter in a general commercial vacuum is neither safe nor acceptable. Companies such as Nilfisk (with its headquarters in Denmark) provide specific H class models (upwards of around £600) as do German brand Karcher (its RI 331 D3 IE2-IS-H model will set you back about £11,000).
Crescent Industrial Cleaning Equipment in Leamington Spa is an agent for Huuvan vacuum cleaners and offer products for hire, rental or purchase with full maintenance, servicing and breakdown support on all its equipment.
There's no doubt that water recycling and dust solutions can be costly initially but, in time, you'll be able to reap the financial rewards and help to protect your own health and the health of everyone around you. And that's worth every penny.