Engineered Stone: Fantastic fabrications (and where to find them)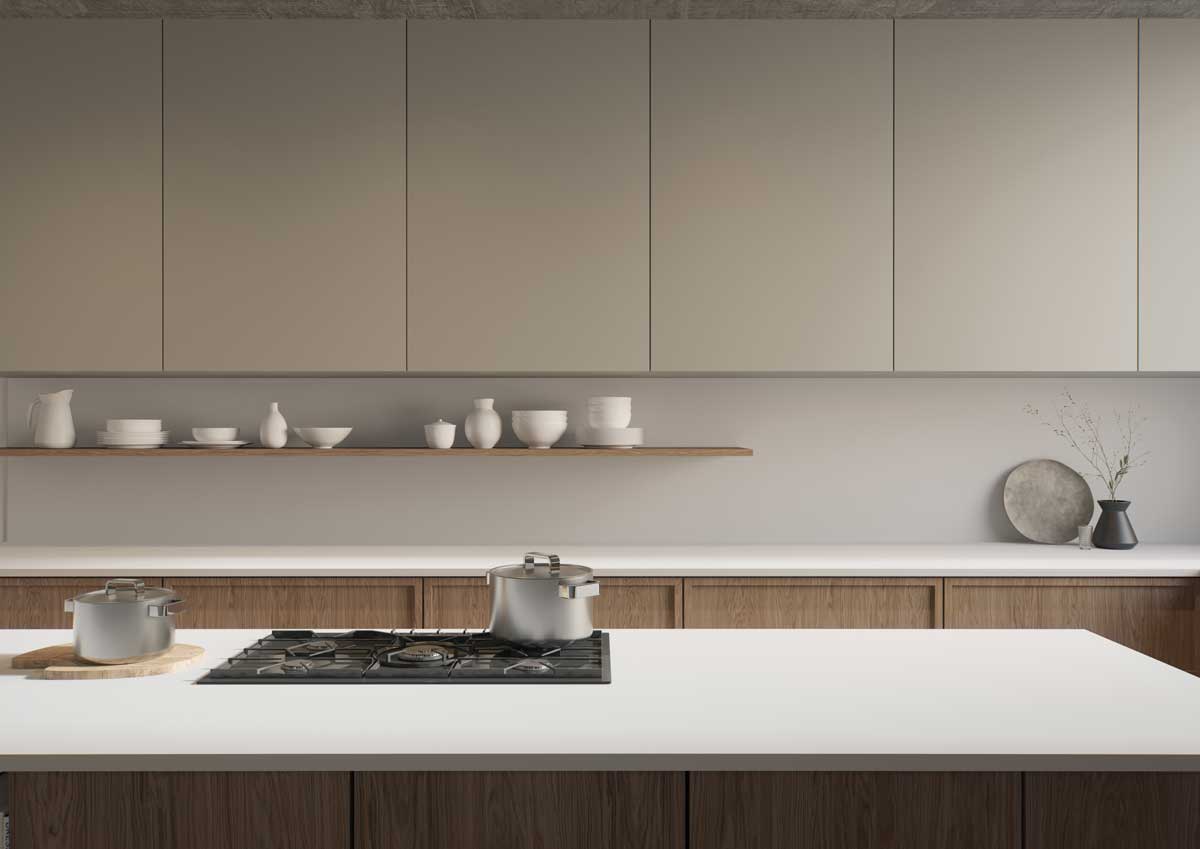 The engineered stone market is experiencing rapid growth and its versatility is just one of its key attributes.
Brexit, Covid-19 and the Russia/Ukraine conflict – the world has taken quite a battering in recent years. Many businesses have struggled to stay afloat, with increased freight charges due to a lack of containers and shipping routes disrupted, with machinery and electronics on board causing long delays.
Rising energy prices have thrown a spanner in the works, too, leaving no household or business unaffected. According to research by the Energy & Climate Intelligence Unit (ECIU), it's estimated that the UK has spent in the region of £60–70billion on wholesale gas since the Russian invasion of Ukraine.
But it's not all bad news as end consumers have been investing more in their properties since lockdown forced them to stay at home and, in a survey of 2,000 UK homeowners conducted by money.co.uk, 88% had undertaken renovations of some kind in 2022 with kitchens and bathrooms appearing high on the list of priorities.
Many employers have improved working environments to coax workers out of their cocoons, investing in break out zones and improving staff facilities. These all require materials and engineered stone has been an obvious choice.
According to a report by Research Dive, the global engineered stone market is expected to gather a revenue of US$39.4billion by 2030, growing at a compound annual growth rate (CAGR) of 5% during the 2021-2030 timeframe. It indicates the market for natural stone alternatives is strong indeed.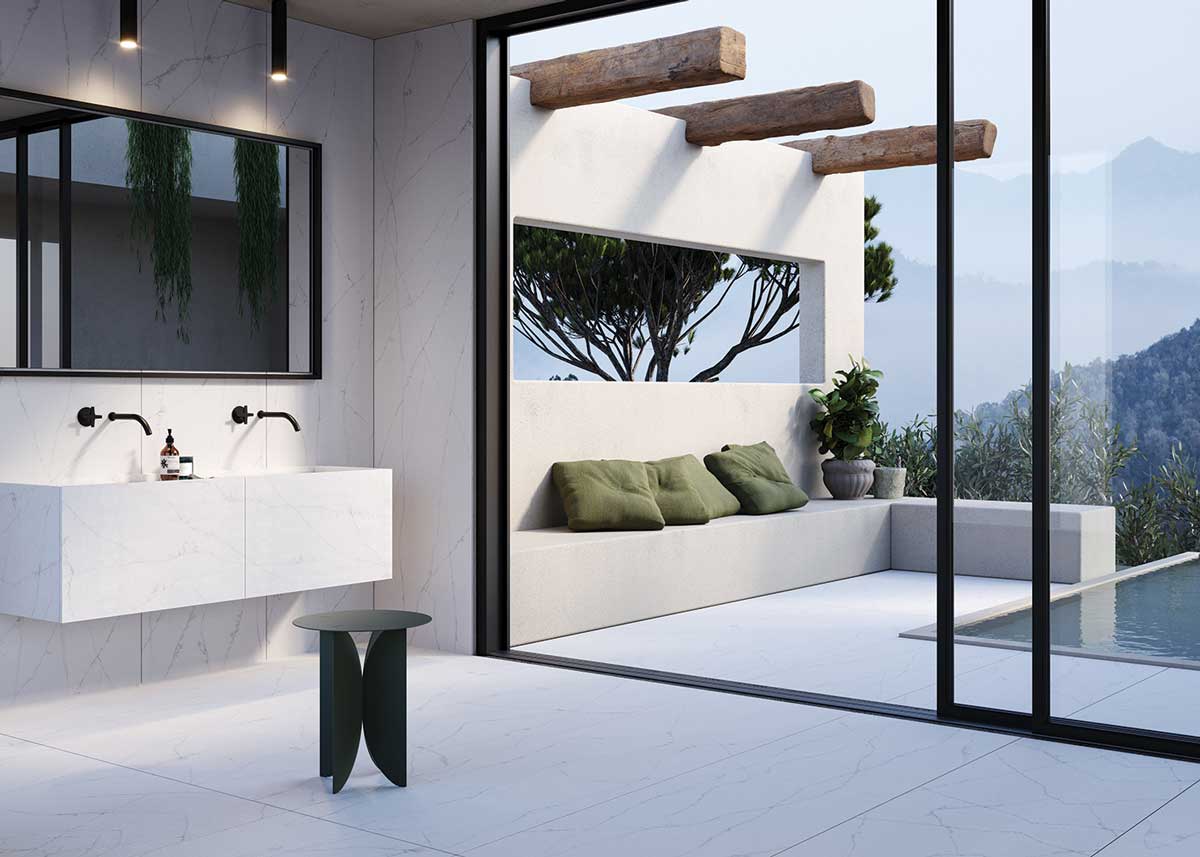 In terms of new developments, Lapitec, made by machine company Breton is now claiming to be the first product to have gained a CE mark using Europe's newly introduced standard for sintered. Lapitec is sold in the UK by stone wholesaler The Marble & Granite Centre in Rickmansworth, which is otherwise proud of stocking almost exclusively natural stone. Because of its full thickness patterning (as opposed to a printed design on the surface only) it can be fabricated in the same way as natural stone.
Silica-free Lapitec is available in thicknesses of 12, 20 and 30mm in 18 designs with six alternative surface finishes.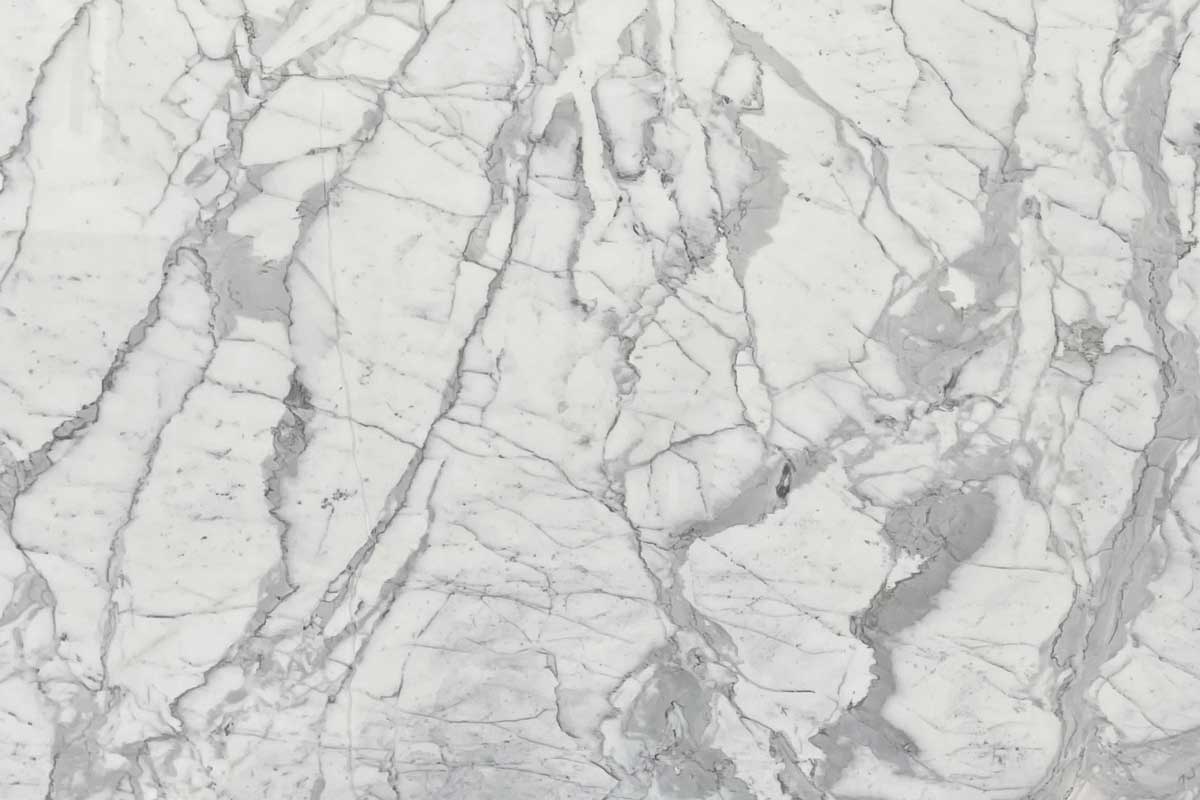 Genex Stones London is a wholesale supplier with access to quarries in Italy (where it was founded in the 1970s). It's product range includes slabs of natural stone, composite and porcelain products. Sobhi AC is the Sales Manager. He says marbled whites are still popular, but sending samples does not do them justice. "The sampling of material is difficult, because the size of the samples usually means they are not encompassing the entire attributes and characteristics of the material, which is why we always recommend viewing the material selection in person."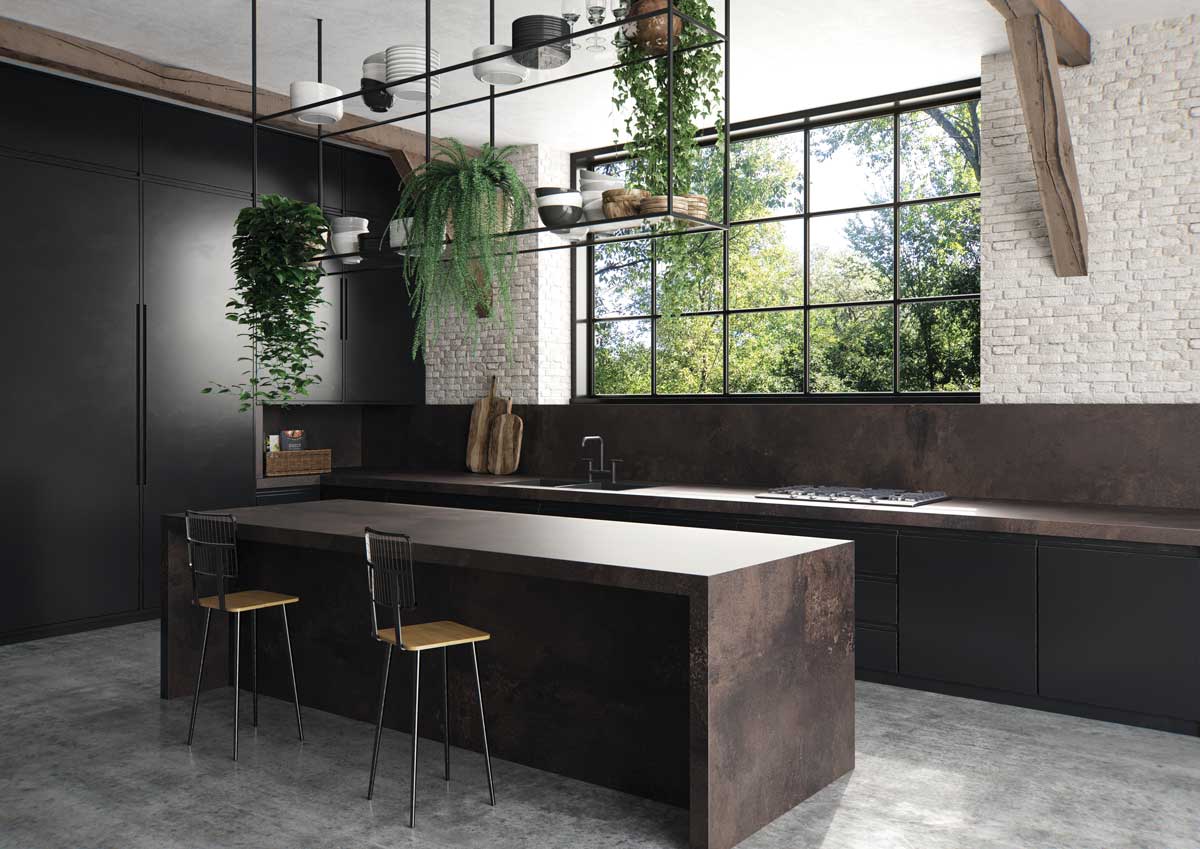 Caesarstone, known for its quartz products, launched its porcelain line-up lastb year, offering 24 colours such as subtle 531 Libretta (white base with grey undertone) and dramatic 513 Striata (smoky grey, weathered stone effect). For 2023, the company has introduced 303 Metallio Brown – this deep, earthy tone has a patina effect that gives an industrial feel something that's gained popularity in the home interiors market over recent years.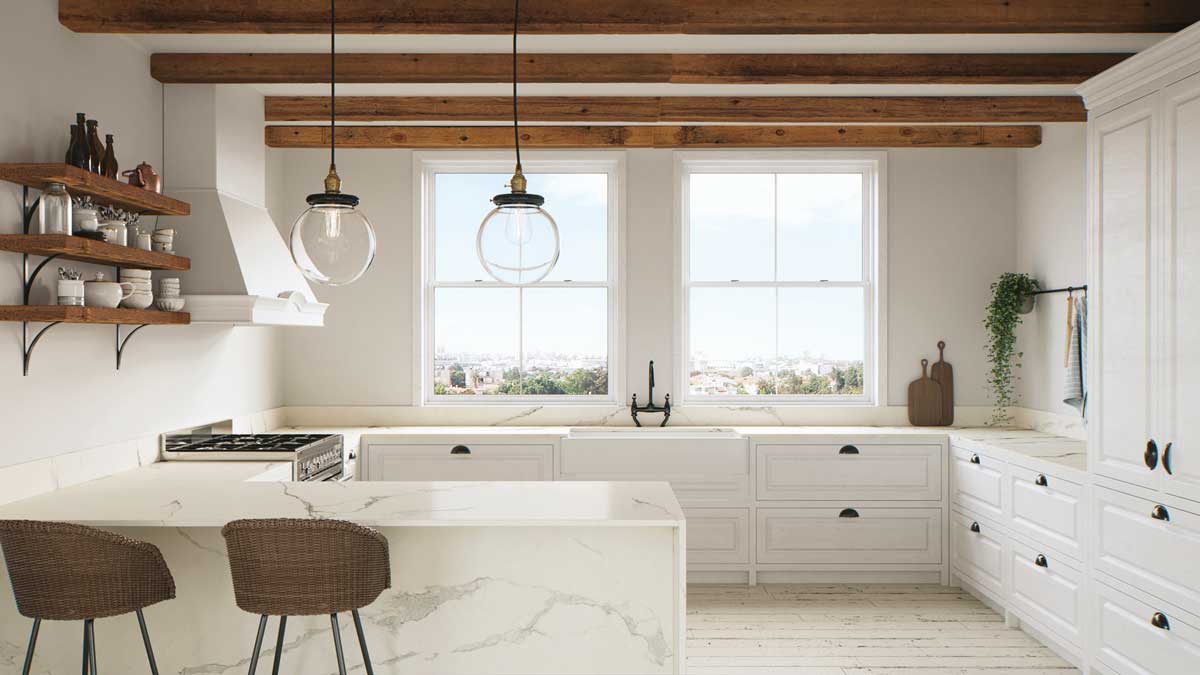 Mor Krisher, Caesarstone's Chief Designer, explains what he and his team wanted to achieve with the new colour. "We took stone back to its roots – to a raw, warm, earthy place. Our goal was to emphasise the stone's materiality rather than attempt to flatten it, to pull out the texture. The feeling should be natural above all."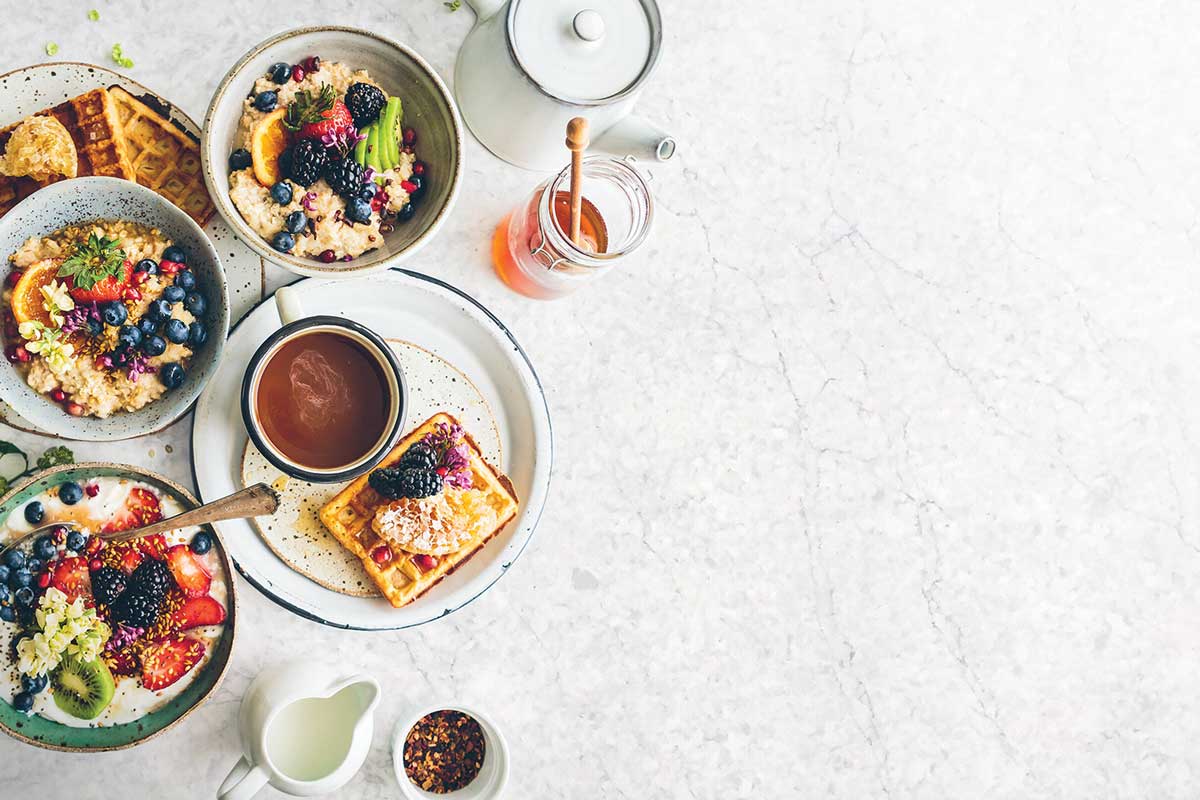 Porcelain is also a key offering for Kingston-upon-Thames-based stone supplier Cullifords, which work with architects, designers and end customers. Director Oliver Webb offered his perspective on the current market.
"In volume terms, our most popular offering has been quartz composite, with the Carrara and Calacatta colours selling well. However, we are seeing this slow down, and there is a huge amount of different products coming to the market to try and capture the next big thing, such as porcelain, like our Sapien Stone range.
"In value terms, and what we see as the core of our business, is our natural stone selection. Granites have held up well during the last few years, and we have seen strong demand for our marbles and quartzites."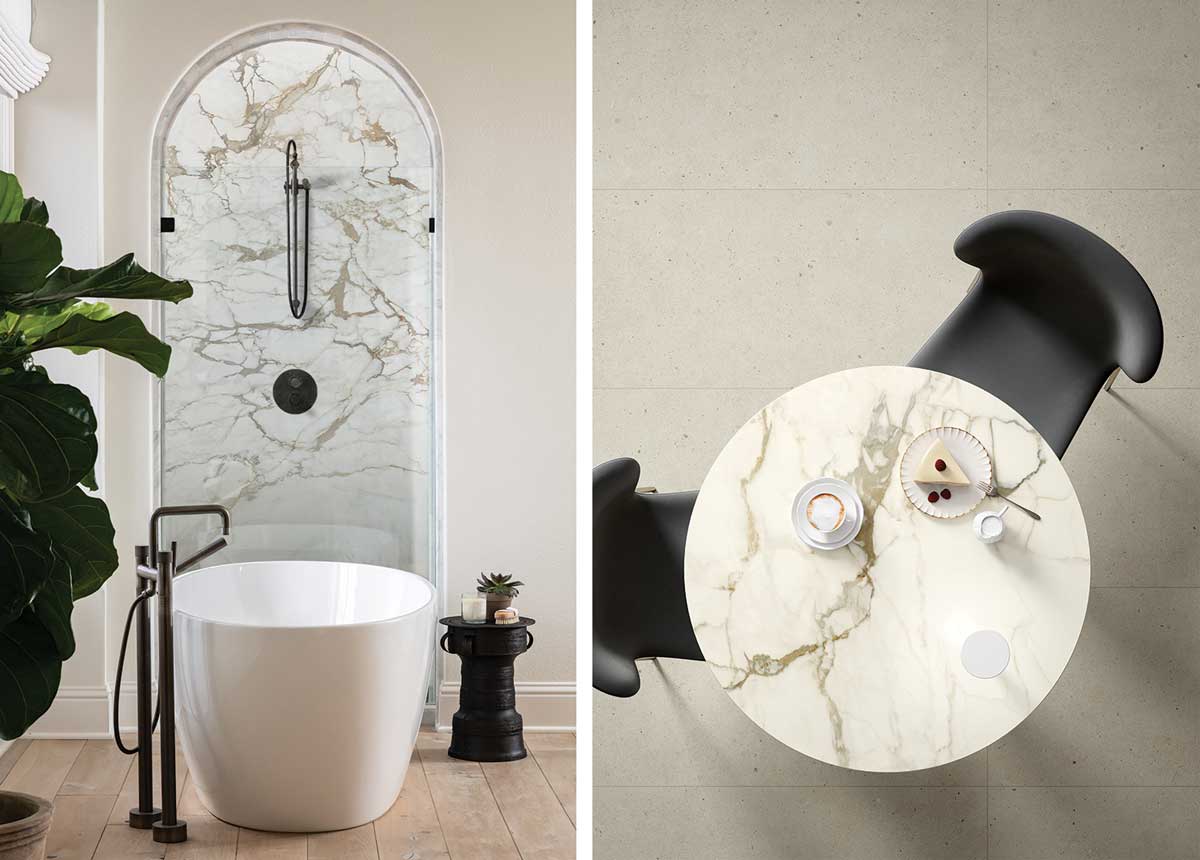 How much does he think the end user is concerned with sustainability?
"It really depends how the end user is defined. I think the general public are concerned but don't have the time to look too far behind a companies' claims on sustainability to make it a massive influencer on their decision (which unfortunately opens the door for bogus claims).
"At the higher end I think there is some consideration as they are not so restricted by price. We are finding it is a hot topic for commercial projects and especially in architect practices where investors and stakeholders are being bound by laws to make sure they are meeting sustainable criteria.
"I think this will naturally filter down into more products on the market being more sustainable. But until the government regulates, at the lower end of the market there will always be room for very cheap material made by cutting corners."

All the branded products emphasise their eco-credentials, reducing or replacing the use of crystalline silica and incorporating recycled products – usually pre-consumer recycled glass. Stone Italiana, for example, has Cosmolite as one of its key products, made from inert recycled minerals other than quartz. Part of the polymeric binder originates from renewable vegetable sources obtained from non-genetically modified (non-GM) and identity-preserved (IP) plants.
Stone Italiana focuses on increasing the levels of recycled materials across all its products, creating materials that are low in volatile organic compounds (VOCs) and safe for food preparation.
The company is also working to reduce its overall carbon footprint through the installation of photovoltaic cells and grid economisers at its factories. In the UK, the official distributor is Italian Luxury Surfaces in Berkshire, and those who want to visit its Stone Studio can book an appointment to do so.
Santamargherita, which has been in business for more than 50 years, has developed a new thin material called Surfalite, with 7mm thick slabs that are specifically designed to be suitable for wet wall applications.
This lightweight, low maintenance surface is resistant to mould and mildew, which makes it ideal for use in bathrooms and shower rooms.
The 16 designs that take their inspiration from natural stone span a monochrome spectrum from Nero (black), through Carnia (dark grey) to Vittoria White.
Santamargherita's Vice President of Sales, Michele Caneva, says: "We have been working on creating the surface of the future and market research is showing that consumers prefer the look and feel of engineered stone slabs and porcelain for wet wall applications."
Porcelain can even be used in place of wallpaper, and such is the case for Neolith, which has produced tiles for a project based on an architect's sketch, with the whole wall design being assembled on site.
Neolith sintered stone slabs are made of natural raw materials, 98% of which can be recycled. The material is known for being low maintenance and can be used in a range of settings including cladding. The company's Iron Corten design with its metal tone and texture was used on the exterior of a Texas hotel to create maximum drama.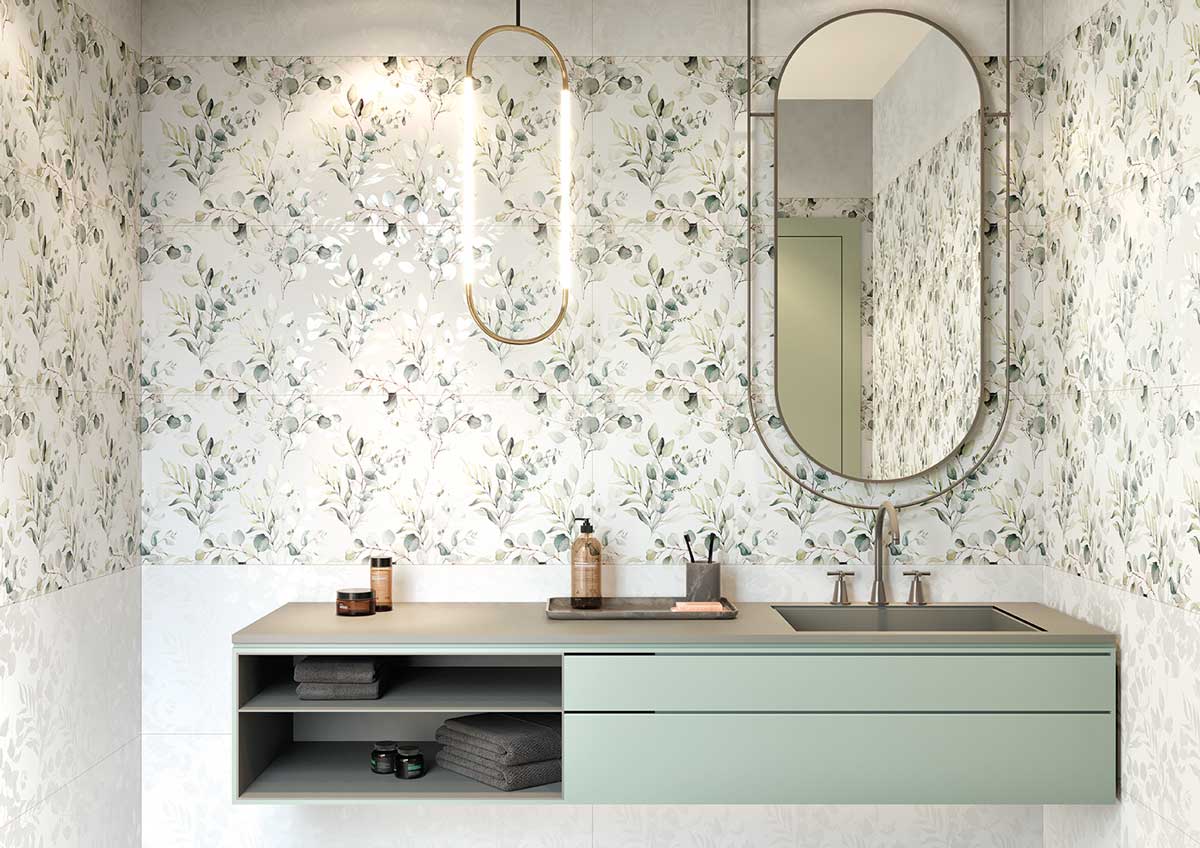 In addition to being inspired by raw and industrial materials, today's engineered stone products take cues from the natural world of flora and fauna, something that Tile of Spain consultant Ryan Fason explored at the 2023 Hard Surfaces show in London.
Large form tiles are created to showcase the forms and images of nature and bring the outside in. And Ryan explained the use of biophilia in the tile industry. Put simply, he explained, it's "creating a reflection of nature, or simply a space that supports its inclusion."
During his presentation, Ryan said: "Ceramic tiles – or man-made stone – replicates the forces, materials and processes that minerals undergo in the earth's crust. Minerals are exposed to heat and pressure and over vast stretches of time, they fuse to create a natural stone. The presses and kiln replicate that effect in the earth's crust using all natural minerals in modern ceramic production".
Viewing images of nature can be particularly beneficial to reducing stress, especially when it comes to use of fractals. These are never-ending patterns that can be found in plants such as ferns and cacti. Fractals have a calming effect on the parasympathetic system which, to put simply, makes people in that environment feel better.
There are a plenty of botanical-style ceramic wallpapers on the market, including the Elements range from Spanish company Apavisa. They are currently available from suppliers including Blueprint Ceramics in Coventry, which counts Hotel Chocolat as one of its clients. Italian company ABK also manufactures a wide range of floral porcelain slabs as part of its Wide&Style range.
From natural to industrial, bold to understated, the possibilities for the use of engineered stone are endless – and only just beginning.