Latest News
The latest news from the Stone Industry
Lapitec Bianco Polare in a Satin finish has been used on the entrance hall of a skyscraper in New york.The luxurious building in the heart of the Big Apple, a stone's throw from Times Square,...
The Cosentino Group has launched a new, high polish collection of ultra-compact Dekton. It is called Stonika. There are four new designs in the collection inspired by natural marbles. They go...
BAL has launched a new epoxy grout for floor tiling.It is a three-part resin grout available in new Smoke and Ebony colours.With a formulation comprising liquid resin, liquid hardener and powder...
Portland limestone is probably the building stone best known by those outside the stone industry, largely because it has built much of London for the past 350 years. And it will continue to do so, as...
Susan Carron Clarke, researcher in sculptural carving and stone carving communities at the University of Huddersfield, discovers a digital carving course in the marble mountains of Tuscany in Italy.A...
A man who forged documents including CSCS cards, Construction Industry Scaffolders Record Scheme (CISRS) cards, forklift truck operator certificates, Powered Access Licences and CCDO cards for...
Some of the tools used for working stone have not changed much in thousands of years. Others are evolving quickly to cope with changing methods and new materials. NSS asked the tool suppliers what...
Johnston Quarry Group has bought the UK's first top-of-the-range Doosan DL580-5 wheel loader for its Creeton limestone quarry in Lincolnshire.The 70-acre quarry has more than 6.5million tonnes...
Robert Merry is an independent stone consultant who has just given up project managment. He ran his own company for 17 years and is now a consultant and expert witness.At the beginning of the month I...
Granite, sandstone, slate. They contain a lot of silica. Engineered quartz has even more. Fine silica particles in the air get into your lungs and they stay there… growing… turning your...
The value of new construction contracts in September reached £5.6billion, a 6.1% fall from August's record for the year but still the second-best performing month of 2018 so far, according...
British Standards Institution (BSI) has launched a BSI Kitemark for BIM (Building Information Modelling) Level 2 to help organizations demonstrate that they can deliver infrastructure projects that...
Eight more people accused of modern slavery and human trafficking have been arrested in London and three men and a woman in Romania, say the Metropolitan Police.Five men and three women, aged between...
Another company has received a hefty fine for ignoring the risk of Hand Arm Vibration Syndrome (HAVS) to its employees. It should be a warning to all stone companies whose employees use power tools....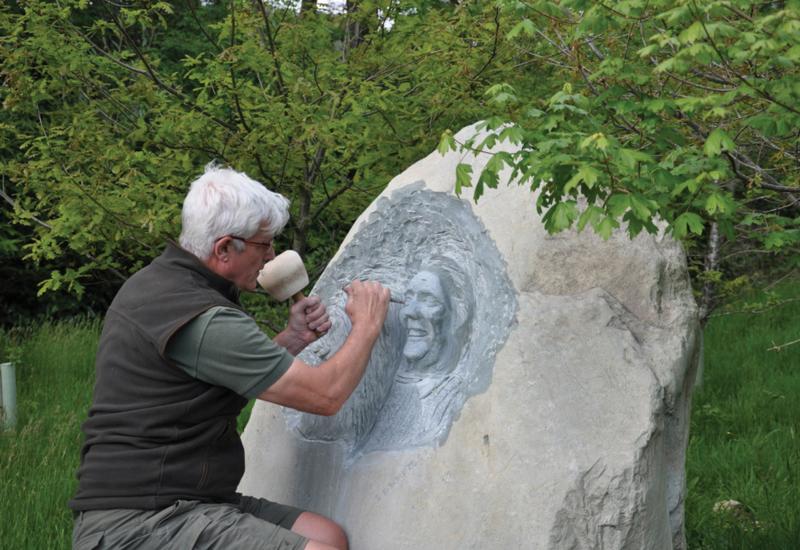 Shawn Williamson is pictured here working on the sculpture of Michael Berry, who founded English Lakes Hotels, and whose sons, Simon and Ben, commissioned Shawn to produce 10 sculptures to form a trail around the grounds of one of their hotels, Low Wood, in Windemere. The works are carved from glacial boulders, which Shawn says are a lot harder than the commercial slates of Cumbria.

Photo: Maggie Dickinson maggiebdickinson.wordpress.com/
There's a new sculpture trail at the Low Wood Hotel in Windemere, Cumbria.The hotel has commissioned 10 carvings from local sculptor Shawn Williamson. Most of them feature the area's...
Pages