Events
The latest news from the Stone Industry
Like most great cathedrals, the 800-year-old York Minster is constructed of stone. And there was a celebration of the stonemasons' skills that keep it standing and looking in top condition at the...
There will be 70 or so stonemason carvers from across the UK and Europe showcasing their skills in Dean's Park at York Minster during a weekend-long celebration of stonecraft, 17-19 August. ...
30 April-2 May 2019New exhibition to co-locate with the Natural Stone ShowThis is an exhibition that breaks down the barriers – a new event that brings you the latest products and trends in the...
The more you look, the more you see at 'on form', an exquisite exhibition of sculpture, mostly for the garden and all in stone, at Asthall Manor in Burford, Oxfordshire.Even objects that do...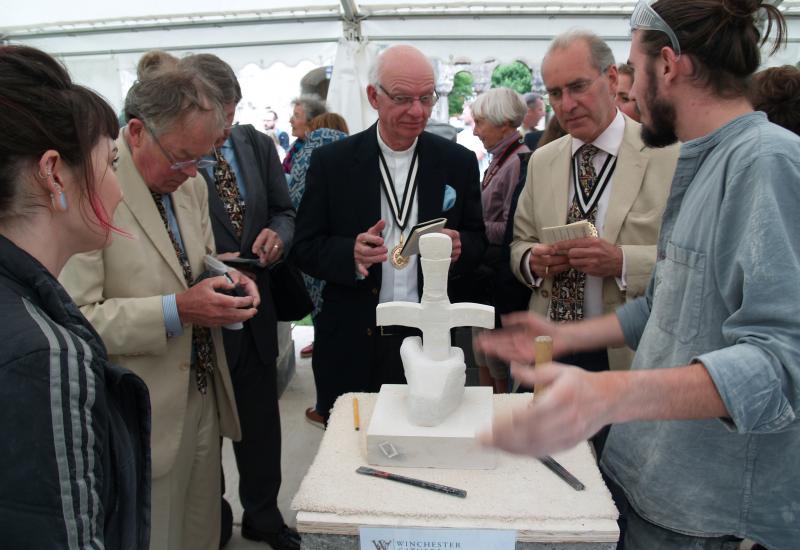 Judging in progress during the Winchester Cathedral Stone Festival on 17 June. The judges were led by Andrew Bowles, Master of the Worshipful Company of Masons that provided prizes for first, second and third place works. The other judges were Adrian Munns, Administrator of the Cathedral Fellowship, John Crook, Winchester Cathedral Archaeologist, and Cannon Nick Fennemore, the Cathedral Chaplain.
The second of England's stone festivals in 2018 was held at Winchester Cathedral, 15-17 June. The theme was Kings & Scribes, which gave the masons and carvers plenty of scope to stretch their...
Sharra Oram reports on her experience as a competitor at the European Stone Festival, held in Saverne, France, this year in May. Sharra is a stonemason / stone carver from Wiltshire who qualified in...
British stonemasons and carvers Alex Wenham and Mark McDonnell have once again taken top honours at the European Stone Festival, held this year at the Parc of Rohan Palace in Saverne, France, 25-27...
Dry stone wallers from across the UK (and even further afield) gathered in a field at Kirkby Lonsdale in Cumbria on Sunday (20 May) to compete with each other for the honours in a competition to mark...
Wells Stone Carving Festival organised by Paul Roddan of Somerset Stonemasons for the May Day bank holiday weekend got this year's stone events off to a flying start.Dawn-to-dusk sunshine sent...
City & Guilds of London Art School is once again participating in London Craft Week (9-13 May) by holding an Historic Carving Open House, which includes a stone carving demonstration and...
This week promises what will hopefully be the last of this winter's snow showers in the UK. But for some of the country's top stone carvers, winter brings an (albeit ephemeral) artistic...
Stone sculpture returns to the idyllic setting of Asthall Manor in Oxfordshire again this year (10 June-8 July) as 'on form' is held in its two-yearly spot at the home of Rosie Pearson. Most...
There will be a stone carving festival in Wells, Somerset, on May Day bank holiday weekend, 5-7 May.It will take place at The Bishop's Barn, a medieval tithe barn in the heart of the city. ...
New exhibition reflects barrier-free approach to designA new exhibition has been launched called Hard Surfaces. It will run alongside the Natural Stone Show at ExCeL London 30 April to 2...
Stone Federation and some of its members made sure there was real natural stone on show among quite a lot of man-made immitations at the Surface Design Show in the Business Design Centre, Islington,...
Pages