Events
The latest news from the Stone Industry
The Building Limes Forum (BLF) is holding a Traditional Buildings Weekend at the Manx Museum, Douglas, on the Isle of Man from 30 April to 2 May.It follows the success of the Traditional Mortars...
The Stone+tec exhibition due to be held in Nuremberg, Germany, 17-20 June has been postponed due to the Coronavirus Covid-19.No alternative date has yet been set but it is anticipated the exhibition...
The Marble fair in Izmir, Turkey, due to be held 1-4 April has been postponed due to the Coronavirus Covid-19.No alternative date has yet been announced. The fair organisers say a new date will be...
Roofs play a significant role in defining the built heritage. Historic England explored some of the issues involving roofs at a major conference in London in March titled Traditional Roofs: Facing...
Given the current Coronavirus outbreak the DSWA Trustee Board has taken the difficult decision to suspend all DSWA events, courses and activities until the end of June. We all need to help...
New Stone Age Exhibition and events programme at The Building Centre, Store Street, London Open from 27 Feb - 15 May Monday to Friday: 9am – 6pm Saturday: 10am – 5pm ...
In order to protect visitors to the KBB exhibition at the NEC, Birmingham, 1-4 March, from the Coronavirus epidemic, the Chinese presence is being made purely digital.KBB Event Director Mark Gordon...
Surface Design Show was back at the Business Design Centre in Islington, London, this week (11-13 February) with Stone Federation once again hosting the Stone Knowledge Hub, supported this time by...
The West Cork Stone Symposium in Ireland, which has become hugely popular after just three events since its launch, will be back at the Sheep's Head Peninsular again this year for the fourth...
Tise, the American surfaces exhibition in Las Vegas (January 28-30) saw the Italian exhibition Marmo+Mac host a pavilion with 36 companies represented from Italy, Portugal, India, Germany,...
The Xiamen stone show in China, the largest of the world's stone exhibitions, has been postponed until June in response to the Wuhan coronavirus outbreak.The show was to be staged 16-19 March. It...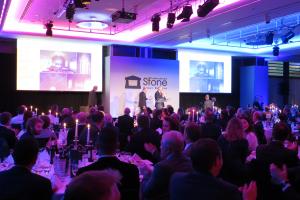 On 4 December at the Leonardo Royal Hotel London Bridge this year's winners of the Natural Stone Awards will be announced by a celebrity guest.If you want to be among those receiving the coveted...
The Historic England Stone Conservation, Restoration & Repair CPD days held in London last year were so popular that the event is now going on tour. The next will be on 24 March at Historic...
Traditional Roofs Repair and Conservation: facing the challenge in the 21st century. That's the title of a conference being held by Historic England in Westminster, London, on 3 March. Deadline...
The European Stone Festival 2020 is back in Freiburg, Germany, where it was inaugurated by Freiburg Technical College for Stonemasonry & Stone Carving in 1999.The festival is run annually, often...
Pages