Natural / Engineered Stone Company News
The latest news from the Stone Industry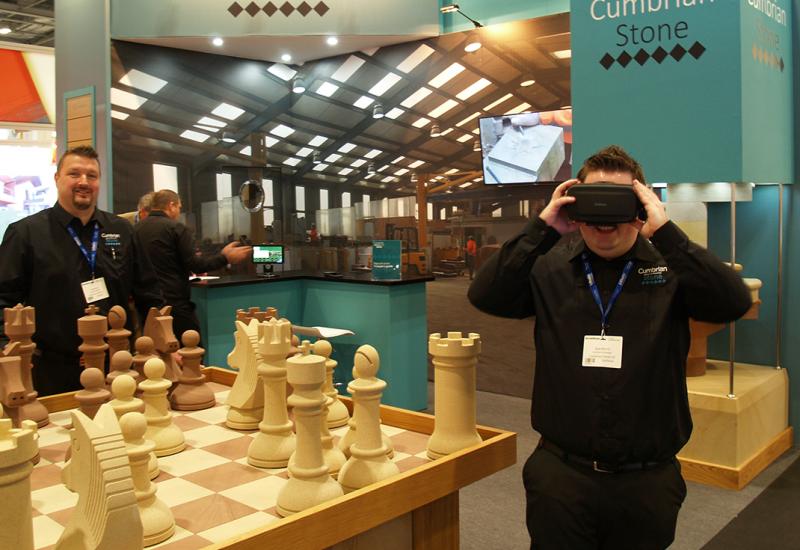 Cumbrian Stone at the Natural Stone Show in London last year. Sam Morris, the company's Sales & Marketing Manager, is trying out the virtual reality headset the company had on its stand to give visitors a virtual tour of its premises. This year Cumbrian Stone is Principal Partner of its local Penrith Show.
Cumbrian Stone, the Penrith-based natural stone manufacturer that exhibited a giant stone chess set and had virtual reality tours of its factory at the Natural Stone Show at ExCeL last year, is this...
Hi-Macs solid surfaces company LG Hausys has expanded its products for exteriors with a new range called Exteria. Following the Grenfell Tower fire in London developers and planners have become...
On the Houzz wesbite, Cosentino has posted '10 Kitchen Trends Sizzling Into 2020'*. It says "Be a step ahead in the style game with these game-changing kitchen trends from those in the...
West Ham United has rock solid supporters in Essex worktop company The Only Way is Granite.The worktop company set up in Wickford, Essex, in 2015 by Nicholas Garwood and his uncle Gi Garwood has...
BAL, the Stoke-on-Trent-based manufacturer of tile adhesives, grouts, levellers and other ancillary tiling products, has signed an energy contract with Danish wind farmer Ørsted.Formed as DONG...
About 80% of the UK population aged from 16 to 64 is employed, the highest proportion since these records began in 1971. Roughly half of those people (47%) are women. But in the construction industry...
The UK arm of American company CR Laurence, which includes CRL Stone, has appointed Annette Godfrey as European Marketing Manager.The Americans moved into the UK in 2009 as a base for expansion into...
Innovative worktop wholesaler and processor Affordable Granite & Marble in Derbyshire is being sold.The company was established by Mark Holmes after the sale of his family business, Stancliffe,...
The board of hard landscaping group Pavestone has announced the appointment today (28 October) of Tom Parker as its new Group Chairman, replacing Peter Smythe, who is retiring after 17 years.Tom, the...
AIM-quoted buy-and-build construction materials group SigmaRoc has entered into a provisional share-purchase agreement to buy CDH Développement SA, the holding company of Carrières du Hainaut SCA and...
Lincoln Cathedral has its own quarry supplying the stone used to maintain the cathedral. But within five years there will be no useable stone left in the quarry, so a new bed of rock needs to be...
Cumbria Quarry Services, with three sandstone and two limestone quarries of its own and a major factory also processing block from other quarries, is ready to add sales both north into Scotland and...
One of the world's largest stone companies, Brazilian Grupo Guidoni, which exports to more than 70 countries including the UK, has opened a second quartz line in Spain to make jumbo size slabs...
London stone and terrazzo company Diespeker's very own marathon man, MD John Krause, has been at it again. This time he took part in the Challenge Almere-Amsterdam Triathlon, said to be...
About 80% of the UK population aged from 16 to 64 is employed, a higher proportion (and by far the greatest number) since records began in 1971. Roughly half of those people (47%) are women. But in...
Pages