Natural / Engineered Stone Company News
The latest news from the Stone Industry
Kilkenny Irish Blue Limestone producer McKeon in Stradbally, Co Laois, has launch a new website at www.mckeonstone.ie.It has been designed to make it easier for visitors to learn all about Kilkenny...
Channel 4 programme Old House New Home finds architect George Clarke tackling old properties with history, uncovering their potential as working, modern homes.Natural stone and...
Fox Marble, the London Stock Exchange AIM-quoted company extracting and processing marble from Kosovo and the Balkans, has acquired Dubai company Gulf Marble, which it partnered to quarry the...
Lapitec Bianco Polare in a Satin finish has been used on the entrance hall of a skyscraper in New york.The luxurious building in the heart of the Big Apple, a stone's throw from Times Square,...
The Cosentino Group has launched a new, high polish collection of ultra-compact Dekton. It is called Stonika. There are four new designs in the collection inspired by natural marbles. They go...
Portland limestone is probably the building stone best known by those outside the stone industry, largely because it has built much of London for the past 350 years. And it will continue to do so, as...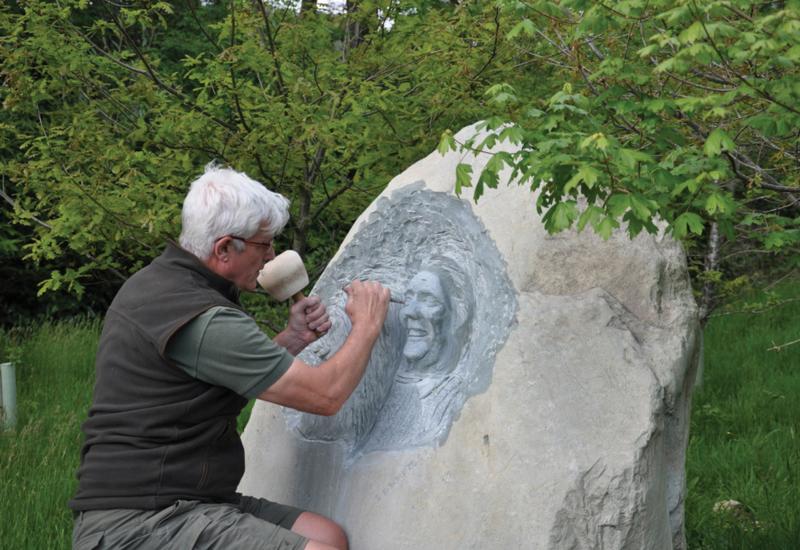 Shawn Williamson is pictured here working on the sculpture of Michael Berry, who founded English Lakes Hotels, and whose sons, Simon and Ben, commissioned Shawn to produce 10 sculptures to form a trail around the grounds of one of their hotels, Low Wood, in Windemere. The works are carved from glacial boulders, which Shawn says are a lot harder than the commercial slates of Cumbria.

Photo: Maggie Dickinson maggiebdickinson.wordpress.com/
There's a new sculpture trail at the Low Wood Hotel in Windemere, Cumbria.The hotel has commissioned 10 carvings from local sculptor Shawn Williamson. Most of them feature the area's...
Steve Turner's Amarestone has been a major supplier of French limestone for a long time. But not exclusively. Now Steve has created that exclusivity for French stones as Pierre Heritage Great...
Eurovetro, a glass recycling company based in Origgio, Italy, has used full-height 3365mm x 1500mm slabs of 12mm thick Lapitec Nero Antracite in the Arena finish for its new state-of-the-art...
One of stone's big projects, the Bloomberg building in London, has won this year's RIBA Stirling Prize. The winner of the Award that celebrates the best of new British architecture was...
Quartz company Caesarstone's Metropolitan Collection, which it launched in May with its 'Rough Night Out' in The Barge House on London's South Bank, has won the Gold Award for...
The legendary London Stone, said to have been brought to London by the reputed founder of Britain, Brutus, is back in Cannon Street.The Lord Mayor of London, Alderman Charles Bowman, unveiled the...
Each year, Cosentino celebrates the Elite among its studios in the UK and Ireland. This year the 18 winners along with their guests were treated to Champagne and canapés and a lavish dinner at...
There is not a lot of natural stone in the fabric of the spectacular new V&A Museum of Design in Dundee, the first project in the UK by Japanese architect Kengo Kuma. It is concrete, steel and...
After its tour as a public sculpture in Europe and China, Anna Chromy's Carrara marble 'Cloak of Conscience', which is a cloak devoid of a person wearing it but taking the form as if...
Pages