Natural / Engineered Stone Company News
The latest news from the Stone Industry
International quartz brand Cambria has helped Granite Granite continue its expansion as a major national supplier of stone to the UK processing market.All the internal walls of the offices of stone...
Penrith Tile Centre finds Tilemaster Setaflex and Grout 3000 answer all the questions for natural stone and ceramics.There was a mixture of natural stones and ceramic used for the interiors in the...
The Nuart Aberdeen festival of street art returned for its second annual presentation last month (April) with one of its artists, Carrie Reichardt, in collaboration with manufacturing giant Laticrete...
Quartz company Caesarstone really pushed the boat out at The Barge House on London's South Bank last night (17 May) to entertain more than 400 stone processors, designers, studios and a host of...
A new super-secure, hi-tec digital data storage centre for the financial services companies of London demanded the qualities of natural granite, which were supplied by Shackerley on its SureClad...
Stone landscaping product company London Stone has opened a new showroom. It is in Bounds Green, North London, and is the company's fourth showroom in Greater London and the Home Counties.At...
CRL Stone has appointed a regional sales representative for the South East of England to service its growing customer base in the region. He is Donovan Stanford, who joins the Ceralsio and CRL Quartz...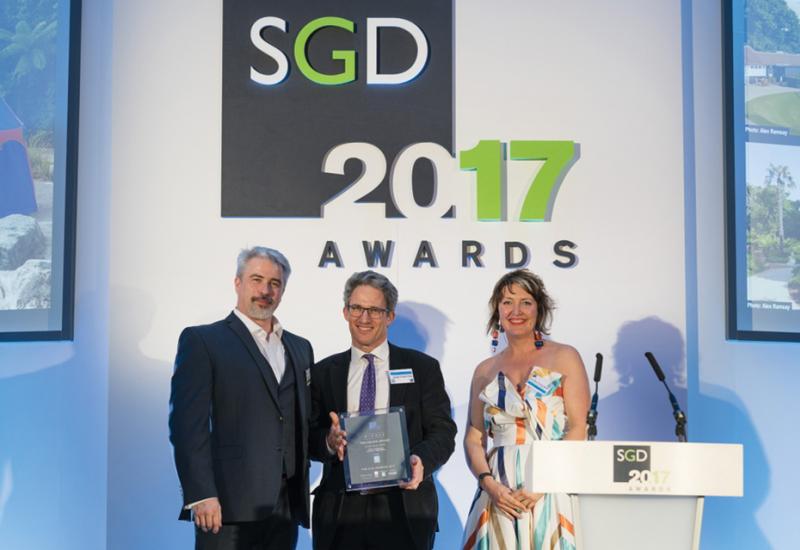 CED was headline sponsor of the SGD Awards, presented at The Landmark Hotel, London, on 2 February. At the event it unveiled the new look it has introduced as it celebrates 40 years in business. Pictured is CED Managing Director Giles Heap (left) presenting The Grand Award to Robert Myers MSGD for 'The Magic Garden'. On the right is Ann-Marie Powell, an award-winning garden designer, TV gardening presenter, journalist and author, who was guest presenter of the Awards and host for the ceremony.
Stone landscaping product supplier CED is celebrating its 40th anniversary with a makeover. But this is no mid-life crisis.Stone landscaping specialist CED is celebrating its 40th anniversary this...
James Diamond succeeded Brian Crowe as the Managing Director of Torc and Doff stone cleaning products company Stonehealth at the end of last year and has now made a video talking about the company...
Just ahead of the Irish Lagan Group being taken over by UK aggregates company Breedon on 20 April, Welsh Slate, Lagan's only asset outside of Ireland, appointed a new Managing Director.He is...
Fox Marble, listed on the London Stock Exchange Alternative Investment Market (AIM), has installed the first CNC saw and block vacuum pump machine for resining in its factory in Pristina, Kosovo.Fox...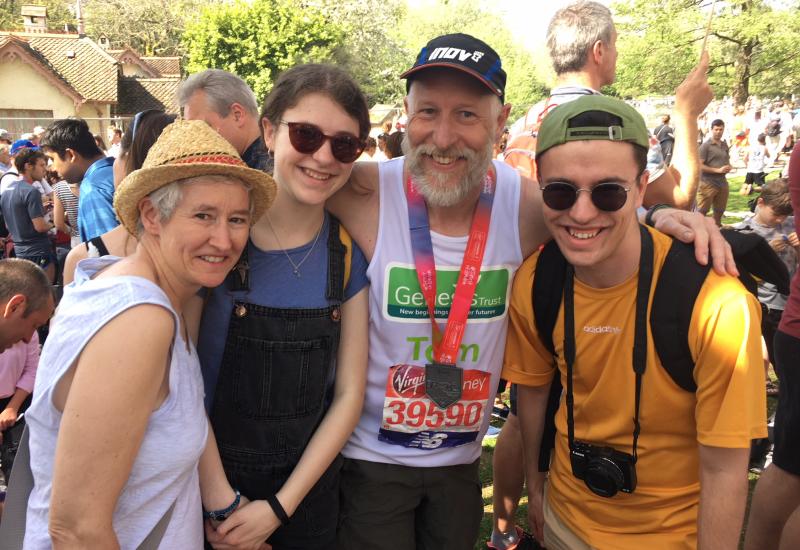 Tom Flemons (he's the one with the beard) with his family at the London Marathon after his successful run. He is still raising money for his chosen charity. If you're feeling generous, you can donate here.
Congratulations to Tom Flemons for being among the record 40,255 runners who crossed the finish line in the London Marathon on Sunday (22 April). Tom is the Workshop Manager of Cliveden...
Solutions. No ifs or buts or hows or whys... just answers. That's what Director Steve Vanhinsbergh says has given stoneCIRCLE its longevity as it celebrates its 50th anniversary.Steve...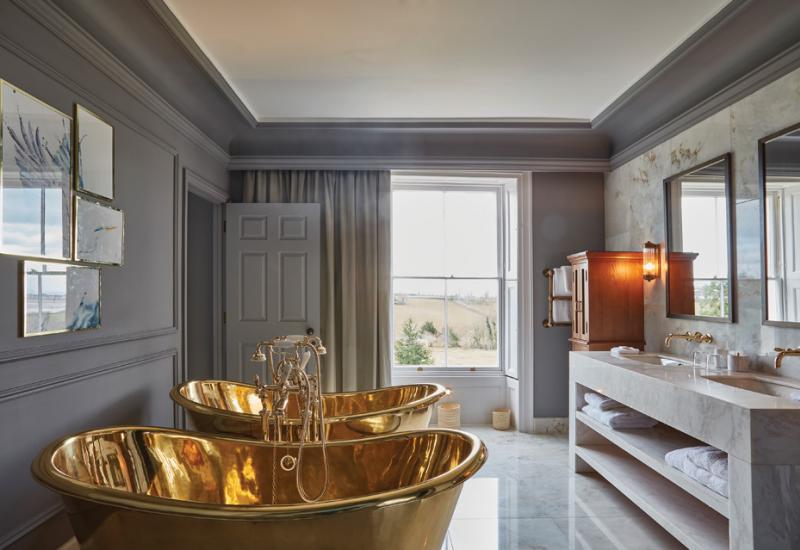 Portuguese Estremoz, Crema Marfil, Silver Grey Travertine and Nero Marquina were used in the en suites of the 21 rooms at Lympstone Manor. The walls and floors are lined with Schlüter-Kerdi-Board, sealed with Kerdi-Keba and Kerdi-Coll-L. Schlüter-Kerdi-Board-V was used to waterproof curved shower walls.
Renowned chef Michael Caines says Lympstone Manor, which he opened last year as a 21 bedroom hotel with three dining rooms, is 'the realisation of a dream'. Michael Caines, one of...
Derek Hale, the Quarry Foreman at Forest Pennant company Forest of Dean Stone Firms in Gloucestershire, has become the first person at the company and one of only a handful in the industry to have...
Pages