Natural / Engineered Stone Company News
The latest news from the Stone Industry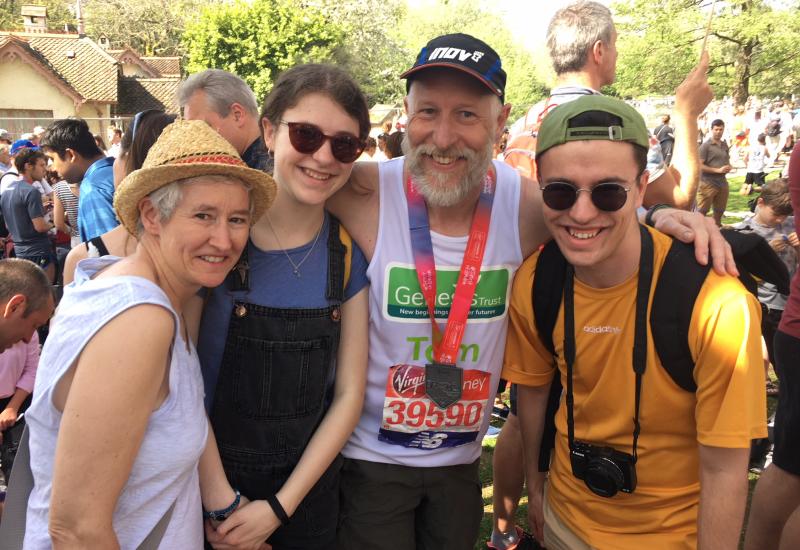 Tom Flemons (he's the one with the beard) with his family at the London Marathon after his successful run. He is still raising money for his chosen charity. If you're feeling generous, you can donate here.
Congratulations to Tom Flemons for being among the record 40,255 runners who crossed the finish line in the London Marathon on Sunday (22 April). Tom is the Workshop Manager of Cliveden...
Solutions. No ifs or buts or hows or whys... just answers. That's what Director Steve Vanhinsbergh says has given stoneCIRCLE its longevity as it celebrates its 50th anniversary.Steve...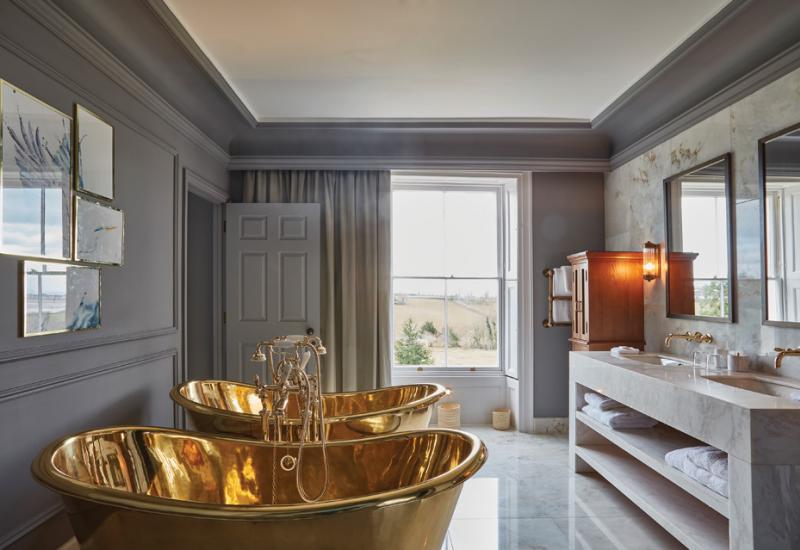 Portuguese Estremoz, Crema Marfil, Silver Grey Travertine and Nero Marquina were used in the en suites of the 21 rooms at Lympstone Manor. The walls and floors are lined with Schlüter-Kerdi-Board, sealed with Kerdi-Keba and Kerdi-Coll-L. Schlüter-Kerdi-Board-V was used to waterproof curved shower walls.
Renowned chef Michael Caines says Lympstone Manor, which he opened last year as a 21 bedroom hotel with three dining rooms, is 'the realisation of a dream'. Michael Caines, one of...
Derek Hale, the Quarry Foreman at Forest Pennant company Forest of Dean Stone Firms in Gloucestershire, has become the first person at the company and one of only a handful in the industry to have...
Albion Stone, which mines Portland limestone, has become the first stone company to achieve an 'Excellent' rating in the BRE Green Guide, thanks to BES 6001.BES 6001 is an exacting...
At KBB last month (March) CRL Stone showed the 14 designs it has added this year to the CRL Quartz and Ceralsio porcelain ranges it launched just over a year ago. Simon Boocock, MD, talks about the...
Staffordshire manufacturer Instarmac, which makes the UltraTile, UltraScape and UltraFloor ranges, among others, is once again in the prestigious 'Sunday Times Best Small Companies to Work For...
In Sokcho, South Korea, a house has been built that lends itself to the snowy scenery. It has Alpine White Hi-Macs solid surfaces for the façade and roof.Fascinated by the festival of lights offered...
Welsh Slate, based in north Wales and working the quarries at Penrhyn and Cwt-Y-Bugail, has appointed a new managing director.He is Mark Hodgkinson, who takes over from Chris Allwood (who is staying...
Marshalls PLC has entered an agreement with Fairhurst Stone Merchants that gives Marshalls exclusivity on Fairhurst's Whitworth York Stone for use in the commercial environment.Whitworth York...
Wells Masonry Services, based at Cotswold Hill Quarry near Cheltenham in Gloucestershire, plans to close before the end of this year.Jeremy Wells, who established the business in 1988 and employs 15...
Following Johnston Quarry Group's takeover of Bath Stone Group and Bath & Portland last year (see the report here), Bath & Portland's Monks Park Bath Stone underground quarry has now...
At KBB this week (4-7 March in the NEC, Birmingham), award-winning kitchen and bathroom designer Colin Wong produced art in hard surfaces. It was an installation at the exhibition called 'The...
Pat Gallagher, the Chairman of the Gallagher Group that quarries Kentish ragstone near Maidstone in Kent, has become the first non-New Yorker to be Guest of Honour at the Leitrim Society of New York...
There are some 500,000 people working in the stone sector in the Chinese province of Xiamen, where a good proportion of the world's stone is shipped from. So the closure of one company employing...
Pages