Latest News
The latest news from the Stone Industry
Stone Federation Great Britain is back at the 7th annual Edinburgh Traditional Building Festival 19-22 August as part of the Edinburgh Festival Fringe.Sponsored by the Construction Industry Training...
Tonight (10 July) in a railway arch near London Bridge railway station, mason artist Austin Emery is holding a fund-raising event to try to raise the outstanding £28,000 for a community stone...
Hi-Macs solid surface company LG Hausys introduces Intense Ultra, with intense solid colour and even tighter thermoforming. New formulation Intense Ultra offers colour consistency during and...
A few days before the Health & Safety Executive published fatality figures of 2018/19 showing that falls from height still kill more people at work than any other single cause, a company and its...
Provisional figures published today (3 July) by the Health & Safety Executive (HSE) show 30 construction workers died at work in the year April 2018 to March 2019. There were a total of 147...
Lovell Stone Group celebrates 10 years of trading today (1 July).The Group (originally called Lovell Purbeck) was founded by brothers Simon and James Hart when they acquired Purbeck quarry company D...
The stonemasons from Ian Knapper are proud of their contribution to The Queen's Diamond Jubilee Galleries at Westminster Abbey, which have this month (June) been recognised in the 2019 RIBA...
A new World War I memorial in Nottingham with 13,501 names cut by laser into its Cwt-y-Bugail Welsh slate (supplied by Berwyn) was unveiled yesterday (28 June) by HRH The Duke of Kent supported...
The Commonwealth War Graves Commission (CWGC) has opened its first, specially built visitor centre in Beaurains, France, just an hour's drive from the channel ports. See the CWGC video...
Waste is time and time is expensive. That's what NeoGranite in West Bromwich learnt from employing consultants to help it with the design of its new factory.NeoGranite has doubled the size of its...
email
[email protected]
1 October the VAT rules change so that most contractors will stop paying the VAT element of their sub-contractors' bills. But subbies will still have to...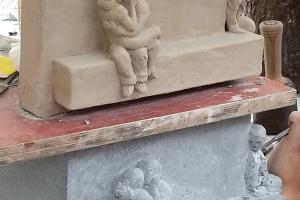 Henrik Størksen from Norway produced this carving from the clay model on top of it that he also fashioned. It will go into a bench in the new Torvet Square due to open in Trondheim next year. Although Henrik is an apprentice, his carving was judged to be the best work overall in the European Stone Festival this year.
More than 100 stonemasons and apprentices, including a good showing from the UK, had fun interpreting the theme of 'games' in soapstone at the European Stone Festival this month (21-23 June)....
Lettercutter Ieuan Rees has become a YouTube sensation with a video that was recorded in 2012.Ieuan, from Ammanford in Carmarthenshire, Wales, is now 78 years old. The video has suddenly attracted...
Three brothers living in Ilford, East London, and operating as part of what the Metropolitan Police describe as a Romanian organised crime group have been sentenced to a total of 28 years in...
Sally Clarke of Odlings MCR, which supplies machinery and equipment to memorial masons, cracked open the Champagne as NAMM Tradex exhibition came to an end on Friday (21 June). She had a bag full of...
Pages