Equipment
The latest news from the Stone Industry
Italian stone machinery manufacturer Breton has licensed its Worthy bridge saw to be made in China, mainly for the Far Eastern market.Breton has stopped making the Worthy, which it has replaced with...
BAL is launching two new uncoupling mats with particular advantages for problem floors.Following the launch of the award-winning BAL Rapid-Mat in 2014, the Flexbone range offers two different...
Wiseman has launched a sandstone cleaner under the name of SSC that it describes as "the next generation" of cleaner for sandstone (including York stone). It helps remove algae, moss,...
Saint-Gobain Weber has launched a premium tile fixing grout called Weberjoint Premium that it says gives a high quality finish with long lasting performance.It is scratch-resistant, water repellant,...
BAL has launched a new epoxy grout for floor tiling.It is a three-part resin grout available in new Smoke and Ebony colours.With a formulation comprising liquid resin, liquid hardener and powder...
Some of the tools used for working stone have not changed much in thousands of years. Others are evolving quickly to cope with changing methods and new materials. NSS asked the tool suppliers what...
Increasingly, tools are being bought directly from websites that can take orders and apply individual customer and quantity discounts. It is a familiar enough scenario: you have an account or you...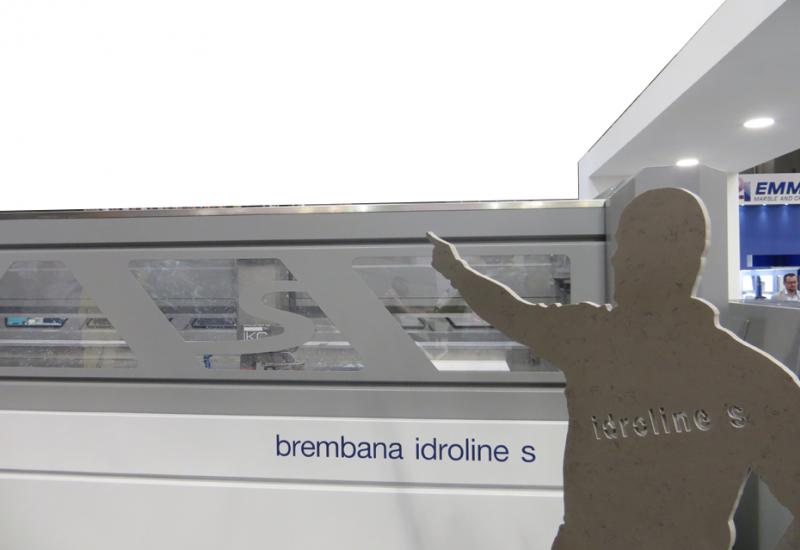 SMC Stone Machinery sells the Italian CMS Brembana CNC range in the UK and Bovone edge polishers and tools. At Marmo+Mac, CMS Brembana (Hall 3, B47/B65-C50/C70) will be showing its Easyline...
Prodim is leading the stone market further into digital production with its Proliner Generation 4X and the latest Prodim Factory software release. They are on show at Marmo+Mac in Verona (26-29...
Now that the summer holidays are over Stone Equipment International is looking forward to the Verona Marmo+Mec exhibition at the end of September. This year, both Andy Bell, MD of National Masonry (...
A new company has been established to sell Dry-Treat stone treatments in the UK and Ireland.It is called Advanced Stone & Masonry Supplies Ltd, set up in July as a sister company to Mirus...
Earlier in the year, JCB introduced a lithium ion powered mini excavator (see report here). At the Hillhead exhibition of plant and machinery in Derbyshire last week, Wacker Neuson introduced another...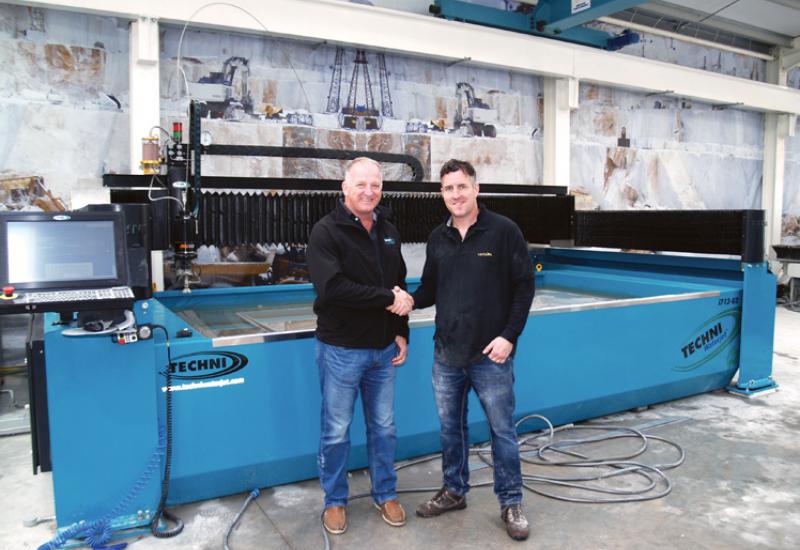 This was the workshop of Planet Granite last year when Glenn Langdon (left), the Sales Director of Australian Techni waterjets, dropped in to see Steve Murphy, the owner of Planet Granite, the first UK stone processor to buy a Techni waterjet. Now Italian CNC stone saw and edge polisher manufacturer GMM has bought the Techni company. Its UK agent, Roccia Machinery, will add Techni waterjets to its offering.
GMM, the Italian manufacturer of CNC saws and edge polishers sold in the UK by Roccia Machinery in Derby, has bought TWJ, the Australian company that makes Techni waterjets.Although there are more...
Making its debut at the Hillhead heavy equipment exhibition and demonstration in Derbyshire this week (26-28 June) is the Epiroc SpeedCut 100 wire saw, which can cut dimensional stone blocks from the...
The new Marmo Meccanica LCR edge polisher has proved an instant hit for Stone Equipment International, which represents the Italian manufacturer in the UK. Within two months, three of the machines...
Pages