Stone Projects
The latest news from the Stone Industry
Manchester commemorated the 200th anniversary of an infamous day in its history known as the Peterloo Massacre with a £1million memorial in British stone, built by Manchester stone company...
The Church of St Mary the Virgin & All Saints at Fotheringhay has a distinguished history that Lincolnshire stone specialist Heritage Masonry Contracts has helped to preserve.Fotheringhay in...
Read a case study that demonstrates building with stone not only cuts the carbon impact of a building, it costs less than using steel or concrete.
Building a skyscraper with stone rather than steel or concrete not only reduces the encapsulated carbon content of the building, it costs less. That was one of the themes of a much acclaimed...
The pictures here show Irish sculptor Victor Daly with his latest work of a seal and its pup carved from Irish Blue Limestone and installed on the seafront in Bantry, West Cork.Victor lives in rural...
Client: PrivateArchitect/Designer: Boundary SpaceContractor: Icon 1992Stone Installer: Unique SurfacesPortland Stone: Jordans Whitbed, Grove WhitbedThis prestigious mixed use new build property in...
Client: GLH HotelsDesigner: Scott Brown RiggStone Contractor: stoneCIRCLEAnother of stoneCIRCLE's projects involved the fabrication and installation of the stone for the Hard Rock Café in the...
With your support, CRASH can help deliver vital building projects for charities like Richard House Children's Hospice, which offers specialist care to terminally ill babies and children.CRASH...
The Big Issue magazine and a depiction of one of the homeless people it helps support is making its way on to York Minster.The new Big Issue grotesque has been carved by Minster stonemason Dave...
The work of architect Craig Hamilton at Williamstrip Chapel on a private estate in Gloucestershire has been widely acclaimed. The interior stonework received recognition in Stone Federation's...
Sculptor Samantha Thornton was commissioned to convert one of her existing stone sculptures, 'The Diver', originally in Ancaster Weatherbed, into a larger version for a French chateau. The...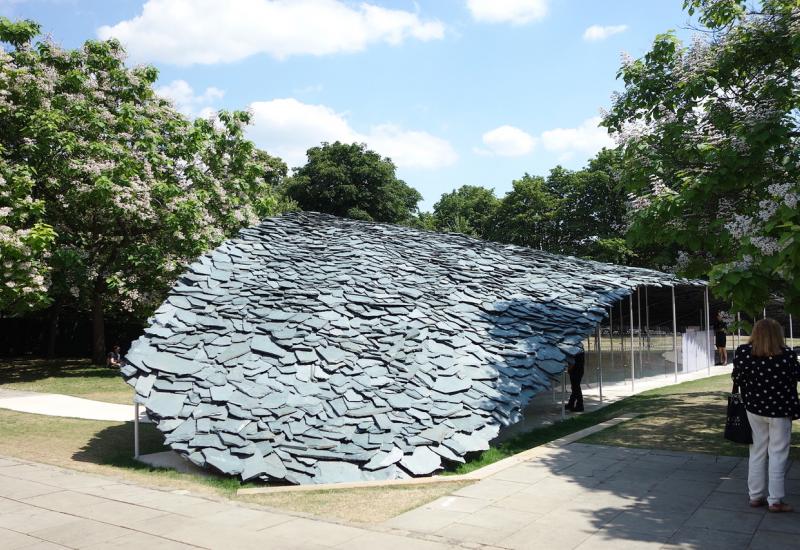 This year's Serpentine Pavilion with its 61tonnes of loose-laid Honister Slate.

Photo: Paul Slade 
Honister Slate Mine in The Lake District has supplied 61 tonnes of Westmorland green riven by-product for this year's temporary pavilion on the Serpentine Gallery's lawn in...
Stone Drawing. That is what Susanna Heron calls her work of art for the new library at the 17th century St John's College, Oxford.The college appointed Susanna in 2014 to work with Wright &...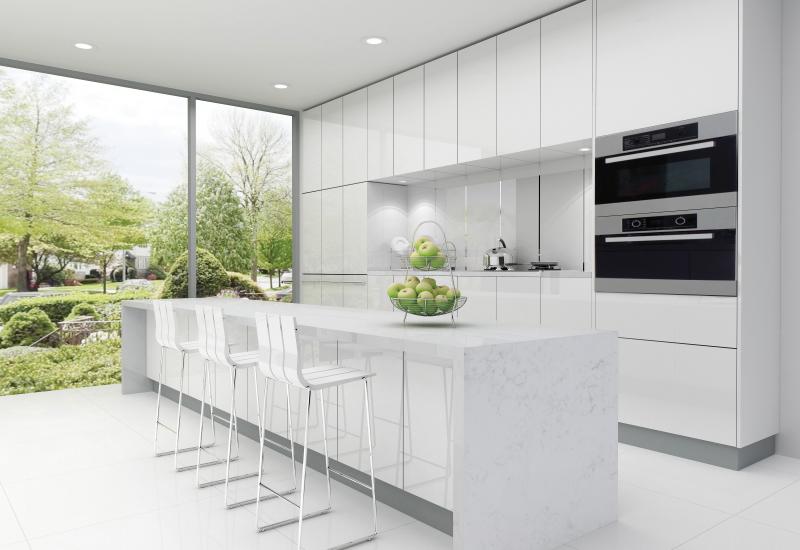 Composite materials such as quartz have many advantages over natural stone counterparts, particularly in reference to interior design. While materials such as marble and stone have aesthetic appeal...
A new museum to house the Etches Collection of dinosaur fossils has walls of Purbeck limestone, a sedimentary stone laid down at the same time and place in which the dinosaurs lived and in which...
Sandra Choi, the Creative Director of Jimmy Choo, and her husband Tamburlaine Gorst, the former Head of Design at Kenzo Homme in Paris, have chosen Belgian Blue limestone from Trans-European Stone...
Pages