Stone Projects
The latest news from the Stone Industry
With your support, CRASH can help deliver vital building projects for charities like Richard House Children's Hospice, which offers specialist care to terminally ill babies and children.CRASH...
The Big Issue magazine and a depiction of one of the homeless people it helps support is making its way on to York Minster.The new Big Issue grotesque has been carved by Minster stonemason Dave...
The work of architect Craig Hamilton at Williamstrip Chapel on a private estate in Gloucestershire has been widely acclaimed. The interior stonework received recognition in Stone Federation's...
Sculptor Samantha Thornton was commissioned to convert one of her existing stone sculptures, 'The Diver', originally in Ancaster Weatherbed, into a larger version for a French chateau. The...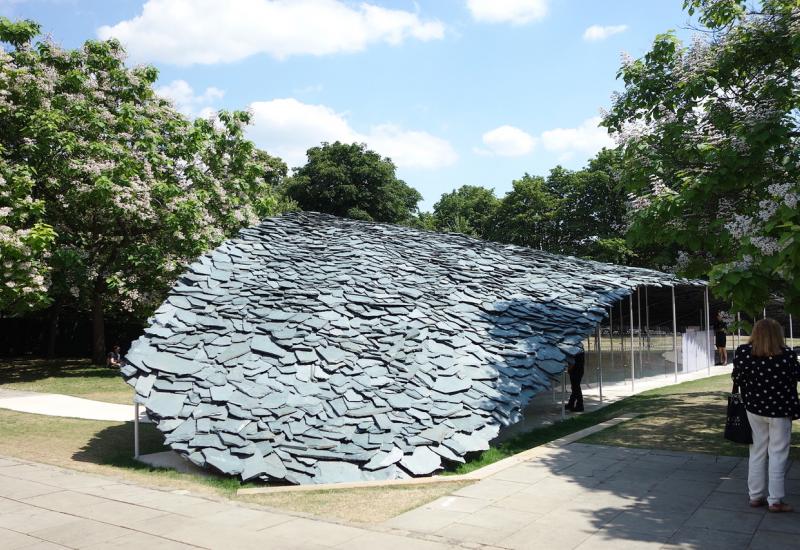 This year's Serpentine Pavilion with its 61tonnes of loose-laid Honister Slate.

Photo: Paul Slade 
Honister Slate Mine in The Lake District has supplied 61 tonnes of Westmorland green riven by-product for this year's temporary pavilion on the Serpentine Gallery's lawn in...
Stone Drawing. That is what Susanna Heron calls her work of art for the new library at the 17th century St John's College, Oxford.The college appointed Susanna in 2014 to work with Wright &...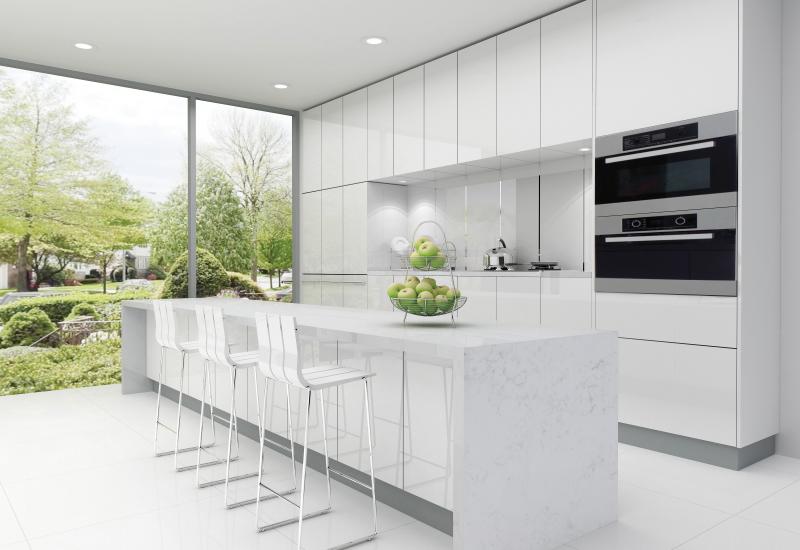 Composite materials such as quartz have many advantages over natural stone counterparts, particularly in reference to interior design. While materials such as marble and stone have aesthetic appeal...
A new museum to house the Etches Collection of dinosaur fossils has walls of Purbeck limestone, a sedimentary stone laid down at the same time and place in which the dinosaurs lived and in which...
Sandra Choi, the Creative Director of Jimmy Choo, and her husband Tamburlaine Gorst, the former Head of Design at Kenzo Homme in Paris, have chosen Belgian Blue limestone from Trans-European Stone...
A company called Sacred Stones opened the first round barrow built since neolithic times on 24 October. Its construction used 500 tonnes of local Churchfield limestone buried beneath 1,000 tonnes of...
An auction on Saturday (24 September) of masonry, some of it medieval, taken from Canterbury Cathedral's Great South Window during its rebuilding raised £210,000.The masonry was sold off as...
Fox Marble, the London stock market AIM-listed company headed by Chris Gilbert and focused on marble quarrying and finishing in Kosovo and the Balkans, has had its Bianco Illirico marble specified...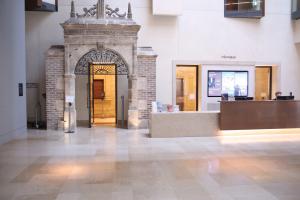 Externally, the stonework included restoration of the Clipsham, while inside a new Jura limestone floor and reception desk was installed in the main reception while Creeton limestone was used for wall linings and flooring in the Treasury Gallery. A 17th century arched gateway was rebuilt next to the reception desk.
The re-working of what is now called the Weston Library in Oxford (it was previously known as the New Bodleian) was among the projects on the short-list announced in July for this year's...
A new office development nestled between St Paul's Cathedral and Ludgate Circus in London has been named as the City of London's Building of the Year. It has also won the Royal Institute...
by Barry WrafterI won a national competition to make this statue, called Pride of Kilkenny, to celebrate the Kilkenny hurling team, known as The Cats. The Kilkenny Council that commissioned it was...
Pages