Latest News
The latest news from the Stone Industry
With your support, CRASH can help deliver vital building projects for charities like Richard House Children's Hospice, which offers specialist care to terminally ill babies and children.CRASH...
Hi-Macs solid surfaces company LG Hausys has expanded its products for exteriors with a new range called Exteria. Following the Grenfell Tower fire in London developers and planners have become...
Congratulations to Catherine Martin and Paul Synan, who have jointly been highly commended in this year's Duke of Gloucester Award, presented by His Royal Highness last night (27 November) in...
On the Houzz wesbite, Cosentino has posted '10 Kitchen Trends Sizzling Into 2020'*. It says "Be a step ahead in the style game with these game-changing kitchen trends from those in the...
West Ham United has rock solid supporters in Essex worktop company The Only Way is Granite.The worktop company set up in Wickford, Essex, in 2015 by Nicholas Garwood and his uncle Gi Garwood has...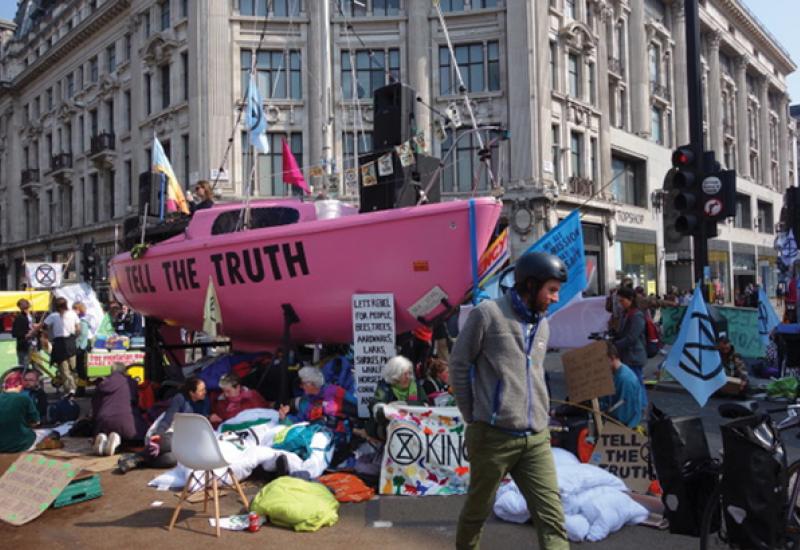 Extinction Rebellion  protestors in London. Concerns about the environment are growing again.

Photo: Paul Slade www.planetslade.com
This could be the right time for stone companies to be emphasising the sustainable, low carbon benefits of building and decorating with natural stone.Those waiting in Piazza Bra for a bus to take...
While concern has been rising across the western world about the danger of silica dust when making quartz worktops, Americans have now added the spectacle of food contamination by the resins used in...
More than 100 companies in New Zealand have had enforcement action taken against them for exposing employees to silica dust.The report comes from New Zealand broadcaster 1 News Now. It says the...
BAL, the Stoke-on-Trent-based manufacturer of tile adhesives, grouts, levellers and other ancillary tiling products, has signed an energy contract with Danish wind farmer Ørsted.Formed as DONG...
A leading construction company has been fined £225,000 and ordered to pay £11,822.90 costs following an incident in which a worker was killed when a dumper truck overturned.Chelmsford...
The British Lime Association (BLA) has published its 2019 Sustainable Development Report, highlighting that the sector maintained its impressive sustainability performance as UK production continued...
The Dry Stone Walling Association has once again published a calendar for the coming year featuring dry stone walls from around the country. The calendars are £6.50 each. To buy a copy click...
A small group of stone fabricators gathered at Steve Murphy's Planet Granite premises near Arley, just outside Coventry, this week for a three-day training course on using porcelain.Cutting large...
Throughout October the Health & Safety Executive (HSE) once again targeted construction sites with an inspection initiative focussing in particular on measures in place to protect workers from...
Another company where employees were not protected from vibration that led to Hand Arm Vibration Syndrome (HAVS) has been prosecuted by HSE. It has been fined £600,000 and ordered to pay costs...
Pages