Latest News
The latest news from the Stone Industry
There were £5.2billion-worth of construction contracts awarded in the three months to June, an increase of 5.5% on the three months to May. Regional analysis shows the North West led the way...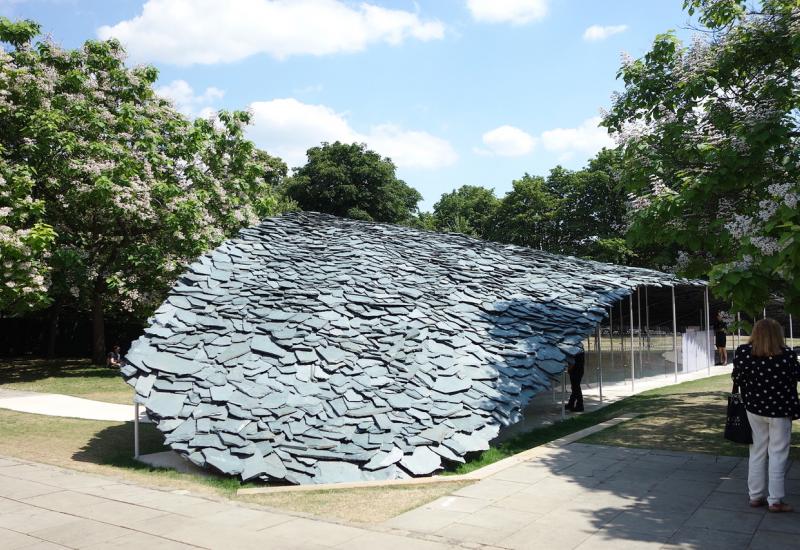 This year's Serpentine Pavilion with its 61tonnes of loose-laid Honister Slate.

Photo: Paul Slade 
Honister Slate Mine in The Lake District has supplied 61 tonnes of Westmorland green riven by-product for this year's temporary pavilion on the Serpentine Gallery's lawn in...
Failing to provide warm water in a site toilet that was not kept clean cost a company in Cheadle, Greater Manchester, an £8,000 fine plus £1,814.90 costs when it appeared before...
Bath Stone, one of England's famous limestones, and marble from Makrana in Rajasthan used to build the Taj Mahal are among the latest seven stones to be designated as Global Heritage Stone...
The Dry Stone Wall Association of Ireland has received news from the Department of Culture, Heritage & the Gaeltacht that an application it made to have dry stone walling recognised as an...
The heritage sector believes there is a shortage of stonemasons (among other trades) with traditional skills. So Historic England is trying to get bicklayers interested in stonemasonry by running a...
An installer has had his leg amputated just below the groin after a section of staircase weighing 1.7 tonnes fell on him when the fabric slings being used to lift it into position failed.As a result...
Caesarstone has been chosen by Bloor Homes as the exclusive kitchen worktop upgrade supplier for more than 3,000 new builds to be completed in the next 12 months. But Caesarstone is not saying how...
A company told by the Health & Safety Executive (HSE) to stop exposing its workers to respirable crystalline silica when they sawed flagstones but continued to do so has been fined £20,000...
Stone Federation Great Britain is back at the 7th annual Edinburgh Traditional Building Festival 19-22 August as part of the Edinburgh Festival Fringe.Sponsored by the Construction Industry Training...
Tonight (10 July) in a railway arch near London Bridge railway station, mason artist Austin Emery is holding a fund-raising event to try to raise the outstanding £28,000 for a community stone...
Hi-Macs solid surface company LG Hausys introduces Intense Ultra, with intense solid colour and even tighter thermoforming. New formulation Intense Ultra offers colour consistency during and...
A few days before the Health & Safety Executive published fatality figures of 2018/19 showing that falls from height still kill more people at work than any other single cause, a company and its...
Provisional figures published today (3 July) by the Health & Safety Executive (HSE) show 30 construction workers died at work in the year April 2018 to March 2019. There were a total of 147...
Lovell Stone Group celebrates 10 years of trading today (1 July).The Group (originally called Lovell Purbeck) was founded by brothers Simon and James Hart when they acquired Purbeck quarry company D...
Pages