Latest News
The latest news from the Stone Industry
The new, 600m2 floor in British limestones at St Andrew's Church, Holborn, laid by Chichester Stoneworks on an Ardex screed was among the winners in this year's Tile Awards, presented at...
Stone wholesaler Nile Trading has moved into bright new premises in Hemel Hempstead, close to the M1 just north of the M25. It is a location Nile intend to use for expansion in the Midlands and North...
DuPont has launched 25 new versions of its Corian solid surfaces, all 'inspired by nature'. It is the company's largest ever launch of Corian at any one time.There is Aggregate (four new...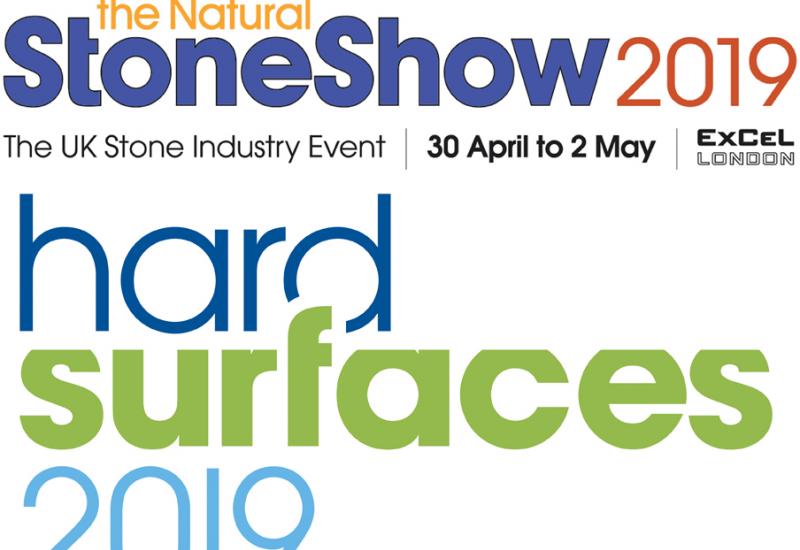 For the first time, the Natural Stone Show exhibition is alongside Hard Surfaces at ExCeL exhibtiion centre in London 30 April-2 May.
At the Natural Stone Show / Hard Surfaces 2019...Stone from the UK and around the worldLatest developments in machinery, tools and consumables with working demonstrationsCo-locating with Hard...
Italian machinery company Breton promises an impressive line-up on its stand at the Natural Stone Show / Hard Surfaces in London's ExCeL exhibition centre 30 April-2 May.Register for your free...
Since the previous Natural Stone Show in London, fellow Belgian wholesalers Beltrami and Brachot-Hermant, which both have depots in the UK, have joined forces (you can read more about that here...)....
Diplomas in stone carving from the City & Guilds of London Art School have been held in the highest regard by the stone industry since the 19th century. But outside of the industry they are not...
Eating out has become a national pass-time for a sizeable section of society. But who wants dinner in a boring old restaurant when you can have a whole eating experience served up by a celebrity chef...
Mankind has been creating mosaics for at least 4,000 years – and continues to do so, as you will be able to see in the Mosaic Showcase at the Hard Surfaces exhibition co-locating at ExCeL...
Tottenham Hotspur has finally moved into its new £1billion stadium and last night (3 April) won its first game there 2-0. It was against Crystal Palace. Caesarstone was also a winner, with nine...
The restoration of 18th century Poltimore House, Devon, is the backdrop for a Building Limes Forum 'Lime Slam' on Saturday 13 April.The Building Limes Forum is running the event. The...
Okite, which supplies quartz and marble slabs, has now moved from the London Colney warehouse and office where it has been based since 2013, to a new warehouse near Sheffield.The company says its...
A new feature at the Natural Stone Show taking place in London at ExCeL from 30 April to 2 May is the 'Sculptors' Studio', where some of the industry's leading artists...
A Salford building contractor has been sentenced after exposing workers to the dangers of falls from height and exposure to silica dust.Manchester Magistrates' Court heard on 26 March how,...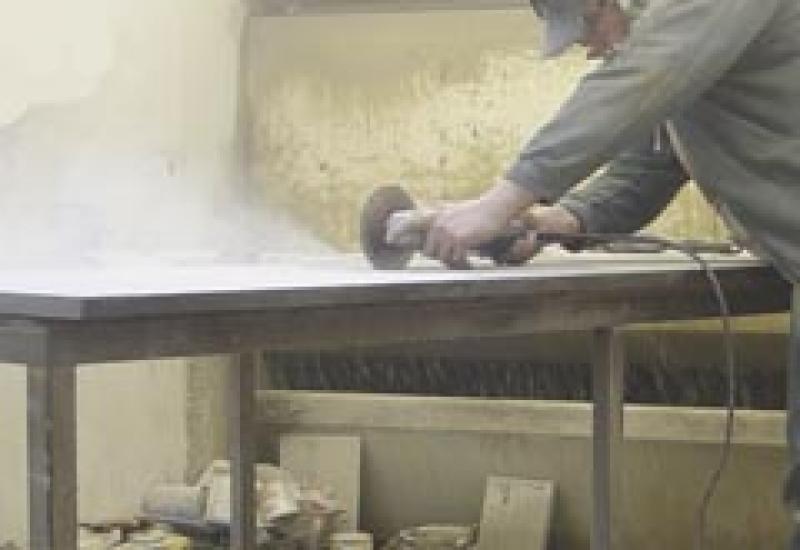 Ignoring risks of vibration injuries to employees is getting more expensive, but it is only one of the risks this person is exposed to. He has no protection against the high silica content stone dust and petrochemical resin dust from cutting this quartz slab, which he is doing in the direction away from the waterwall, sending the dust out into the workshop. There is no guard on the angle grinder and debris on the floor constitutes a trip hazard.
The cost of ignoring the damage that vibration can cause to employees using power tools is increasing. And companies that ignore the risks are more likely to get prosecuted.The latest prosecution was...
Pages